Popular NFL Site Claims Vikings Are 'Tearing It Down'
Jan 15, 2023; Minneapolis, Minnesota, USA; Minnesota Vikings fans react during the fourth quarter during a wild card game against the New York Giants at U.S. Bank Stadium. Mandatory Credit: Jeffrey Becker-USA TODAY Sports
It's a talking point that won't die.
Minnesota Vikings general manager Kwesi Adofo-Mensah vividly defined his strategy of team-building 15 months ago — with absolutely no ambiguity — but some merely reject his words and define a different objective entirely.
Popular NFL Site Claims Vikings Are 'Tearing It Down'
Adofo-Mensah said in March of 2022 about his definition of rebuilding a roster, "I think when people look at teams, they sometimes do it in a very binary way. And they ask, 'Are you either all-in or tearing down and rebuilding?' And I don't really look at the world that way."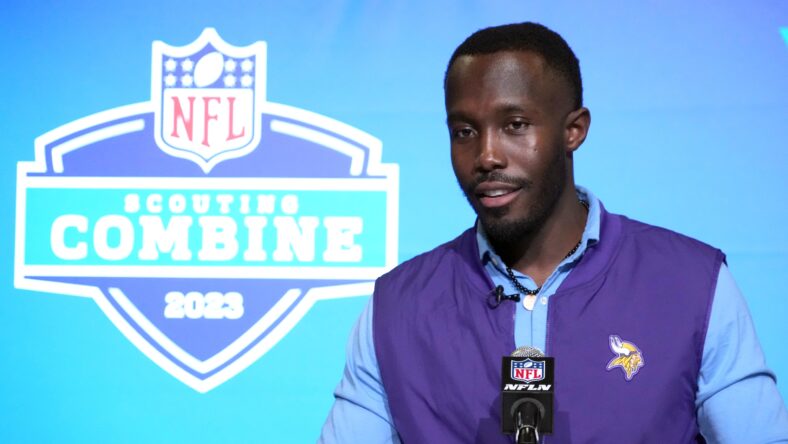 He also explained his opinion on 'tanking' to reporters at the 2023 NFL Combine, "People always talk about, 'Just tank,' and in this sport, I think it's kind of unconscionable to do it for what these players put on the line for our sport."
Still, folks insist the Vikings are 'tearing it down.' Pro Football Talk's Mike Florio opined on the topic last week, actually titling an article: A year after running it back, the Vikings are tearing it down.
"Whether that's tanking or strategic rebuilding is a matter of semantics. The Vikings aren't prioritizing winning as many games as possible in 2023, just like the Cardinals," Florio argued.
The Cardinals are classified as the NFL's worst team per most credible power rankings.
Minnesota jettisoned aging veterans this offseason, including Adam Thielen, Eric Kendricks, Dalvin Cook, and Patrick Peterson — and various NFL brains and Vikings fans insist the transactions are the mark of a full rebuild.
The weird part is this — do you, the Vikings fan, really think that Thielen, Kendricks, Cook, and Peterson were on a trajectory to get better in 2023 and beyond? The Vikings don't think so, instead paving the way via roster spots for youthful, affordable players like Jordan Addison, Brian Asamoah, Alexander Mattison, and Byron Murphy.
Florio also hinted at the Vikings version of 'tanking.' He wrote, "The league doesn't want to find teams guilty of tanking, as evidenced by the pass that 345 Park Avenue gave to the Dolphins after former coach Brian Flores claimed that owner Stephen Ross offered $100,000 per loss in 2019. (The NFL accepted the explanation that it was a joke. We're still waiting for the punchline.) There's a more artful way to tank; the Browns did that with a 'four-year plan' that prioritized stockpiling future draft picks and cap space over collecting the best possible players in a given year. The NFL endorsed that approach."
"And, yes, Adofo-Mensah worked for the DiPodesta Moneyball Browns before getting the G.M. job in Minnesota. So that's what's happening. It was always what was going to happen, from the moment Adofo-Mensah was hired. The decision to keep so many players from 2021, combined with the 13-4 record from 2022 and the decision to retain Kirk Cousins for at least one more year, began to create a different impression," Florio continued.
If the Vikings are rebuilding or effectuating their rendition of a tank, nobody told free-agent pass rusher Marcus Davenport. NFL Network's Tom Pelissero visited Vikings organized team activities last week and asked Davenport about his mission statement for 2023. Davenport replied, "I only got one expectation. That's the Super Bowl. And so, from there, it's one of those things where we'll just have to see. My point is Super Bowl, and then we'll see."
And Davenport isn't scheduled to be a Viking contractually beyond the 2023 season. So, either the Vikings management outright lied to Davenport during his free-agent onboarding, and Florio is correct about a full rebuild — or Minnesota is pursuing a Super Bowl in 2023, and Florio got it wrong.
In the end, Florio called Kevin O'Connell's first season with the club an outlier, "It was a mirage. This is Year Two of a broader plan. If anything, Year One went too well for the plan's own good."
This all sets up for quite the climax in September. Florio expects the Vikings to apparently go through the motions of a bad football team — like the Cardinals — with all eyes ogling the 2024 NFL Draft. Meanwhile, if Minnesota starts winning games, something will have seemed haywire with the faux rebuilding plan.
---
Dustin Baker is a political scientist who graduated from the University of Minnesota in 2007. Subscribe to his daily YouTube Channel, VikesNow. He hosts a podcast with Bryant McKinnie, which airs every Wednesday with Raun Sawh and Sal Spice. His Vikings obsession dates back to 1996. Listed guilty pleasures: Peanut Butter Ice Cream, 'The Sopranos,' Basset Hounds, and The Doors (the band).
All statistics provided by Pro Football Reference / Stathead; all contractual information provided by OverTheCap.com.