More CBs on the Way for Vikings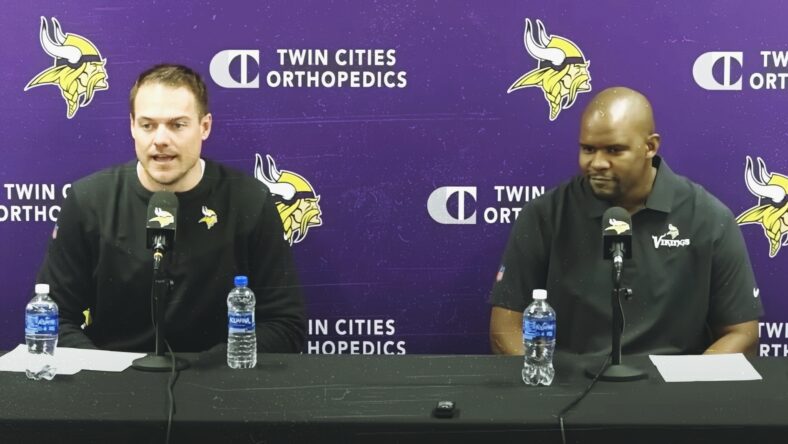 Minnesota Vikings Head Coach Kevin O'Connell introduced new Defensive Coordinator Brian Flores from the TCO Performance Center on February 15th, 2023. Flores coached for the New England Patriots, Miami Dolphins, and Pittsburgh Steelers before joining the Vikings in 2023.
The Minnesota Vikings have these cornerbacks attached to the 2023 depth chart as of March 30th:
Byron Murphy
Andrew Booth
Akayleb Evans
Tay Gowan
Kalon Barnes
The group isn't awful but lacks sufficient depth for a team claiming to be all-in for 2023 contendership. Thankfully for the Vikings sake, free agency is still alive and well, and the NFL draft transpires in less than four weeks.
More CBs on the Way for Vikings
And according to the man in charge of the Vikings, Kevin O'Connell, more CBs are on the way — they just don't have names yet, and the mode of roster addition is unknown. Multiple corners may be drafted at the end of April, a handful could arrive via free agency, or a mix-and-match with both venues.
At the NFL's 'Annual Meeting' this week, where Thursday Night scheduling was tweaked and players were granted permission to wear No. 0, O'Connell acknowledged Minnesota's need for more cornerbacks — a first-of-its-kind acquiescence this offseason. "We know we need to add via through the draft or potentially through some other veterans," he admitted about the Vikings CB depth.
O'Connell continued, "We need to add some more numbers in that room."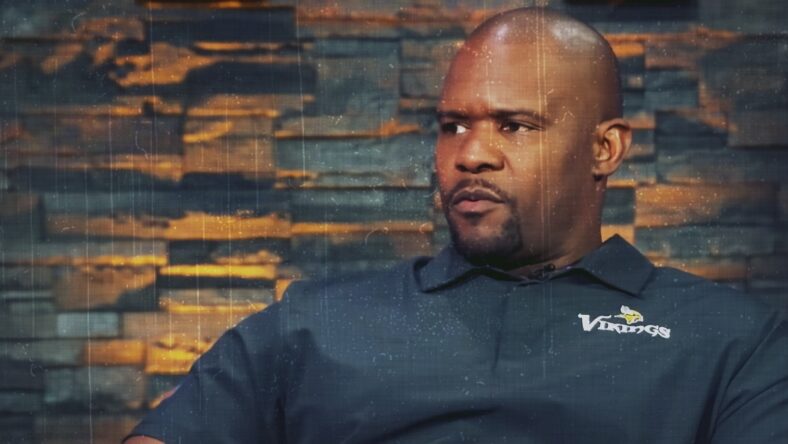 The quote could be met with a "well, duh" reception from ardent Vikings fans, but as of late March, the Vikings have created no other splashes in free agency at cornerback aside from the acquisition of Byron Murphy. For a team incredibly deficient of CB depth, especially one claiming to be in it to win it in 2023, Byron Murphy and the maybes is a woefully underwhelming platter. The CB room has led many Vikings fans to wonder, "What are they waiting for?"
The Vikings secondary was mostly lousy in 2022, kept afloat by performances from Patrick Peterson and Duke Shelley. And guess what? Peterson and Shelley were not re-signed for 2023. The two really good cornerbacks left the bad secondary. It's not an outwardly encouraging situation.
Moreover, four cornerbacks have exited stage left this offseason, including Peterson and Shelley, plus Cameron Dantzler — and Chandon Sullivan, who remains a free agent. The Dantzler waiver was particularly odd because he's just 24 years old, wasn't expensive, and could've been the very definition of depth cornerback for the Vikings in September. But no cigar, as Minnesota said bon voyage, and Dantzler was picked up by the Washington Commanders.
So, the Vikings can use the draft to select an early-round cornerback like Deonte Banks (Maryland), Devon Witherspoon (Illinois), Cam Smith (South Carolina), etc., or explore free agency for one of these veterans:
Eli Apple (CIN)
Shaquill Griffin (JAX)
William Jackson (PIT)
Marcus Peters (BAL)
Rock Ya-Sin (LV)
The good news is O'Connell's blatant acknowledgement. The plan to bolster Minnesota's CB room is still very much in progress — and it needs to be.
The Vikings have drafted seven CBs with Rounds 1-3 draft capital in the last 10 years, and the position remains a glaring need.
---
Dustin Baker is a political scientist who graduated from the University of Minnesota in 2007. Subscribe to his daily YouTube Channel, VikesNow. He hosts a podcast with Bryant McKinnie, which airs every Wednesday with Raun Sawh and Sal Spice. His Vikings obsession dates back to 1996. Listed guilty pleasures: Peanut Butter Ice Cream, 'The Sopranos,' and The Doors (the band).
All statistics provided by Pro Football Reference / Stathead; all contractual information provided by OverTheCap.com.