Kwesi Adofo-Mensah Needs Some Slack
Feb 28, 2023; Indianapolis, IN, USA; Minnesota Vikings general manager Kwesi Adofo‐Mensah speaks to the press at the NFL Combine at Lucas Oil Stadium. Mandatory Credit: Trevor Ruszkowski-USA TODAY Sports.
The Minnesota Vikings welcomed general manager Kwesi Adofo-Mensah to the organization 19 months ago, pivoting away from the Rick Spielman era, which lasted 16 years.
Kwesi Adofo-Mensah Needs Some Slack
Adofo-Mensah has since drafted two batches of rookie talent, fired off a flurry of trades, and signed two free agent classes.
And because his 2022 draft class hasn't totally busted out to prominence, some Vikings loyalists are frustrated with his draft prowess — or ready to be done with men like Lewis Cine or Andrew Booth.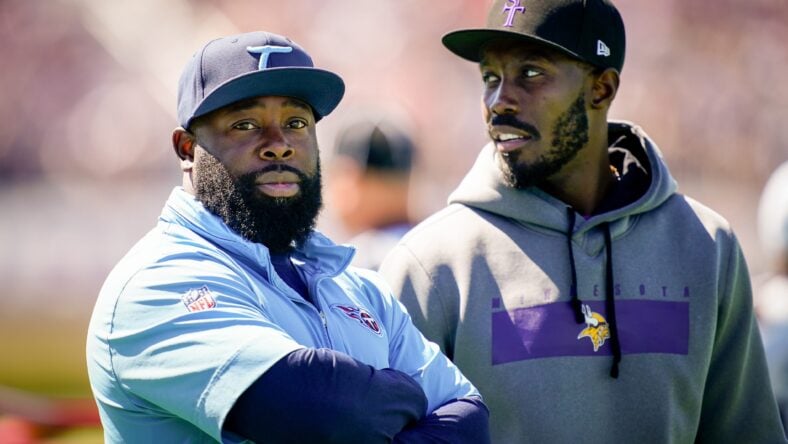 But here's why the young executive deserves some slack.
His First Draft
Remembering that the 2022 NFL Draft was Adofo-Mensah's first as 'the guy' in charge is crucial. It's also fair. There is a reasonable chance that Cine and Booth truthers end up correct, and the men aren't very good. If that happens — we're not there yet to render a verdict — indeed, those men and women will have seen the writing on the wall before others. Good for them.
Still, the 2022 draft was Adofo-Mensah's first experience and probably deserves some leeway. Were you a marvel of nature at your job in the first year?
The Vikings ownership hired Adofo-Mensah to master the draft, and perhaps he'll achieve that before too long. But let's face it — seizing Cine and Booth from college were his first acts of business. He might need some grace.
Full Story on 2022 Draft Class Hasn't Been Written
Too, assuming the full story on Cine, Booth, and the 2022 draft class, on the whole, is a 'done deal' is boneheaded. Cine especially hardly played in 2022 because of a broken leg; the man could be sitting on a soon-to-be emergence in the league. Saying 'no thanks' to Cine now would embody panic or cynicism. Young footballers don't always dazzle immediately; players take time to mature, and they're not all Micah Parsons.
Frustrating? Yes — no teams' fans enjoy watching rookies fall injured or struggle early on. Adversity is reality, though, and Cine or Booth may just take a bit longer to catch on in the pros — like thousands before them.
Don't Forget 'Others' like Ivan Pace Jr.
Finally, it's odd how one might chide Adofo-Mensah for apparently striking out on Cine or Booth while remaining silent about the undrafted free-agent acquisition of Ivan Pace Jr. or the later-round draft selections of Jalen Nailor, Akayleb Evans, or Brian Asamoah. Rounds not named 1 and 2 matter, too. Adofo-Mensah and every general manager should be judged on a full resume of transactions, not just 'what the guy did in the first two rounds of his very first draft.'
Pigeonholing Adofo-Mensah into a good or bad box after a year and a half and not even watching a second season of his 2022 draft class is outlandishly short-sighted and spews misunderstanding of the sport. Cine and Booth could turn out to be productive; maybe they'll be joke punchlines.
But that's probably an assessment to examine down the road. You know, not after one year in the NFL.
For perspective, does anyone really care that Kansas City Chiefs general manager Brett Veach missed on 1st- and 2nd-Rounders Tanoh Kpassagnon (2017), Breeland Speaks (2018), or Clyde Edwards-Helaire (2020) since taking the job in 2017? They do not; they remember one draft pick — he's the reigning league MVP.
---
Dustin Baker is a political scientist who graduated from the University of Minnesota in 2007. Subscribe to his daily YouTube Channel, VikesNow. He hosts a podcast with Bryant McKinnie, which airs every Wednesday with Raun Sawh and Sal Spice. His Vikings obsession dates back to 1996. Listed guilty pleasures: Peanut Butter Ice Cream, 'The Sopranos,' Basset Hounds, and The Doors (the band).
All statistics provided by Pro Football Reference / Stathead; all contractual information provided by OverTheCap.com.