The Vikings Last Order of Offseason Business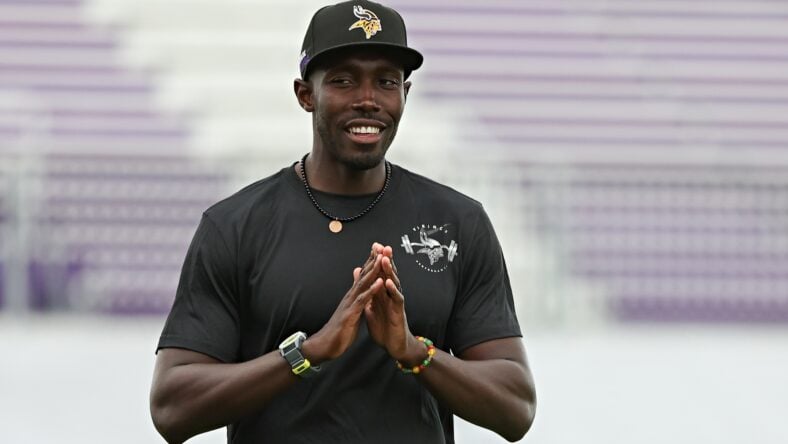 Jul 28, 2022; Minneapolis, MN, USA; Minnesota Vikings general manager Kwesi Adofo-Mensah looks on during training camp at TCO Performance Center. Mandatory Credit: Matt Krohn-USA TODAY Sports.
Six days ago, the Minnesota Vikings put pen to paper with T.J. Hockenson, affording the 26-year-old the largest TE deal in NFL history at four years and $68.5 million.
Thereafter, folks wondered: What about Jefferson?
The Vikings Last Order of Offseason Business
That's Justin Jefferson, and his extension, like Hockenson's, was a major order of offseason business. The Vikings opted into Jefferson's fifth-year contractual option four months ago — the no-brainer to end all no-brainers — for the 2024 season, but the young wideout has been eligible for an extension all offseason.
It just isn't done yet.
But the groundbreaking extension should arrive soon, according to The Athletic's Dianna Russini. She wrote Tuesday, "Two weeks ago, when I was in Minnesota, I asked Justin Jefferson about the status of his deal. He had no updates for me, saying he, 'doesn't like to discuss his business.' Fair. However, he did say it with a huge smile, probably because he knows this team has been motivated to get it done."
Since joining the NFL from LSU in 2020, Jefferson has banked more receiving yards than any player in his first three seasons throughout league history. He's that damn good.
Russini added, "Jefferson has practiced all of training camp, trusting the team will give him a contract that could make him the highest-paid non-QB player in the league. (I'm sure Bosa and Jones also hope to take the title.) Good news for Kirk Cousins, I learned there are no concerns that if a deal isn't reached Jefferson would miss games. Based on my conversations, this is looking to be a contract that will be announced (and celebrated) very soon."
Jefferson has acted nonchalant about the extension all offseason, telling reporters in June when asked about his impending new deal, "It's not something that's new towards the game. Eventually, we knew we were going to have to talk contract. The contract is going to come with the game."
Jefferson is expected to reset the NFL's WR market and become the highest-paid non-quarterback ever with a deal somewhere in the neighborhood of $30-$35 million per season.
Last month, SI.com's Albert Breer provided clarity, affirming the Vikings hope to have a deal ironed out before the start of the regular season — which is four days from now. Breer wrote, "No one's talking much about it, but the Vikings are making an effort to get wide receiver Justin Jefferson signed before the season starts. Jefferson's kept a pretty low profile about this one, and talks, as far as I can tell, have gone fine."
"When I visited with him a few weeks back, he told me his absence from parts of the offseason were about endorsement opportunities, not the contract. He did call getting a life-altering second contract 'a dream of mine. It's been a dream since I was 7 years old,'" Breer added.
And Russini's, Jefferson's, and Breer's statements are all on top of Vikings leaders assuring folks all offseason of their intent to extend the 24-year-old. From Kevin O'Connell and Kwesi Adofo-Mensah, all the way up to the Vikings owners, the Wilfs — all have suggested a new contract is imminent.
Ergo, if the Russini and Breer reporting is correct, the new contract should be announced in minutes, hours, or days. Look for a deal to be complete by Friday.
---
Dustin Baker is a political scientist who graduated from the University of Minnesota in 2007. Subscribe to his daily YouTube Channel, VikesNow. He hosts a podcast with Bryant McKinnie, which airs every Wednesday with Raun Sawh and Sal Spice. His Vikings obsession dates back to 1996. Listed guilty pleasures: Peanut Butter Ice Cream, 'The Sopranos,' Basset Hounds, and The Doors (the band).
All statistics provided by Pro Football Reference / Stathead; all contractual information provided by OverTheCap.com.