Vikings 2023 Free Agency Strategy Is Loud and Clear
Dec 12, 2022; Glendale, Arizona, USA; Arizona Cardinals cornerback Byron Murphy Jr. against the New England Patriots at State Farm Stadium. Mandatory Credit: Mark J. Rebilas-USA TODAY Sports.
We are one full week into the Minnesota Vikings 2023 free agency, and the strategy is becoming loud and clear. General manager Kwesi Adofo-Mensah clearly has a type he is gunning for this year. He wants young players with high upside. Additionally, he wants cap flexibility heading into 2024 and 2025.
This strategy is most notable with the signing of Byron Murphy Jr. and Marcus Davenport. Both of these players are coming off somewhat disappointing seasons with injuries. However, both of them have shined at different moments in their careers.
Byron Murphy played outstandingly in 2022 against some of the game's best wide receivers, including Davante Adams and Justin Jefferson. His most notable game was against the Raiders in Week 2, where he shut down Adams and allowed only 2 receptions for 12 yards.
Marcus Davenport, on the other hand, struggled — at least that is what you would think if you only looked at sack production. However, sack production is not nearly as good of a stat in understanding the quality of a pass rusher. A better way is to look at their pass rush win rate and pressures. According to PFF, Davenport was pretty productive in 2022.
Win percentage: 18.8%, which ranks 19th in the NFL
Pressures: 34, which ranks 89th in the NFL
Of course, injuries held back Davenport quite a bit in pressure. In fact, his total pressures were the same as DJ Wonnum's despite rushing the passer 89 fewer times than Wonnum did. In other words, Davenport is an upgrade at the edge position.
Now, you might be concerned about the injuries of both of these guys. Davenport has had problems staying on the field, and Murphy had a season-ending back injury in 2022. However, as was noted in the NFLPA's report card, the Vikings have one of if not the best medical and training staff in the NFL.
This is a big deal and is likely why Kwesi is not afraid to pull the trigger on some of these guys with injury issues.
The other clear strategy the Vikings are using is to create cap flexibility in 2024 and 2025.
Vikings' 2023 Free Agency Strategy Is Creating Flexible Cap Space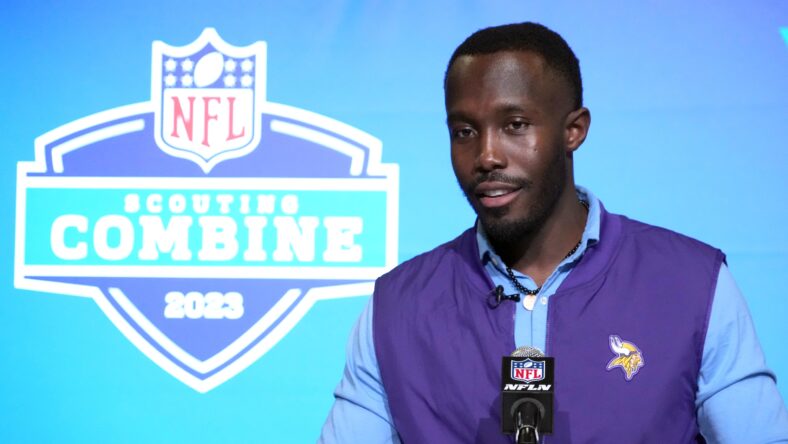 Ok. Before I say anything about the cap space, let's clarify one thing. The Vikings are not and were not ever tearing down the roster. Kwesi made it clear that the idea of tanking is unconscionable.
That said, we can evaluate the roster moves and what that tells us about the Vikings 2023 free-agency strategy. Looking at the most recent signings, Kirk's restructure, and Harrison Smith's pay cut, you can see that Kwesi wants options in 2024 and beyond.
He clearly does not want to get tied to any contract that will leave substantial dead caps like what happened with Kirk Cousins and Adam Thielen.
Byron Murphy's contract was insanely cheap, but more importantly, if his back issues flare up, the Vikings can release him in 2024 and only incur a dead cap charge of $3.5 million. Similar could be said with Josh Oliver and Garrett Bradbury. The critical detail in these contracts is that it gives the Vikings options if it doesn't work out.
While we are far from done with free agency, it is loud and clear that Kwesi wants to get younger and maintain flexibility in the cap while being competitive. It appears that the so-called "championship window" for the Vikings will be from 2023 to 2026.
---
Mitch Massman is a lifelong Vikings fan. His first heartbreak was the 1998 NFC championship game. His full-time job is as an economic development professional in rural Minnesota. He fantasizes about the Vikings winning a Super Bowl one day, but until then he will write about the Vikings. Follow him on Twitter @skol_vikings3