'Fansided' Thinks Vikings Defense Is Quite Despicable
Minnesota Vikings Defensive Coordinator Brian Flores addressed the media from the TCO Performance Center. Flores was hired in February 2023 to take over for Ed Donatel after Minnesota finished 30th in points allowed.
Including Za'Darius Smith, who was traded to the Cleveland Browns on May 12th, eight defensive players have vamoosed the Minnesota Vikings this offseason: Cameron Dantzler (CB, Bills), Eric Kendricks (LB, Chargers), Patrick Peterson (CB, Steelers), Dalvin Tomlinson (DT, Browns), Duke Shelley (CB, Raiders), Kris Boyd (CB, Cardinals), and Chandon Sullivan (CB, Steelers).
'Fansided' Thinks Vikings Defense Is Quite Despicable
That's quite the overhaul.
Thankfully for the team's sake, a new defensive coordinator, Brian Flores, a former skipper for the Miami Dolphins, is in the saddle. His defense will evidently do more with less, as the outgoing group of experienced defenders is massive.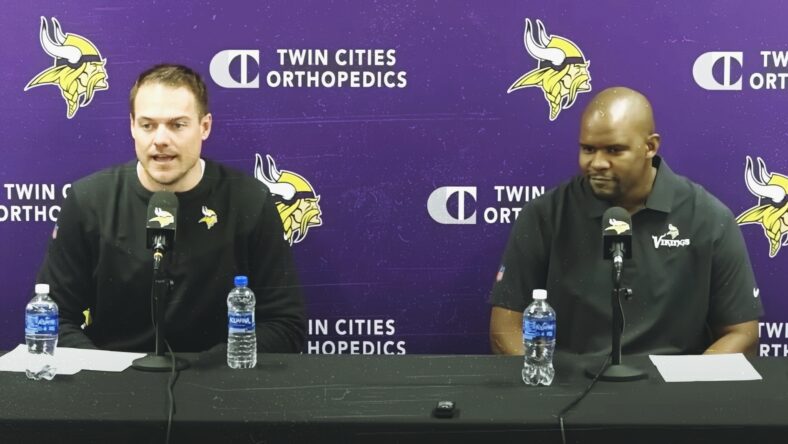 Flores replaces Ed Donatell, whose defense ranked 27th in DVOA last year, 30th in points allowed, and 31st in yards allowed. But Flores 'alone' isn't enough to move the needle in the court of public opinion. NFL experts are skeptical about the Vikings ability to defensively rejuvenate on the fly.
One such entity is Fansided. The sports media outfit ranked all NFL defenses heading into 2023 last week — and Minnesota was plopped at No. 31, also known as second-worst.
Fansided's Jakob Ashlin defended the putrid ranking, "The Vikings' defense struggled in 2022, finishing in the bottom three in the league in both points allowed and yards allowed. To make matters worse, they lost key pieces in edge rusher Za'Darius Smith and defensive tackle Dalvin Tomlinson. Last season, Smith was an elite pass rusher, recording 10 sacks and 37 pressures. Meanwhile, PFF ranks Tomlinson as the 18th-best interior defender in the NFL."
Smith and Tomlinson departing the franchise will indeed be a significant blow that must be fixed by outside linebacker Marcus Davenport and veteran defensive tackle Khyiris Tonga.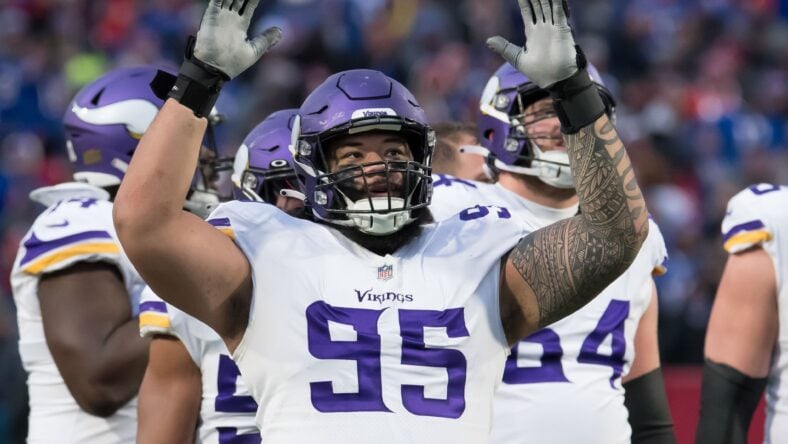 "Free-agent addition Marcus Davenport has upside. In 2021, he had nine sacks and 21 pressures, but his production dipped last season. In 15 games, he posted only 0.5 sacks and 14 pressures. Even if Davenport has a bounce-back season, it will not be enough to elevate the unit as a whole. Barring any unforeseen developments, the Vikings' defense seems destined to be a bottom-three unit, once again," Ashlin concluded.
Meanwhile, Vikings fans will remain on Danielle Hunter Watch as the EDGE rusher seeks a new contract, and no one is too sure if Minnesota's front office is interested in ponying up $20-$25 million per season. If the two camps, the Vikings brass and Hunter, cannot reach an agreement, the three-time Pro Bowler could be traded this summer.
Fansided classified the Arizona Cardinals as the only team worse defensively than the Vikings. The San Francisco 49ers (No. 1), Dallas Cowboys (No. 2), and Buffalo Bills (No. 3) headlined the rankings.
---
Dustin Baker is a political scientist who graduated from the University of Minnesota in 2007. Subscribe to his daily YouTube Channel, VikesNow. He hosts a podcast with Bryant McKinnie, which airs every Wednesday with Raun Sawh and Sal Spice. His Vikings obsession dates back to 1996. Listed guilty pleasures: Peanut Butter Ice Cream, 'The Sopranos,' Basset Hounds, and The Doors (the band).
All statistics provided by Pro Football Reference / Stathead; all contractual information provided by OverTheCap.com.