The Surprising Aspect of Kirk Cousins' Pay in 2023
Dec 24, 2022; Minneapolis, Minnesota, USA; Minnesota Vikings quarterback Kirk Cousins (8) looks to pass against the New York Giants during the second quarter at U.S. Bank Stadium. Mandatory Credit: Matt Krohn-USA TODAY Sports.
Since Kirk Cousins joined the Minnesota Vikings in 2018, the number-one-with-a-bullet talking point weaponized by his detractors is money.
Cousins signed the first mammoth guaranteed NFL deal — that seems tiny now — and that set the tone for the Cousins Experience regarding Vikings football.
The Surprising Aspect of Kirk Cousins' Pay in 2023
Amid the last five years, folks debate whether he's worth the pricetag, sprinkled in with talkers like, "He can't get the job done with the game on the line," despite the Vikings record-setting 11-0 win-loss mark in one-score games last year.
His divisiveness is real, but there's an important caveat for Cousins' tenure in Minnesota in 2023. A new wrinkle, indeed — 2023 is tentatively scheduled to be his final year with the Vikings. General manager Kwesi Adofo-Mensah didn't extend his contract yet this offseason, perhaps creating an exit ramp, enabling Cousins to hit free agency next March like Derek Carr last month.
And as all signs point to Cousins as the QB1 in 2023, barring a jarring trade after June 1st, a typical argument utilized against him will no longer apply.
At some point this offseason, Joe Burrow, Justin Herbert, and Lamar Jackson will net contract extensions, and per average annual salary, Cousins' financial standing will rank 15th in the NFL among quarterbacks. He generally checks in about eighth or ninth when a season starts, but folks erroneously assume or loudly state that Cousins 'makes Top 5 money.' It's the easiest way to berate the 34-year-old's existence on the team, and the Top 5 money assertion is false.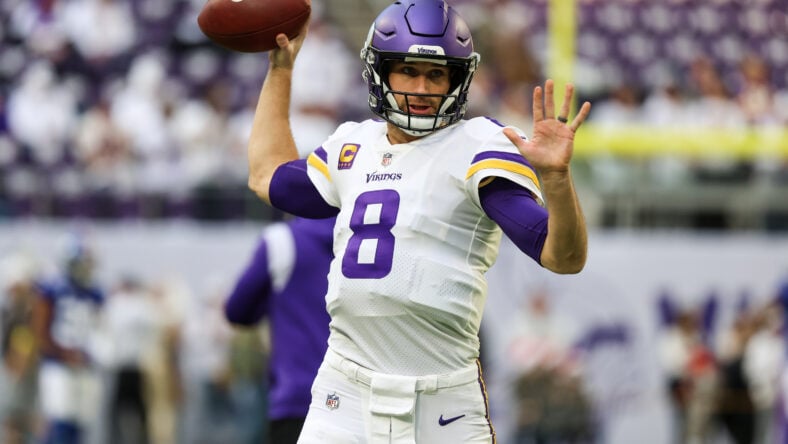 When the regular season nears in August or September, something similar to this per-year salary ranking will be evident:
1. Jalen Hurts ($51M)
2. Joe Burrow (TBD)
3. Lamar Jackson (TBD)
4. Justin Herbert (TBD)
5. Aaron Rodgers ($50.2M)
6. Russell Wilson ($48.5M)
7. Kyler Murray ($46.1M)
8. Deshaun Watson ($46M)
9. Patrick Mahomes ($45M)
10. Josh Allen ($43M)
t11. Daniel Jones ($40M)
t11. Matthew Stafford ($40M)
t11.. Dak Prescott ($40M)
14. Derek Carr ($37.5M)
15. Kirk Cousins ($35M)
And then what? This will be truly agonizing for some because all they know from the last five years is pulling false talking points about Cousins' bloated contract — a deal that was typically on par with his leaguewide performance in the first place.
It was somewhat easy, although fallacious, to claim that Cousins earned top-tier money before the QB market exploded in the last two years, as Cousins was around eighth or ninth in earnings rankings. Those folks could 'get away with' saying, "Well, he makes Top 10 money," when confronted about the elite-money lie.
Now, the QB pay pecking order has fundamentally passed Cousins by. He's likely to fetch $40 million next offseason as a free agent — probably from the San Francisco 49ers — but 2023 is devoid of the widespread ammunition ordinarily used against Cousins.
The never-Cousins crowd will assuredly find 'the next thing' to chant, but money is off the table in 2023.
A brave new world.
---
Dustin Baker is a political scientist who graduated from the University of Minnesota in 2007. Subscribe to his daily YouTube Channel, VikesNow. He hosts a podcast with Bryant McKinnie, which airs every Wednesday with Raun Sawh and Sal Spice. His Vikings obsession dates back to 1996. Listed guilty pleasures: Peanut Butter Ice Cream, 'The Sopranos,' and The Doors (the band).
All statistics provided by Pro Football Reference / Stathead; all contractual information provided by OverTheCap.com.