Always Remember What Vikings GM Said in February about Justin Jefferson's Contract
Kwesi Adofo-Mensah
The Minnesota Vikings have not extended the contract of their superstar and face-of-franchise wide receiver Justin Jefferson, although the task has lived on the offseason checklist for eight months.
Always Remember What Vikings GM Said in February about Justin Jefferson's Contract
Minnesota's regular season begins in two days, taking on the Tampa Bay Buccaneers at U.S. Bank Stadium on Sunday. Whether Jefferson owns a fat new contract by that event's commencement is a mystery.
If you're shaky or anxietal about will-they-or-won't-they on Jefferson's extension, there's not much room for panic. Indeed, it's odd that the Vikings front office hasn't completed the deal by now, but the reality remains Jefferson is under contract for two more seasons, no matter what. He also hasn't pushed the envelope this offseason, as Chris Jones, for example, has done in Kansas City.
And remember general manager Kwesi Adofo-Mensah's musings on the matter from February when this extension hubbub dusted up. His remark was quite telling when he replied to a question about Jefferson's future in Minnesota.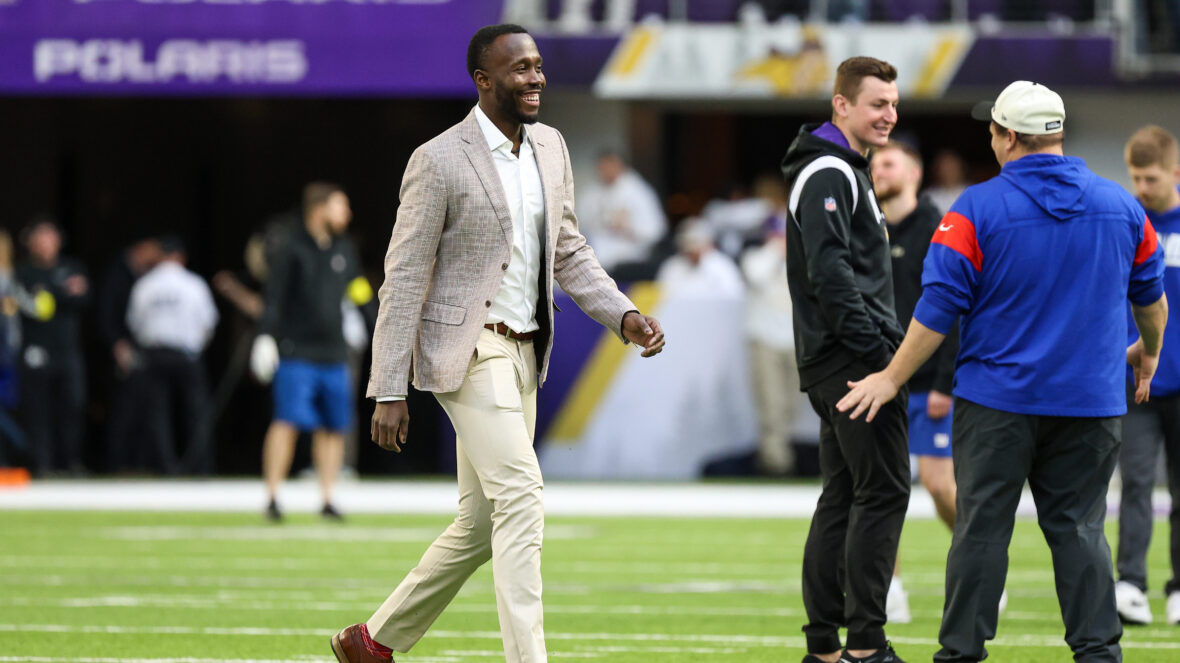 "I don't want to be the Vikings' GM without that guy on our team,' Adofo-Mensah declared at the 2023 NFL Combine.
Adofo-Mensah added, "So it's a high priority. We've got to make sure we do in the order that we can do it in, obviously, given all of our other decisions we have to make."
Of course, that was a lifetime ago in football-speak, but the first sentence is jarring. Perhaps laced with some hyperbole, Adofo-Mensah flatly said, "I don't wanna work here" without the reigning Offensive Player of the Year. That's unusually revealing from a general manager — the types of men who sometimes talk in bland rhetoric so as not to say "too much."
On Thursday, Jefferson was asked about his upcoming extension. and he replied, "Of course, I would want a contract to be done. But at the end of the day, it is all up to them and what the ownership want to do with that."
"Up to them" — the Vikings leadership — is new vocabulary from the wideout, implying his side has already expressed its demands.
He also claimed his extension talks are a bit exceptional because of his supernatural performance since joining the Vikings, which isn't wrong. "I'm in a different situation. I've done something that no one has ever done in the history of the game. So my situation is a little bit different than everyone else's. Of course, I'm going into my fourth year, trying to talk about contract two years early. There's so many different parts that go in towards it. That's why I leave it up to my agent and just keep my mindset on the field."
A deal will get done; it doesn't get any more emphatic than a general manager saying he doesn't want the job sans his one-of-a-kind player.
The question is when.
---
Dustin Baker is a political scientist who graduated from the University of Minnesota in 2007. Subscribe to his daily YouTube Channel, VikesNow. He hosts a podcast with Bryant McKinnie, which airs every Wednesday with Raun Sawh and Sal Spice. His Vikings obsession dates back to 1996. Listed guilty pleasures: Peanut Butter Ice Cream, 'The Sopranos,' Basset Hounds, and The Doors (the band).
All statistics provided by Pro Football Reference / Stathead; all contractual information provided by OverTheCap.com.