The Vikings' Pending Free Agents List is Long, Expensive, and Cause for 2024 Roster Chaos
Sep 11, 2022; Minneapolis, Minnesota, USA; Minnesota Vikings linebacker D.J. Wonnum (98) and linebacker Danielle Hunter. Mandatory Credit: Jeffrey Becker-USA TODAY Sports.
Kwesi Adofo-Mensah has a pile of work ahead of himself.
In fairness, a major part of the plan was always to flip the roster over during the 2024 offseason. The 2022 season featured plenty of continuity while the 2023 season has been featuring painful subtractions as the GM is working toward getting the finances in order. The Vikings' pending free agents list, though, foreshadows what is sure to be a chaotic offseason in Minnesota.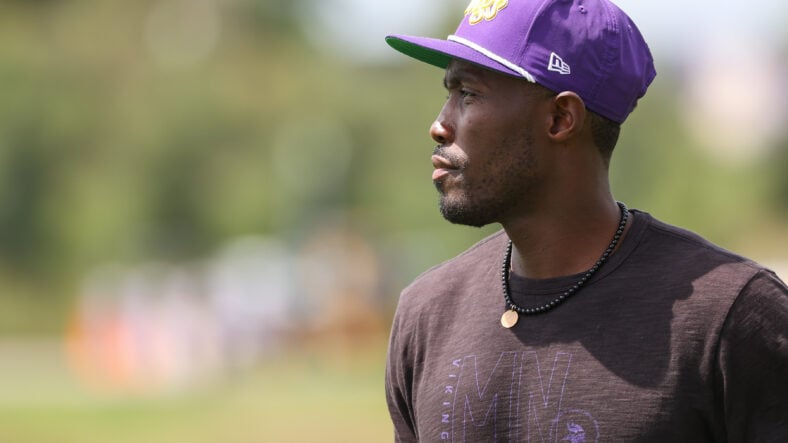 Kirk Cousins, of course, will see his name perched above all others. Until recently, I'd have argued that he was a shoo-in to be brought back. He's already accounting for a $28.5 million cap charge. Giving him a new deal allows for Minnesota to get something for the lost room in the budget in the form of a QB who is actually on the roster.
And, to be sure, his pre-injury play demanded that Minnesota think long and hard about bringing him back. Continuing on his trajectory would have involved an All-Pro nomination. He was that good, folks.
The serious injury alongside the (mostly) positive play from Josh Dobbs complicates matters. At the very least, Cousins would appear to have less leverage in negotiations, a notable detail given the QB's propensity for insisting on huge guarantees on his deals.
Otherwise, Vikings fans will be fascinated to see what happens within Minnesota's pass rushing department.
The 29-year-old Danielle Hunter is no stranger to contract disagreements. After all, the veteran defender successfully leveraged his July hold-in into a revised deal from the Vikings, one that kicked some decent guarantees into his bank account. Nothing from the 2023 season lessens his value in Minnesota. If anything, he looks more important than ever, largely due to his 12 sacks and 16 TFLs.
The intrigue doesn't stop with Hunter.
What's to be done with Marcus Davenport? His age and ability mean he's an ideal fit for the GM's competitive rebuild. His health history complicates matters, though. And what about D.J. Wonnum? He is having a career year and could become too expensive for the Vikings.
Names like K.J. Osborn, Dalton Risner, Brandon Powell, and Jordan Hicks also stand out. Kwesi will need to make a decision on all of these players.
Plus, we're only considering the pending free agents. Guys like Harrison Smith and Harrison Phillips will be worth monitoring since their large 2024 cap hits demand some sort of attention. They, too, will be part of the GM's decision-making in February and March. And let's not even get into the Justin Jefferson extension.
Shout out to PurplePTSD for originally taking on the topic of the Vikings' pending free agents. Take a peak at who is on the list.
The Vikings' Pending Free Agents
OFFENSE
Quarterback:
Kirk Cousins ($28.5M Dead Money in 2024)
Josh Dobbs
Running Back:
Wide Receiver:
K.J. Osborn
Brandon Powell
Trishton Jackson
N'Keal Harry
Tight End:
Offensive Tackle:
David Quessenberry
Oli Udoh
Hakeem Adeniji
Offensive Guard:
Chris Reed
Blake Brandel
Dalton Risner
Center:
DEFENSE
Defensive Line:
Jonathan Bullard
Khyiris Tonga
James Lynch
Outside Linebacker:
Danielle Hunter ($14.9M Dead Money in 2024)
Marcus Davenport ($6.8M Dead Money in 2024)
D.J. Wonnum
Off-Ball Linebacker:
Jordan Hicks
Troy Dye
Anthony Barr
Nick Vigil
Corner:
Safety:
SPECIAL TEAMS
Kicker:
Punter:
Long Snapper:
Editor's Note: Information from Pro Football Reference and Over the Cap helped with this piece.
---
K. Joudry is the Senior Editor for Vikings Territory and PurplePTSD. He has been covering the Vikings full time since the summer of 2021. He can be found on Twitter and as a co-host for Notes from the North, a humble Vikings podcast.