Vikings Offensive Line Banking on Continuity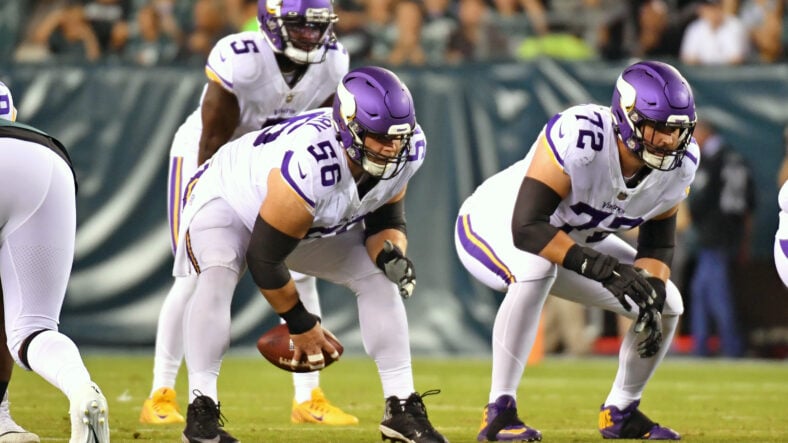 Sep 19, 2022; Philadelphia, Pennsylvania, USA; Minnesota Vikings center Garrett Bradbury (56) snaps the football along side of guard Ezra Cleveland (72) against the Philadelphia Eagles at Lincoln Financial Field. Mandatory Credit: Eric Hartline-USA TODAY Sports
Kirk Cousins got hit more than any other quarterback in the NFL in 2022. His new Netflix hit, "Quarterback," even has an episode called "Kings of Pain" that details what he went through each week just to get his body ready to absorb more violence the following Sunday. And yet, despite allowing the second-most QB pressures to go along with the most QB hits in 2022, all five starters from the Vikings offensive line will be back in 2023. 
Vikings Offensive Line Banking on Continuity
With free agent guard Dalton Risner visiting TCO Performance Center this past week, there has been speculation about how solidly the coaching staff and front office feel about their current offensive line. Last week, Kevin O'Connell reiterated their belief in their current unit and that bringing in Risner would be purely additive: "[we just wanted to] see if we can take what we think is a strong group and make it even better." 
At the publication of this piece, Risner is yet to sign with the Vikings, or any NFL team for that matter, leaving open the possibility of bringing in the former second-round pick. The Vikings did add to their offensive line room this past week with two depth pieces in tackles Christian DiLauro and Jarrid Williams.
Running It Back
As of now, it appears that the Vikings will indeed run it back with that group that was, at best, a middling unit. If it wasn't for the performance of their star tackles – Christian Darrisaw and Brian O'Neill cooked up the 2nd- and 8th-best PFF grades among all tackles, respectively – Minnesota's front five could have looked much worse.
The unit as a whole ranked 22nd in ESPN's Pass Block Win Rate and 18th in Run Block Win Rate. PFF seemed to like the group a little more overall, as they finished 19th in pass-blocking grades and 3rd in run-blocking, good enough for a final overall ranking of 13th. 
Although run blocking is a strength for all five of the Viking linemen, the team struggled in the run game all year, as Minnesota was 25th in both rush yards gained before contact and rush yards per attempt. Admittedly, the run game is far more complex than just how the front five block -– there are tight ends and receivers blocking along with running back performance baked into the overall equation – but finishing in the bottom third of the league is not what a group known for run blocking should produce. 
A big part of the problem was how often the Vikings were going backward, rather than forward.
Continuity
So, why do the Vikings feel this unit can improve enough to protect their quarterback better and furnish a stronger running game? 
Continuity.
Bringing back all five starters was essential for this group, as evidenced by the sigh of relief emitted by Christian Darrisaw upon hearing the news that center Garrett Bradbury was returning. "We love Garrett. He's the leader of the whole offense … It was a great relief when we found out he was coming back with us."
Offensive mastery requires a symphonic congruence of all 11 players; one man failing to complete his job can throw off the entire rhythm and timing of the play. This idea is even more true within the offensive line, specifically with how these Vikings play it, according to Bradbury. "The more reps you have as an O-line together, the better you are … [Offensive Line coach Chris Kuper] coaches team protection a lot … You play as a unit. We're only as good as all five of us are together".
Despite getting hit more than any other quarterback in 2022, Kirk Cousins is grateful to have the same five protecting him this year. "Football so much is about continuity and chemistry; and when you constantly have turnover it's hard to create that … [For the offensive line] to feel like we can build on last year and have that shared experience, I think will really help."
Building on last year has been a common theme throughout the offseason. Players and coaches alike have remarked how having a second full year together is a huge boon for this offense. "Going into year two, we kind of know what to expect, and we can dial in all of the stuff we need to know out on the field," said Ezra Cleveland during OTAs this May.
Brian O'Neill is confident that Ed Ingram, the second-year guard who started alongside him every game in 2022, will improve on a season where he allowed the most quarterback pressures of any NFL guard. "[Continuity] is going to be huge, starting with Ed. Everybody says taking the jump from year one to year two is the biggest."
The reports from training camp have been mostly positive, but positivity has become Kevin O'Connell's MO and can't be taken as fully indicative of the progress this group has made. With or without Risner, O'Connell and company are banking on continuity and shared reps to reduce the amount of pain their quarterback has to absorb in 2023, starting on September 10th against Vita Vea and the Buccaneers.
---
Will is a husband, father, and earned an undergraduate degree in Economics (just like Kwesi Adofo-Mensah). Will's favorite pastimes are water skiing, Minnesota sports, and Cinnamon Toast Crunch. He is the co-host of the Load the Box Vikings Podcast with Jordan Hawthorn. Follow him on Twitter (@willbadlose) and find his other sports content at Twins Daily and his very own Bad Loser Blog.