Former Vikings GM Sizes up Trey Lance Trade Sweepstakes
Aug 13, 2023; Paradise, Nevada, USA; San Francisco 49ers quarterback Trey Lance (5) throws the ball against the Las Vegas Raiders in the first half at Allegiant Stadium. Mandatory Credit: Kirby Lee-USA TODAY Sports.
The San Francisco 49ers will embark on Kyle Shanahan's seventh season as head coach with Brock Purdy at QB1, Sam Darnold at QB2, and Trey Lance, at least for now, as QB3.
Former Vikings GM Sizes up Trey Lance Trade Sweepstakes
San Francisco announced the QB depth chart Wednesday, prompting sports media outlets and fans to speculate about Lance's future. A former 3rd overall pick from a very recent draft shouldn't be utterly buried on a depth chart.
But such is life for Lance, who is now the subject of trade rumors. At some point, Lance must actually prove his worth as a QB1, the job he was drafted for 2.5 years ago.
Well, if former Minnesota Vikings general manager Rick Spielman were still in charge, the odds of trading for Lance as a QB1 solution would be quite low. Spielman, who left the Vikings in January 2022, now writes and podcasts for The 33rd Team, and he shared thoughts on Lance this week.
"In my opinion, on the history of Trey Lance since he's been the No. 3 overall pick, the San Francisco 49ers would not get anything better than maybe a late-round draft pick for him," Spielman opined.
Predictably, because of Lance's birthplace — Minnesota — and quarterback Kirk Cousins' expiring contract after this season, Lance has immediately been connected to the purple team in the rumor mill. Some believe Lance could fill the QB1 role after Cousins departs.
Spielman continued, "There's no question about his physical ability, about his arm talent. He just is not ready to be a quarterback — a starting quarterback — in the NFL right now."
Lance's raw talent was likened to Patrick Mahomes' during the lead-up to the 2021 NFL Draft, and unsurprisingly, Lance didn't take the league by storm as Mahomes did in 2018.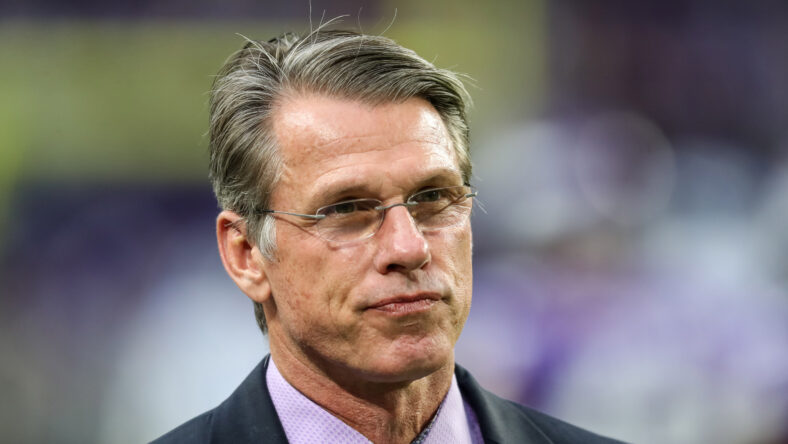 "That is why I say, 'You're not trading for a starting quarterback.' You're probably only going to give away a 6th- or 7th-Round pick, in my opinion. And I don't believe with everything they have invested in Trey Lance the San Francisco 49ers would accept that kind of trade," Spielman concluded about Lance and his trade value.
No team would trade for Lance in 2023 and toss him into the lineup as QB1. The Arizona Cardinals might while waiting for Kyler Murray to return from injury, but that's about it. Any Lance deal before the 2023 trade deadline would set QB1 sights on 2024 and beyond.
Last year, Vikings current general manager Kwesi Adofo-Mensah fired off trades for T.J. Hockenson, Jalen Reagor, and Ross Blackock, all men who were picked highly in the draft. Due to that pattern, various Vikings fans think Adofo-Mensah could do it again with Lance.
The 49ers open the 2023 season on the road at the Pittsburgh Steelers in 16 days. We shall see if Lance is on the roster.
---
Dustin Baker is a political scientist who graduated from the University of Minnesota in 2007. Subscribe to his daily YouTube Channel, VikesNow. He hosts a podcast with Bryant McKinnie, which airs every Wednesday with Raun Sawh and Sal Spice. His Vikings obsession dates back to 1996. Listed guilty pleasures: Peanut Butter Ice Cream, 'The Sopranos,' Basset Hounds, and The Doors (the band).
All statistics provided by Pro Football Reference / Stathead; all contractual information provided by OverTheCap.com.