Vikings Fetch Dastardly Defensive Ranking
Sep 30, 2022; Thundridge, United Kingdom; Minnesota Vikings head coach Kevin O'Connell at press conference at Hanbury Manor. Mandatory Credit: Kirby Lee-USA TODAY Sports.
The Minnesota Vikings defense might improve in 2023, but don't bet on it, says Bleacher Report.
Former defensive coordinator Ed Donatell skippered Minnesota to a bend-don't-break defense in 2022, a philosophy that seemed to work for about two to three weeks but struggled on the whole. During a two-game stretch last year — against the Washington Commanders and Buffalo Bills — it appeared the Vikings defense was 'figuring it out' and hitting a groove. But that was a pipe-dream outlier when it was all said and done.
Vikings Fetch Dastardly Defensive Ranking
Well, Donatell doesn't work here anymore, departing four days after the Vikings lost at home in the playoffs to the New York Giants, a loss that occurred because — you guessed it — the defense. Minnesota couldn't stop the onslaught of Daniel Jones, an odd sentence to type in any form on the internet.
The Vikings hired Brian Flores in February, and he is tasked with rescuing a defense that watched Dalvin Tomlinson, Patrick Peterson, Eric Kendricks, and Duke Shelley vamoose in free agency. General manager Kwesi Adofo-Mensah opted for youth, speed, upside, and affordability on defense in 2023, and we shall see if Flores can fix the group on the fly.
Bleacher Report's Kristopher Knox emphatically isn't sold, though. He ranked all NFL defenses heading into 2023, with the regular season four months away. The Vikings ranked 30th, also known as third-worst in the business. Knox wrote, "There's a chance that the hiring of seasoned defensive coordinator Brian Flores dramatically improves the Minnesota Vikings defense in 2023. If Flores can't get more out of this unit, though, it's going to be quite bad once again. Last year, only the Detroit Lions allowed more yards than the Vikings. Only the Cardinals and Chicago Bears surrendered more points."
"Minnesota did add a couple of quality starters in Marcus Davenport and Byron Murphy Jr., and it drafted promising young defensive backs Mekhi Blackmon and Jay Ward. However, it also lost proven starters like Dalvin Tomlinson, Patrick Peterson and Eric Kendricks. The Vikings got a little younger on defense, but only time will tell if they actually got better," Knox added.
Per Knox, the only teams worse on defense heading into 2023 are the Los Angeles Rams (31) and Arizona Cardinals (32).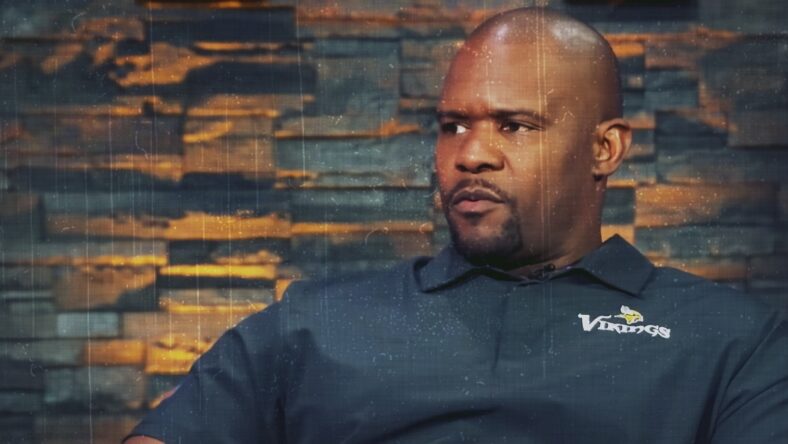 Whether the Vikings defense is good, bad, or in the middle, it will feel different — undoubtedly. Donatell fancied a shell coverage scheme, willing to surrender yards out the wazoo so long as the defense stiffened in the redzone and late in games. Flores, on the other hand, is the anti-Donatell for scheme. He'll sell out to blitz quarterbacks, relying on defensive backs to win their individual matchups against wide receivers. It will seem like an NBA offense content with a halfcourt set at all times, pivoting to a fastbreak mentality with run-run-run the court on the menu.
The Vikings ranked 31st in yards allowed last year, and the last time they fired up that ranking was in 2013. Mike Zimmer was hired the following season, and the yards-allowed metric instantly improved to 14th in 2014.
Dustin Baker is a political scientist who graduated from the University of Minnesota in 2007. Subscribe to his daily YouTube Channel, VikesNow. He hosts a podcast with Bryant McKinnie, which airs every Wednesday with Raun Sawh and Sal Spice. His Vikings obsession dates back to 1996. Listed guilty pleasures: Peanut Butter Ice Cream, 'The Sopranos,' and The Doors (the band).
All statistics provided by Pro Football Reference / Stathead; all contractual information provided by OverTheCap.com.