One Viking Shined in His Return
Oct 8, 2023; Minneapolis, Minnesota, USA; A general view of U.S. Bank Stadium before the game between the Minnesota Vikings and the Kansas City Chiefs. Mandatory Credit: Jeffrey Becker-USA TODAY Sports
The Minnesota Vikings may have scored a "moral victory" against the Kansas City Chiefs on Sunday afternoon, staying within puncher's distance of the world champions, but Minnesota is far past the deadline for acknowledging moral victories.
One Viking Shined in His Return
The Chiefs downed the Vikings thanks to an early Minnesota fumble, marvelous play from Patrick Mahomes, and some favorable officiating calls, particularly near the end of the game. Kansas City was flagged for defensive pass interference, and Chiefs CB L'Jarius Sneed protested by removing his helmet. Moments later, the referees picked up the flag, told Sneed to cut it out with the unsportsmanlike conduct, and reversed all misfortune for Kansas City, paving the way for victory.
And while moral victories are silly with a 1-4 record, silver linings are fair game, and the Vikings found one in Week 5 — Garrett Bradbury played wonderfully in his return.
Vikes Insider tweeted Monday:
How the Vikings offensive linemen ranked among their respective positions in Week 5 per Pro Football Focus:

Christian Darrisaw: 1st (of 67 tackles)
Garrett Bradbury: 2nd (of 32 centers)
Ezra Cleveland: 6th (of 67 guards)
Ed Ingram: 10th (of 67 guards)
Brian O'Neill: 31st (of 67 tackles)

– Vikes Insider
Bradbury didn't allow a single pressure versus an efficient Chiefs defense, one featuring four-time Pro Bowler Chris Jones.
Put simply, Bradbury played tremendously, but the performance was overshadowed by the Vikings fourth loss in five games. Bradbury even concocted a 73.4 pass-blocking grade in Week 5, a terrific grade for any offensive lineman but especially good for Bradbury, who is known for run-blocking majesty, with mediocre pass-protecting grades.
Bradbury missed most of the first four games after injuring his back right away in Week 1. The Vikings faced the Tampa Bay Buccaneers at home to start the season, lost 20-17, and Bradbury only played a handful of snaps before retreating to the sidelines.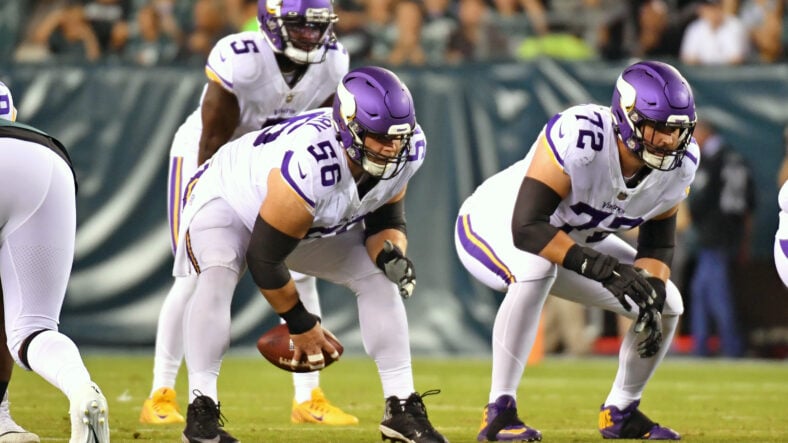 Veteran center Austin Schlottmann filled in for Bradbury for the better part of four games, tallying a 64.8 PFF score, which was rather Bradburyian, all things considered.
Minnesota used 1st-Round draft capital on Bradbury in 2019, and until 2022, the lineman was the butt of jokes among Vikings fans. Centers drafted in Round 1 are expected to become Pro Bowlers because, otherwise, most teams wait until the draft's mid- or late-rounds to unearth them. The Vikings wanted to anchor the offensive line after a bad 2018 showing, and Bradbury was on deck for the assignment.
Until 2022, when Kevin O'Connell and a new coaching staff arrived in Minneapolis, Bradbury emphatically was not an anchor of the Vikings interior offensive line. But after some tutelage from O'Connell and offensive line coach Chris Kuper, Bradbury turned his career around last season.
Thankfully for his and the Vikings sake, that spurt of goodwill has continued into 2023. Minnesota faces an uphill battle to reach the postseason after the awful 1-4 start, and if it does turn fortunes around, a productive Bradbury will be crucial.
O'Connell said about Bradbury before his return in Week 5, "Such a pillar of communication, getting all five of those guys and Kirk. There's a reason why we feel real comfortable when Garrett's out there."
The Vikings take on the Chicago Bears this Sunday at Soldier Field.
---
Dustin Baker is a political scientist who graduated from the University of Minnesota in 2007. Subscribe to his daily YouTube Channel, VikesNow. He hosts a podcast with Bryant McKinnie, which airs every Wednesday with Raun Sawh and Sal Spice. His Vikings obsession dates back to 1996. Listed guilty pleasures: Peanut Butter Ice Cream, 'The Sopranos,' Basset Hounds, and The Doors (the band).
All statistics provided by Pro Football Reference / Stathead; all contractual information provided by OverTheCap.com.