Two Vikings Have Already Been Benched, So a Week 4 Blunder Would Hint at More to Come
Geoff Burke-USA TODAY Sports
Brian Asamoah and Khyiris Tonga are two Vikings who were supposed to be part of the solution.
The former represented speed while the latter represented power; both represented the upside that accompanies youthful replacements. Integrating them into the Brian Flores defense seemed like a no-brainer, especially given the varying levels of uncertainty within Minnesota's front seven. At 23 and 27, the LB and NT offer the potential of being long-term solutions for a Vikings defense that hasn't had a strong season since 2019.
Instead of ascending into their starting roles, Asamoah and Tonga are mostly riding the pine. In fact, the massive nose tackle didn't even get the chance to dress in Week 3 against the Chargers.
What's going on within the Vikings' defense? Are more demotions on the way if the team continues to flounder in the win/loss column?
Two Vikings to the Bench. What's Next for the Struggling Defense?
Losing is the fuel that pushes roster change forward. Indeed, a team that's dropping game after game is going to experience added urgency to adjust the personnel. Predictably, the Vikings are no different, moving players in and out as they try to find the secret to defensive competence.
The caveat for the sophomore linebacker is that he appeared to lose his starting job before the season got going. Ivan Pace Jr. is the rare UDFA to not only fulfill the hype but far surpass it. Pace is exceeding even the most optimistic expectations. Not only is he a starter, but he's also the team's second-best pass rushing presence (behind only the venerable Danielle Hunter).
Meanwhile, Asamoah has been left behind, at least after a few weeks. He has yet to pick up a start and only has 16 snaps on defense. In Week 3, Asamoah was shutout on defense, perhaps indicating the team's DC wasn't particularly inspired by his level of play across 14 snaps against the Eagles in Week 2.
At his current pace, Asamoah won't surpass the 119 snaps he played as a rookie. It's a stunning turn that will cause even further discouragement since Lewis Cine and Andrew Booth Jr. aren't doing any better.
Tonga hasn't been doing too much, either. Like Asamoah, Tonga had zero defensive snaps in Week 3, but that's because he wasn't in uniform for the game. The nose tackle had 12 snaps against Philadelphia in Week 2 but then didn't get an opportunity to battle with Justin Herbert. Instead, the team gave 5th-round rookie Jaquelin Roy a shot at getting into the DL rotation.
Part of what makes the Tonga demotion so discouraging is that the Vikings have one of the least impressive defensive lines in the NFL.
Harrison Phillips is steady but few are mistaking him for Aaron Donald. Dean Lowry has been playing poorly while Jonathan Bullard has quietly been making the GM look smart for bringing him back. Even with the trio up front falling short of dominance, the Vikings haven't found much room for Tonga.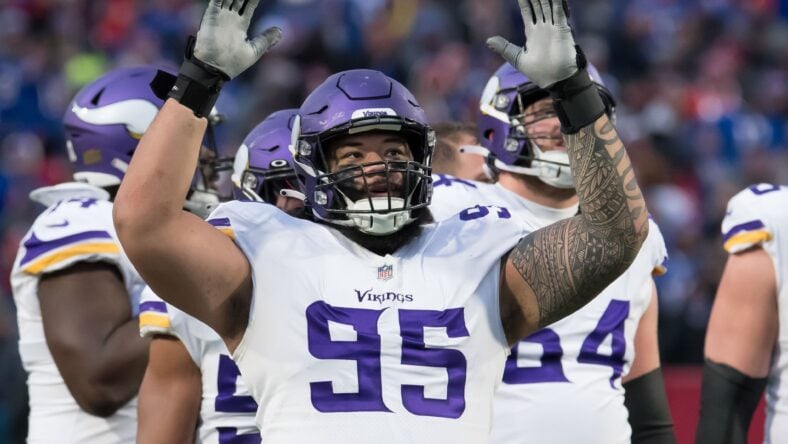 Failing to overcome the Carolina Panthers would be a massive disappointment for everyone from Minnesota's ownership down to the fans.
Yes, Bryce Young has talent, but he has no business overcoming the Vikings. His pair of games have led to just 299 passing yards, 2 TDs, and 2 INTs. Currently, he's completing 59.2% of his passes. His 4.2 yards-per-attempt average is coming in at 34th in the NFL (dead last on PFR; Kirk Cousins is tied for 4th at 7.8). Meanwhile, his 66.6 quarterback rating is only a bit better since he's sitting at 32nd.
In theory, the Flores defense should feast, picking up sacks and turnovers. The theory needs to become a reality, though. More than a few people in Minnesota are worried about how the game will go.
An NFL depth chart can be a ruthless spot. And, to be sure, losing every game in a season makes it increasingly so. Seeing the Vikings add on a 4th loss to their total after only four games — and with Patrick Mahomes' Chiefs looming on deck — would mean the Vikings' leadership would need to think long and hard about who they're going to be leaning on to resurrect a season that would almost certainly be over.
Editor's Note: Information from Pro Football Reference helped with this piece.
---
K. Joudry is the Senior Editor for Vikings Territory and PurplePTSD. He has been covering the Vikings full time since the summer of 2021. He can be found on Twitter and as a co-host for Notes from the North, a humble Vikings podcast.