What to Expect from the Vikings Defense in 2023
Jun 8, 2022; Minneapolis, Minnesota, USA; Minnesota Vikings safety Lewis Cine. Mandatory Credit: Matt Krohn-USA TODAY Sports.
The biggest problem that needed to be solved this season for the Minnesota Vikings to be competitive again in 2023 was obvious — the defense. The stats weren't good, but how the defense played was the most disappointing. Ed Donatell's soft shell coverage saw teams move the ball with ease.
What to Expect from the Vikings Defense in 2023
I don't expect that to be the case this season, but what to expect from the Vikings defense in 2023? 
If what the players on offense have been saying during OTA's, there is reason to be excited. Going up against a Brian Flores-coached defense in practice has brought out glowing reports from players like Christian Darrisaw, who believes the offense will be better prepared for gameday due to how the defense is now. Alexander Mattison called the defense intense, while KJ Osborn used the word exotic. It sounds promising, but let's start by looking at what went wrong last season.
The 2022 Defense
The stats make for grim reading; in 2022, the Vikings defense ranked 31st in yards allowed per game with an average of 388.7 and passing yards allowed per game with an average of 265.6. They faired better (but not great) in run defense, giving up 123.1 yards per game, ranking 20th. The Vikings gave up, on average, 25.1 points per game, tied with the Detroit Lions for 28th most in the league. Stats like that ask a lot from your offense to keep you in games.
The frustrating thing was when forced into a corner, and the defense had to get aggressive, the players consistently made plays that resulted in victories, but the defense would repeatedly revert to the soft shell. It made for frustrating viewing. I want to see a defense be aggressive and get after the opposition, which is why I am delighted by the appointment of Flores. His style of defense couldn't be any further away from what Donatell served up in 2022.
Brian Flores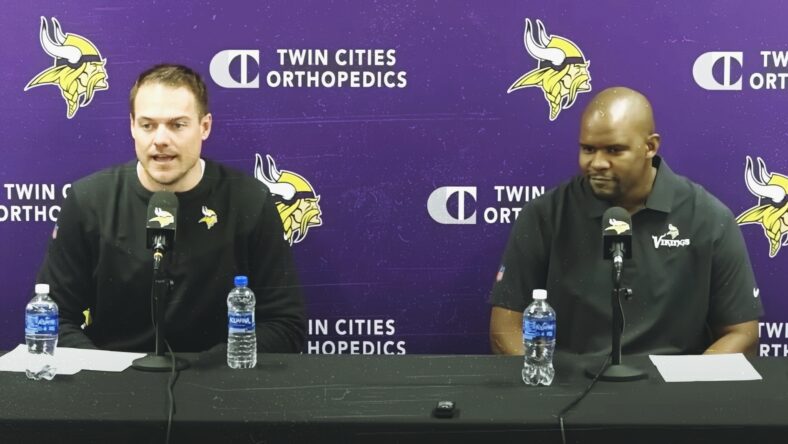 Flores has built a reputation as a coach whose aggressive defense creates pressure. He likes to send blitzes, something the Vikings rarely did last season. During the last two seasons of his reign as Miami Dolphins head coach, Flores had his defense blitz on 40.8% of plays in 2020 and 39.6% in 2021. In both seasons, that was the second-highest percentage in the league. For comparison, the Vikings blitzed on 18.9% of plays in 2022, so it's a safe bet that number will rise in 2023.
It's not just about blitzing, though; you can expect the Vikings defense to be more aggressive and physical on a down-by-down basis. It makes sense, as it should suit the players the Vikings have on the roster, particularly those drafted. Flores walked into a well-suited roster for what he wanted. Including cornerbacks suited to playing man coverage, despite the fact the Vikings played zone coverage last year. 
Playing this way does allow the opposition to score big touchdowns if they beat the blitz; that's the drawback, but I'm okay with it. Go and make a play to try and win, rather than sit back and allow big plays anyway, even if there is cover to stop the touchdown, at least for the moment. To me, that defense style was like playing "not to lose." It did work a lot last season, but not against the better offenses, and it was shown up come the playoffs.
What to Expect From the Young Players
Between the players selected in the last two drafts, the Vikings have a group of young players with potential. Now with Flores in place as the DC, they have the perfect coach to uncork that potential. So what should you expect from Minnesota's young defensive talents?
Lewis Cine shows physical aggression on the field and is a tone-setter with his football character. Early signs in training camp show no ill effects of last year's injury. Cine is like the Vikings having another first-round rookie in 2023.
Brian Asamoah looks set to replace Eric Kendricks in the Vikings defense. His versatility to be moved around is being talked up by all the coaching staff. We saw glimpses of his talent in 2022; an explosive finisher who tackles with intent, Asamoah is being tipped by many to have a breakout season.
Andrew Booth's talents in man coverage saw him touted as a first-round pick. He is an aggressive and enthusiastic tackler with dynamic click and close ability. Booth should thrive in this new-look Vikings defense, provided he can stay healthy.
Akayleb Evans was probably more suited to Donatell's zone scheme than Booth, so he saw more success. Evans can still find a role in Flores's defense. He's an imposing player who offers a good series of punishing strikes as a tackler and ample length to disrupt route releases when he's implemented in press coverage.
The 2023 Rookies
The first defender the Vikings selected in this year's draft was CB Mekhi Blackmon, with the last pick of the third round. He fits the Flores mold with a fearlessness in his striking challenges, and he takes aggressive paths to the football. It will be an intriguing camp battle between Blackmon, Booth, and Evans.
Jay Ward is a high-motor, maximum-effort player that is willing to put his body on the line on any given play. He started at corner before moving to safety, giving him the versatility to play in the slot, something Adofo-Mensah alluded to during the draft day video recently released by the Vikings.
The Vikings needed to address the interior defensive line in the draft and did so with Jaquelin Roy. A player with the versatility to line up all over the defensive front and the athleticism to quickly get into gaps and present penetration to potentially disrupt a play. He might be a fifth-round pick, but I believe he has an excellent chance to make an impact in his rookie season as part of the rotation.
Andre Carter was touted as high as a second-round pick, but ultimately the edge defender landed in Minnesota as an undrafted rookie. His raw athleticism is mainly untapped due to playing at Army and could take a while to develop. Flores is an ideal coach to develop that talent in an aggressive, penetration-orientated defensive front. The hope is with Carter getting the opportunity to focus on football entirely; the Vikings will unearth a gem.
Along with Carter, the Vikings picked up Ivan Pace Jr. as an undrafted rookie. Arguably the two best-undrafted players available came to Minnesota. The knock on Pace Jr/ was that he is undersized for a linebacker, but he is a heat-seeking missile with a nose for the football. He could carve out a role that emphasizes his strengths in an exotic defense like Flores will run.
---