Injuries Hit Vikings-Titans Joint Practice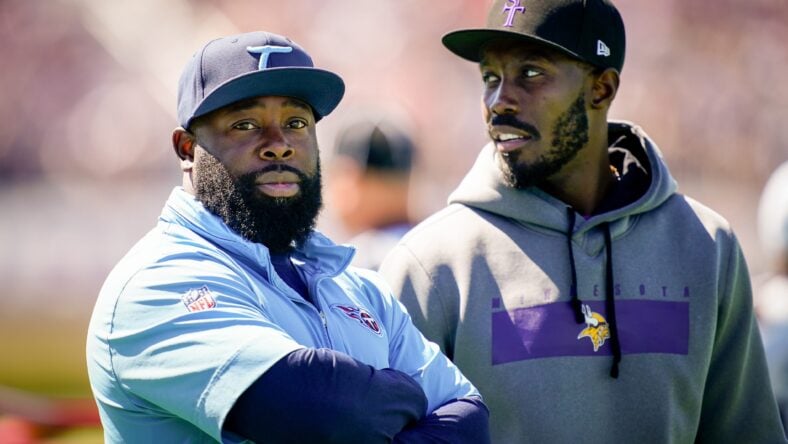 Tennessee Titans general manager Ran Carthon chats with Minnesota Vikings general manager Kwesi Adofo-Mensah during practice in Eagan, Minn., Wednesday, Aug. 16, 2023. © Andrew Nelles / The Tennessean / USA TODAY NETWORK.
The Minnesota Vikings and Tennessee Titans play Saturday night in a preseason game at U.S. Bank Stadium but are squaring off first in joint practices.
Injuries Hit Vikings-Titans Joint Practice
The joint-practice sessions might even be more entertaining because first-teamers play against first-teamers, whereas the preseason games largely turn into a festival of reservist players vying for roster spots.
And on Wednesday, injuries were front and center as clubs conducted business at TCO Performance Center.
Titans WR Treylon Burks Carted Off
Star Tribune's Ben Goessling tweeted on the X app Wednesday, "Titans receiver Treylon Burks had to be helped off the field after a leg injury during the first day of joint practices with the Vikings. Came up grabbing his leg after a deep ball. Derrick Henry, DeAndre Hopkins among those who went to check on him in the medical area."
Here's video of the play:
At the time of this article's publication, the injury's severity was unknown.
Burks was on tap to serve as the Titans WR1 or WR2 with free-agent newcomer DeAndre Hopkins in 2023.
Quarterback Ryan Tannehill said about the Burks development, "You hate seeing that. We'll find out more information and see what's going on. Hopefully, he's gonna be alright. He seemed upset. Thoughts and prayers with him. Hopefully, it's not that bad."
Jordan Addison Out with Concussion
Addison was not present on the first day of joint practices with the Titans, and head coach Kevin O'Connell later explained the rookie playmaker was in the concussion protocol. O'Connell claimed Addison was experiencing "light symptoms" and that there was "no reason to risk anything."
The USC alumnus has been ruled out of Saturday's preseason game, with the Vikings apparently expecting him back Monday.
Addison fetched excitement last week in the first preseason game, nabbing a nifty tip-toe catch at Seattle that was erroneously ruled incomplete. He also missed time earlier this spring with an injury and was charged with reckless driving a few weeks ago, so just when his stock was rising, the concussion malady fell into his lap.
No Asamoah, Nwangwu, Nailor
Linebacker Brian Asamoah, running back Kene Nwangwu, and wide receiver Jalen Nailor were all absent from practice, too, dealing with minor-and-undisclosed injuries.
Asamoah was listed as a starting off-ball linebacker on the Vikings first depth chart last week and will command the middle of the field with veteran Jordan Hicks this season. Nwangwu is penciled in as RB2 and is also the team's primary kick returner.
Nailor lives in the WR3-WR4 section of the depth chart and hopes to capitalize on his hot finish in 2022.
None of these injuries are considered severe.
---
Dustin Baker is a political scientist who graduated from the University of Minnesota in 2007. Subscribe to his daily YouTube Channel, VikesNow. He hosts a podcast with Bryant McKinnie, which airs every Wednesday with Raun Sawh and Sal Spice. His Vikings obsession dates back to 1996. Listed guilty pleasures: Peanut Butter Ice Cream, 'The Sopranos,' Basset Hounds, and The Doors (the band).
All statistics provided by Pro Football Reference / Stathead; all contractual information provided by OverTheCap.com.