The 4 Weirdest Moments of the Vikings Offseason
Minnesota Vikings cornerback Duke Shelley (20) signals an incompletion after breaking up a pass intended for Green Bay Packers wide receiver Christian Watson (9) on Sunday, January 1, 2023, at Lambeau Field in Green Bay, Wis. Tork Mason/USA TODAY NETWORK-Wisconsin.
The Minnesota Vikings kick off mandatory minicamp on June 13, indicating the offseason is in the rearview and the regular season is less than three months away.
The 4 Weirdest Moments of the Vikings Offseason
Minnesota conducted an eventful offseason, offloading expensive and aging veterans in favor of youth and speed — with a new defensive coordinator, too, in Brian Flores.
Along the way, these were the four weirdest moments of the Vikings offseason ranked in ascending order (No. 1 = weirdest).
4. No OL or LB in NFL Draft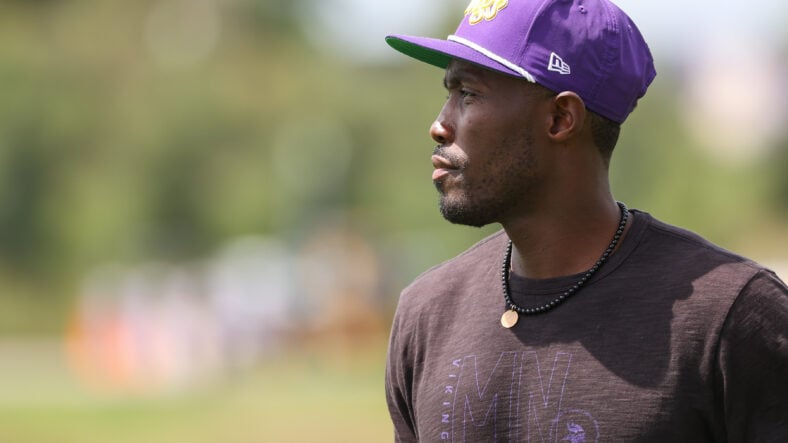 The Vikings selected zero offensive linemen or linebackers in an NFL draft. Bonkers. Most teams — the Vikings, especially — choose at least one in a seven-round draft.
It 'doesn't really matter' that Minnesota drafted no players from those positions, but the linebacker room is still fairly anonymous. Some draft heads believed Minnesota would splash in an early round for Trenton Simpson, Jack Campbell, or Drew Sanders. No cigar.
On the offensive line, well, the Vikings coaches and front office must like their current batch of men — because most franchises draft at least one offensive trenchman for development depth.
Thankfully for Minnesota's sake, it found Ivan Pace Jr. (LB), Jacky Chen (OT), and Alan Ali (OG) from undrafted free agency.
3. Josh Oliver — a TE — Signed as 1st Free Agent
Everyone in the Vikings fan orbit was tapping their phones for free-agent updates in the second week of March. Minnesota was 'set' at two roster positions — offensive tackle and tight end heading into the event. Don't need either of those, fans reiterated privately.
And then the Vikings first splashy move was inking a run-blocking tight end from the Baltimore Ravens. His name is Josh Oliver, and he nabbed a pretty handsome contract from Kwesi Adofo-Mensah.
In terms of weird moments, nobody anywhere had a tight end on their Vikings free-agent bingo board — and definitely not as the first meaty transaction.
2. C.J. Ham Extended
This beloved Viking was hardly used on offense in Kevin O'Connell's first season as head coach, a circumstance closely monitored by Vikings fans who asked, "Will Ham be used by the coach who doesn't utilize fullbacks.?
Ham played 15% of offensive snaps in 2022. Because of his non-involvement, he was on deck as a cap casualty in March. But wait, there's more. Ham dodged the roster-cut bullet and was afforded an extension from the club that used him only 15% of the time.
The lesson? Affordable locker room captains are essential. Special teams mastery matters.
1. Duke Shelley Not Re-Signed for $1.3M
The Vikings best cornerback in 2022 was Duke Shelley — yes, you read that right. On the whole, the secondary struggled in Ed Donatell's only season as defensive coordinator. Naturally, Minnesota would keep the top corner at his cheap pricetag, allotting him a sequel season to prove he wasn't lightning in a bottle, right?
Nope. Shelley signed with the Las Vegas Raiders for one year and $1.3 million, an incredibly diminutive price for a starting NFL cornerback. Through their actions — not re-signing the scrappy defender — the Vikings proved they wanted nothing to do with Shelley beyond his breakout season.
Besides possibly not fitting inside Brian Flores' new scheme, nobody knows why. The man earned a chance to prove 2022 wasn't an outlier season, particularly for $1.3 million.
Fast forward to June, and Minnesota's top depth chart concern is — drumroll, please — cornerback. Funny how that works.
---
Dustin Baker is a political scientist who graduated from the University of Minnesota in 2007. Subscribe to his daily YouTube Channel, VikesNow. He hosts a podcast with Bryant McKinnie, which airs every Wednesday with Raun Sawh and Sal Spice. His Vikings obsession dates back to 1996. Listed guilty pleasures: Peanut Butter Ice Cream, 'The Sopranos,' Basset Hounds, and The Doors (the band).
All statistics provided by Pro Football Reference / Stathead; all contractual information provided by OverTheCap.com.