Vikings Tabbed for One of NFL's 'Biggest Jumps'
Nov 6, 2022; Landover, Maryland, USA; Minnesota Vikings players celebrate after an interception by Vikings safety Harrison Smith (22) against the Washington Commanders during the fourth quarter at FedExField. Mandatory Credit: Geoff Burke-USA TODAY Sports.
The Minnesota Vikings lost 10 veteran players this offseason, including Cameron Dantzler (CB, Bills), Eric Kendricks (LB, Chargers), Patrick Peterson (CB, Steelers), Adam Thielen (WR, Panthers), Dalvin Tomlinson (DT, Browns), Duke Shelley (CB, Raiders), Irv Smith (TE, Bengals), Kris Boyd (CB, Cardinals), Chandon Sullivan (CB, Steelers), and Za'Darius Smith (OLB, Browns — Trade).
Vikings Tabbed for One of NFL's 'Biggest Jumps'
That's a lot of veteran experience to replace as the franchise pivots to a younger, faster, and more affordable front-office approach, especially on defense.
And when the Vikings come out swinging against the Tampa Bay Buccaneers in Week 1, NFL.com believes the defense is poised to take one of the league's biggest jumps this season — in a good way.
Minnesota replaced for-one-year-only defensive coordinator Ed Donatell this offseason, handing the baton to Brian Flores in February, who hopes to bring his Belichickian defensive style to the Twin Cities.
According to NFL.com's Bucky Brooks, Flores will do precisely that — and then some — as Brooks' labeled the Vikings theorized defensive improvement as of the league's eight biggest jumps afoot in 2023.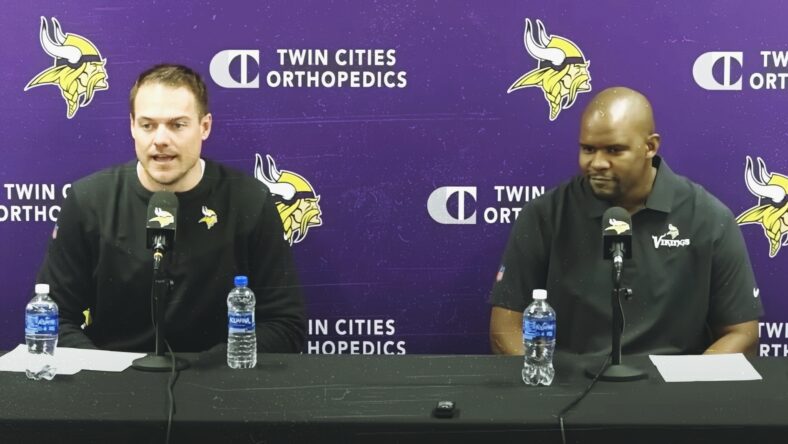 Brooks explained last weekend, "Although it takes exceptional talent to flourish in the NFL, the presence of a high-end coach can help a group exceed expectations. First-year Vikings defensive coordinator Brian Flores will produce better results than predecessor Ed Donatell, thanks not only to his attention to fundamentals and detail but his creative Xs and Os, as well."
Flores was the Miami Dolphins head coach from 2019 to 2021 and later took over the Pittsburgh Steelers linebacking corps in 2022.
"The former Dolphins head coach showed an ability to confound opponents with a bluff-and-blitz Cover 0 scheme in Miami, and I expect him to utilize some of those same tactics to help the Vikings diffuse the high-powered offenses around the league. Coach Flo will transform a group lacking in star power into a disruptive force that creates chaos with blitzes and simulated pressures," Brooks continued.
Vikings fans and NFL media often criticized Minnesota last year for lack of aggression and too much 'shell coverage.' The team's opponents pranced up and down the field on Sundays, and Donatell's defense only seemed to stiffen in the 4th Quarter of games, a rather odd mentality to exalt.
"As Flores works his magic, the brilliant defensive strategist could quickly re-emerge as a head-coaching candidate, having directed an impressive turnaround in short order," Brooks concluded.
If Flores can whisk the Vikings defense to mere respectability — so, you know, not 30th in points allowed — the sky is the limit for the 2023 team. Few have reservations about the offense — that's what happens when Justin Jefferson is on the roster — but Vikings loyalists are waiting on pins and needles to see the fruit of Flores' summer labor in a matter of months.
Brooks also forecasted defensive 'jumps' from the Dolphins, Lions, and Seahawks, whereas the Bears, Broncos, Jets, and Steelers are predicted to make newfound noise on offense.
---
Dustin Baker is a political scientist who graduated from the University of Minnesota in 2007. Subscribe to his daily YouTube Channel, VikesNow. He hosts a podcast with Bryant McKinnie, which airs every Wednesday with Raun Sawh and Sal Spice. His Vikings obsession dates back to 1996. Listed guilty pleasures: Peanut Butter Ice Cream, 'The Sopranos,' Basset Hounds, and The Doors (the band).
All statistics provided by Pro Football Reference / Stathead; all contractual information provided by OverTheCap.com.