The Vikings Have a Standout Defensive 'Chess Piece'
Jan 8, 2023; Chicago, Illinois, USA; Minnesota Vikings cornerback Patrick Peterson (7) celebrates his interception with teammates during the second quarter against the Chicago Bears at Soldier Field. Mandatory Credit: Daniel Bartel-USA TODAY Sports
The 2023 Minnesota Vikings will seek to cleanse the sins of the 2022 defense this September, an assignment that involves dragging a group ranked 30th per points allowed at least to the middle of the pack.
The Vikings Have a Standout Defensive' Chess Piece'
Of course, it would be delightful if Minnesota orchestrated a full defensive turnaround, but baby steps should more reasonably be the expectation.
Along the way, one man will serve as a 'chess piece' for the defensive reformation — linebacker Brian Asamoah.
And it's not VikingsTerritory calling Asamoah a chess piece; it's the Vikings coaching staff and linebackers coach Mike Siravo in particular. The new Vikings coach called Asamoah "a gifted athlete" this week and said he "brings unreal energy."
Siravo continued, "He's one of those chess pieces that you're going to see him all over the field. He could rush, he could drop, he can do a bunch of different things. He's athletic enough to play man."
Asamoah is tentatively scheduled for a starter's duty in 2023, his second campaign in the pros. After the 2023 NFL Draft, it seems, almost by default, the Oklahoma alumnus is the next man up in Brian Flores' new defense. Minnesota drafted no linebackers during the event; in fact, it was the first in the Vikings 62-year history where the franchise drafted zero linebackers and zero offensive linemen.
The LB group feels reduced or diminished because long-time Viking Eric Kendricks left for the Los Angeles Chargers in March, a franchise adjacent to his college stomping grounds at UCLA. Kendricks will start in Los Angeles while the Vikings mitigate life without him for the first time since 2014. Kendricks was an honest-to-goodness cap casualty who wasn't quite worth his sizable pricetag on the 2023 iteration of the Vikings.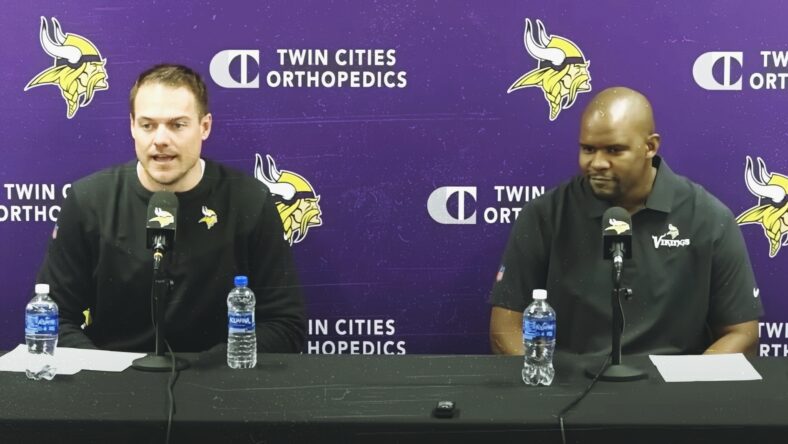 Asamoah didn't play much as a rookie — 119 defensive snaps — but when he did, he emulated a machine intent on havoc. He forced a memorable fumble and scooped it for recovery at the white-out game versus the New York Giants. Minnesota won via walk-off field goal, and Asamoah's turnover was a substantial reason why. He also contributed on 285 special teams plays alongside Josh Metellus and Kris Boyd as keynote performers.
This week, Bleacher Report's Alex Ballentine labeled one player from every team a 'best-kept secret,' and Asamoah took the title for Minnesota. "The Vikings obviously have some faith that Asamoah will be able to step into a starting role this season. They released Kendricks and only signed Troy Reeder, a soon-to-be 29-year-old who was a reserve linebacker for the Chargers last year, to replace him."
"Asamoah is going to get every opportunity to take a starting role, and he flashed the ability to be an asset for the Vikings defense last season," Ballentine concluded.
Best-kept secret. Chess piece. Gifted athlete. Unreal energy — It's been a good week for Asamoah.
---
Dustin Baker is a political scientist who graduated from the University of Minnesota in 2007. Subscribe to his daily YouTube Channel, VikesNow. He hosts a podcast with Bryant McKinnie, which airs every Wednesday with Raun Sawh and Sal Spice. His Vikings obsession dates back to 1996. Listed guilty pleasures: Peanut Butter Ice Cream, 'The Sopranos,' Basset Hounds, and The Doors (the band).
All statistics provided by Pro Football Reference / Stathead; all contractual information provided by OverTheCap.com.