Vikings Rookie Class Can Make 2022 Look like an Outlier
Feb 28, 2023; Indianapolis, IN, USA; Minnesota Vikings general manager Kwesi Adofo‐Mensah speaks to the press at the NFL Combine at Lucas Oil Stadium. Mandatory Credit: Trevor Ruszkowski-USA TODAY Sports.
The Minnesota Vikings have already kicked off training camp ahead of the 2023 NFL season, and with Kevin O'Connell set for year two as the head coach, the team looks to continue the momentum from last season. While plenty of contributors return, the incoming rookie class has an opportunity to differentiate from the 2022 group.
Vikings Rookie Class Can Make 2022 Look like an Outlier
An offseason ago was one of change for the Minnesota Vikings. Kwesi Adofo-Mensah was taking over for general manager Rick Spielman, while Mike Zimmer had given way to Kevin O'Connell as the head coach. In his first draft, Adofo-Mensah utilized a handful of picks to bring in new talent, but unfortunately, very little of it made an impact on the field in year one.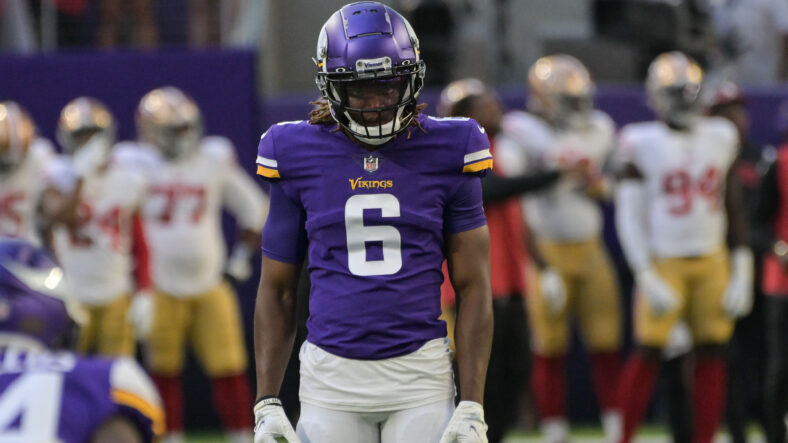 First-round safety Lewis Cine suffered a season-ending injury early on, Andrew Booth Jr. never could stay healthy, and it was basically the Ed Ingram show when considering the group as a whole. For Minnesota, the collection of rookies did very little to contribute on the field, and while Year No. 1 is not the only time to make an impact, the group really didn't show up.
Looking at the picks made during the 2023 NFL Draft and the openings on the current roster, this group has a pretty clear path for production.
Unlike Cine, who didn't immediately have a starting role for Week 1, Jordan Addison will line up opposite Justin Jefferson. The Vikings first-round pick out of USC is expected to immediately step in on offense and provide another weapon through the air. Kirk Cousins does get a full season of T.J. Hockenson this year, but it's Addison who is seen as an upgrade over the aging, and since departed, Adam Thielen.
With Jefferson lining up as the best wide receiver in the NFL, he will find plenty of chances to create opportunities on his own. However, opposing defenses have tried to blanket him in recent seasons, and if Addison can prove to be a viable threat on his own, that will present a much tougher gameplan for defenders.
It's not just Addison in this group, though; his USC teammate Mekhi Blackmon could also find himself in a prominent role quickly. The Vikings have long been a disaster at the cornerback position, and losing Patrick Peterson this offseason doesn't make them better. Someone like Blackmon could step up if returners Booth Jr. and Akayleb Evans aren't healthy.
Beyond just Blackmon, the Vikings will seemingly transition college safety Jay Ward to a nickel position. He could benefit by being closer to the ball, and with both Harrison Smith and Cine eventually holding down the back of the defense, it may be his most straightforward way to playing time.
Defensive lineman Jaquelin Roy will get rotational work at some point, one would imagine, but he isn't likely to start out of the gate. Quarterback Jaren Hall won't, or shouldn't, see the field at all this year. However, he does give O'Connell his first quarterback project to develop, and Hall can learn plenty from Cousins outside of just watching him as a Netflix actor.
It's the running back, DeWayne McBride, that may see surprising run despite being a seventh-round pick. Dalvin Cook is no longer with the organization, and while Alexander Mattison is slated to be the starter, he has yet to be a bellcow back over the course of his career. With last year's selection Ty Chandler behind him and Kene Nwangwu more of a true kick returner, McBride could inch his way up the depth chart.
One would hope that 2023 offers a much more prominent usage of the 2022 draft class. A year of development, learning the league, and hopefully taking care of their bodies has been afforded to each of them. Still, it's this current crop of young rookie talent where Adofo-Mensah may see the most immediate impact.
Fans will see plenty of the youth mentioned throughout the preseason slate, and checking in on who's moving up the depth chart will be key to understanding early season usage.
---
Ted Schwerzler is a blogger from the Twin Cities that is focused on all things Minnesota Twins and Minnesota Vikings. He's active on Twitter and writes weekly for Twins Daily. As a former college athlete and avid sports fan, covering our pro teams with a passion has always seemed like such a natural outlet.