PFF Names 3 Vikings Trade Candidates
Jan 3, 2021; Detroit, Michigan, USA; Minnesota Vikings wide receiver K.J. Osborn (17) reaches for the goalline before the game against the Detroit Lions at Ford Field. Mandatory Credit: Raj Mehta-USA TODAY Sports
The NFL's trade deadline is 13 days away, and some expect player movement to set records as downtrodden teams casually maneuver for the upcoming Caleb Williams sweepstakes.
Tanking is illegal in the NFL, but some clubs might use window-dressing to softly tank and hope to land Williams in April.
PFF Names 3 Vikings Trade Candidates
Unsurprisingly, as the Minnesota Vikings live in third place in the NFC North, some view the organization as a seller with the deadline looming. Pro Football Focus offered three Vikings players — none named Kirk Cousins — this week as potential tradebait.
First and most visible was outside linebacker Danielle Hunter. The longtime Viking leads the NFL in sacks and tackles for loss — quite the accomplishment through six games — and if Minnesota has a 2-6 record or so around Halloween, many believe Hunter will exit the franchise via trade.
PFF's Brad Spielberer explained Hunter as a prominent trade asset, "Hunter has been the subject of trade talks for the past several years as he's gotten his contract reworked time and time again, but now it just makes too much sense for all parties. Retaining the best player on the defense for a playoff team was understandable. Holding onto Hunter now in the final year of his contract on a 2-4 Vikings squad that just lost superstar wide receiver Justin Jefferson for the foreseeable future is illogical."
Hunter turns 29 in 11 days. Indeed, he's probably the most likely Viking to be traded, but the outcome of the next two games (San Francisco 49ers, Green Bay Packers) may be the pendulum on his future. Minnesota lost EDGE rusher Marcus Davenport to injured reserve (at least four games) this week, meaning a Hunter trade would leave Minnesota with pocket lint at the position.
Think of it this way: The 4-4 or 3-5 Vikings probably won't trade Hunter, especially with Davenport on the shelf.
"Several playoff contenders, including the Baltimore Ravens, Jacksonville Jaguars and New Orleans Saints, are in dire need of reinforcements off the edge," Spielberger concluded about Hunter's alleged trade destinations.
After that, PFF targeted wide receiver K.J. Osborn with the trade label. On the final year of his contract in Minnesota, Osborn has re-morphed into a WR3, at least per his target load. Justin Jefferson [obviously] fills the bellcow wide receiver job, and after him, Jordan Addison has emerged as the WR2.
It is unclear what trade capital Osborn could fetch, nor did PFF list any landing spots. But if the Vikings were interested in shopping the 26-year-old, he might command a 5th- or 6th-Round draft pick.
Finally, Spielberger dropped Jordan Hicks into the trade hopper. The veteran off-ball linebacker has produced an absolutely marvelous season — which is evidently "too good" for the Vikings if he's on the hypothetical trade block. Hicks recorded a game-changing touchdown last weekend at the Chicago Bears and ranks 11th among his peers per PFF grade with an 80.3.
Like Osborn, if the Vikings want to trade Hicks at all, he might return a 5th- or 6th-Round draft pick.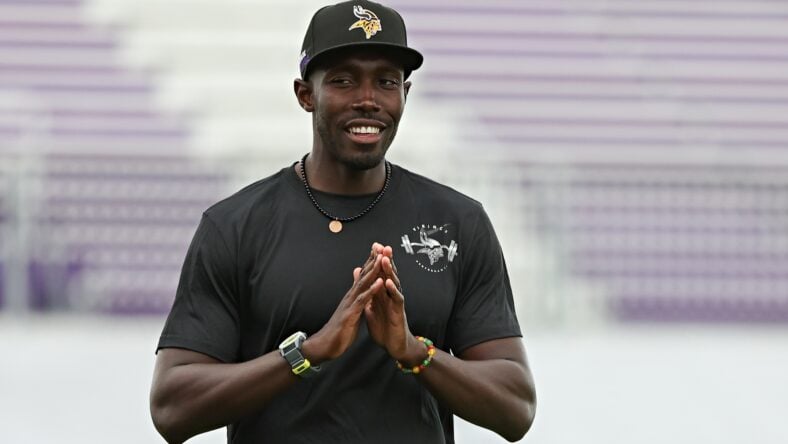 Vikings general manager Kwesi Adofo-Mensah has 13 days to decide if he's a buyer or seller in 2023 at the league's deadline, and most believe he'll sell some items.
---
Dustin Baker is a political scientist who graduated from the University of Minnesota in 2007. Subscribe to his daily YouTube Channel, VikesNow. He hosts a podcast with Bryant McKinnie, which airs every Wednesday with Raun Sawh and Sal Spice. His Vikings obsession dates back to 1996. Listed guilty pleasures: Peanut Butter Ice Cream, 'The Sopranos,' Basset Hounds, and The Doors (the band).
All statistics provided by Pro Football Reference / Stathead; all contractual information provided by OverTheCap.com.