The Intriguing Part of Vikings 1st Preseason Game from a National Lens
Rookie minicamp highlights from Minnesota Vikings cornerback Mekhi Blackmon's first practice as a Viking after being selected in the 2023 NFL Draft. Blackmon is a cornermback from USC drafted by Minnesota in Round 3 of the 2023 NFL Draft.
On Wednesday, VikingsTerritory instructed readers to monitor 10 items when the Minnesota Vikings travel to Seattle for a battle with the Seahawks Thursday night.
The Intriguing Part of Vikings 1st Preseason Game from a National Lens
In a nutshell, here's what we're watching for preseason storylines:
The Kicker Battle
Roster Hierarchy
Bring Us an Ivan Pace Jr.
What Does the Offensive Line Look Like?
Offensive Guard Play
Jaren Hall's Poise
RB Life without Dalvin Cook
The RBs, On the Whole
Does Jordan Addison Live up to Hype?
Rookie Playing Time
That's the local angle. The national perspective is much more focused on the new Vikings defense led by former Miami Dolphins skipper Brian Flores. NFL.com authored an analysis this week regarding something from every NFL team to track during the preseason, and for Minnesota, it was the defensive change.
"After a disastrous defensive season in 2022, the Vikings are pumping good vibes out of Mankato with the arrival of coordinator Brian Flores, who might be auditioning for his second head-coaching opportunity this season," explained NFL.com's Eric Edholm.
The Vikings don't pump vibes out of Mankato anymore; training camp is held in Eagan.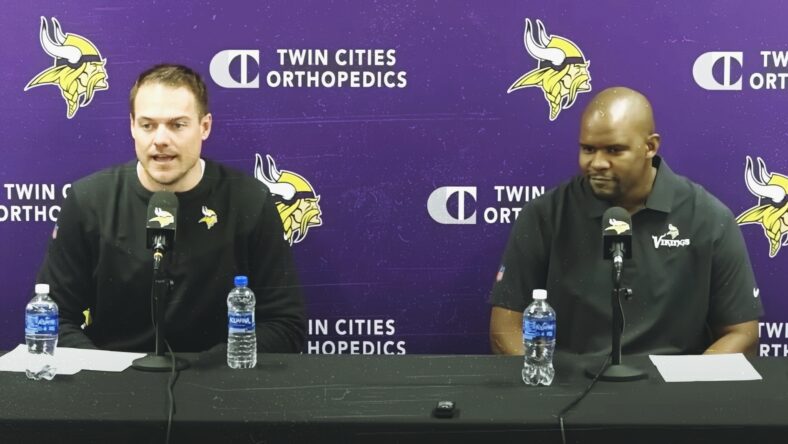 Minnesota finished 27th in 2022 via defensive DVOA, 30th in points allowed, and 31st in yards allowed, prompting a switch from 2022 defensive coordinator Ed Donatell to the newcomer Flores.
Edholm continued, "What we'll see Thursday in Seattle will be a sliver of what to expect from Flores, who has a treasure trove of man-pressure packages that won't be fully unleashed in the preseason."
Throughout a couple of weeks of training camp, the Vikings defense at least feels fundamentally different, as Flores inserts blitz packages, or at least the disguise of a would-be blitz, on virtually every play.
"But let's see what this unit looks like, with third-round CB Mekhi Blackmon and undrafted LB Ivan Pace Jr. making some camp noise. I wasn't a huge fan of the Blackmon pick (mostly due to age and injury history, not his ability), but I hope he proves me wrong," Edholm concluded.
Minnesota somehow won 13 games in head coach Kevin O'Connell's first season a year ago and an NFC North crown for the first time since 2017. Many fans, and perhaps Edholm, now wonder how good the team could be if the defense doesn't live in the basement per meaningful statistical metrics.
The Vikings regular season kicks off in 32 days.
---
Dustin Baker is a political scientist who graduated from the University of Minnesota in 2007. Subscribe to his daily YouTube Channel, VikesNow. He hosts a podcast with Bryant McKinnie, which airs every Wednesday with Raun Sawh and Sal Spice. His Vikings obsession dates back to 1996. Listed guilty pleasures: Peanut Butter Ice Cream, 'The Sopranos,' Basset Hounds, and The Doors (the band).
All statistics provided by Pro Football Reference / Stathead; all contractual information provided by OverTheCap.com.