One Group of Vikings Ranked in NFL's Basement
Dec 4, 2022; Minneapolis, Minnesota, USA; Minnesota Vikings linebacker Jordan Hicks (58) reacts after making a stop against the New York Jets during the fourth quarter at U.S. Bank Stadium. Mandatory Credit: Matt Krohn-USA TODAY Sports.
The San Francisco 49ers lead the pack, while the Los Angeles Rams live in the last.
That's the message from Pro Football Focus and the NFL's linebacking corps' with 11 weeks to go before the start of the 2023 regular season.
One Group of Vikings Ranked in NFL's Basement
And according to PFF's Dalton Wasserman, the Minnesota Vikings are significantly closer to the Rams than the 49ers per linebacking personnel. Minnesota ranked 27th — or sixth-worst — on the 2023 PFF linebacker list.
To set the table, this is the Vikings current LB room some five weeks before training camp:
LB1: Jordan Hicks
LB2: Brian Asamoah
LB3: Troy Reeder
LB4: Troy Dye
LB5: William Kwenkeu
LB6: Ivan Pace Jr.
LB7: Abraham Beauplan
LB8: Wilson Huber
That group must be too anonymous for PFF because a 27th ranking is fairly insulting. Wasserman noted about the Vikings linebackers, "Eric Kendricks and Jordan Hicks played the vast majority of snaps for a unit — and team — that excelled against the run and struggled to cover. Kendricks left for Los Angeles, and Hicks remained in Minnesota."
Kendricks joined the Chargers on a two-year, $13.25 million contract in March following eight seasons as a Viking.
Wasserman continued, "Hicks' 80.2 run-defense grade was a career-high mark, but it seems certain he won't regain the coverage prowess he possessed in his early days in Philadelphia."
Hicks restructured his deal this offseason to remain with the Vikings — probably because he realized he would've earned less on the open market than Minnesota's proposed contract tweak. He registered 128 total tackles and 3 sacks during his first campaign with the Vikings.
"Brian Asamoah is the most likely partner for Hicks at this point. He played well in his small sample of 121 snaps last season, but his 78.8 grade is buoyed in part by one excellent game against the Giants. Troy Reeder also stands by as a veteran option. Right now, the Vikings are looking at Jordan Hicks and an open tryout for the other starting spot," Wasserman concluded.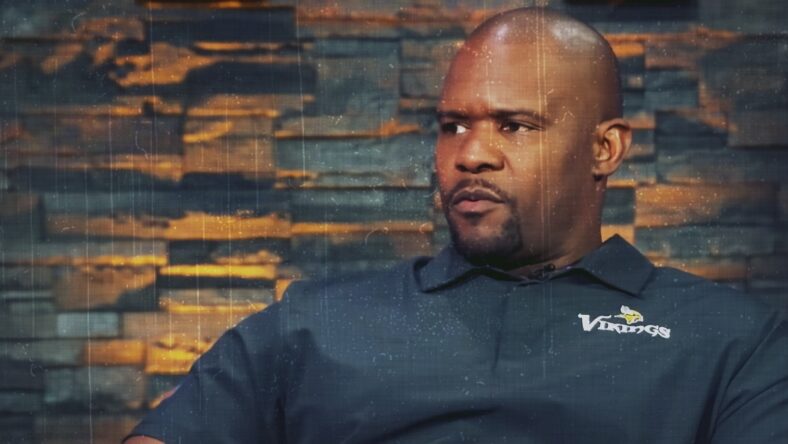 The Vikings are putting most of the linebacking hopes in Asamoah's basket, as last year's rookie showed ample promise. Asamoah was speedy, opportunistic, and hungry in Year One with the club and must maintain or improve in 2023. Otherwise, Minnesota's contingency plan is 'one of the Troys' — Troy Reeder or Troy Dye as the keynote reservists linebackers. The Vikings could also explore defensive snaps for undrafted free agent Ivan Pace Jr., a top UDFA on the market right after the draft.
Thankfully for Minnesota's sake, Brian Flores was hired to lead the defense in 2023, and he specifically coached off-ball linebackers in Pittsburgh last year. If anyone can cultivate a somewhat nameless LB group, it's Flores.
In addition to the 49ers at No. 1, the Chicago Bears (No. 2), Baltimore Ravens (No. 3), New Orleans Saints (No. 4), and Cincinnati Bengals (No. 5) headlined PFF's top LB units. The Falcons, Titans, Raiders, Eagles, and aforementioned Rams ranked below the Vikings.
The Vikings host the Tampa Bay Buccaneers Week 1 at U.S. Bank Stadium on September 10th.
---
Dustin Baker is a political scientist who graduated from the University of Minnesota in 2007. Subscribe to his daily YouTube Channel, VikesNow. He hosts a podcast with Bryant McKinnie, which airs every Wednesday with Raun Sawh and Sal Spice. His Vikings obsession dates back to 1996. Listed guilty pleasures: Peanut Butter Ice Cream, 'The Sopranos,' Basset Hounds, and The Doors (the band).
All statistics provided by Pro Football Reference / Stathead; all contractual information provided by OverTheCap.com.