One Analyst's Recommendation about the Vikings — 'Over'
Oct 9, 2022; Minneapolis, Minnesota, USA; Minnesota Vikings fans react. Mandatory Credit: Jeffrey Becker-USA TODAY Sports.
The Minnesota Vikings have lived in this spot before — as recently as last year.
The club is staring in the face an oddsmakers' forecast of 8.5 wins at the moment while the team's fans attempt to determine — what's the deal?
One Analyst's Recommendation about the Vikings — 'Over'
Minnesota won the NFC North in 2022 for the first time in five years, courtesy of an exquisite 11-0 record in one-score games. Along the way, the Vikings opponents' outscored them by three points, marking the first time in NFL history a team has won 13 games with an underwater point differential.
Accordingly, the Vikings are a popular choice for lists with 'teams that made the playoffs in 2022 but won't in 2023' criteria. Folks expect the Detroit Lions to climb quickly, the Chicago Bears to improve, and a big fat maybe for the Green Bay Packers.
The Vikings are orphaned per NFC North contention, assuredly playing second fiddle to the upstart Lions. But don't tell that to Sporting News' Nick Musial. He published an article recently about best win-total bets in 2023, and Minnesota was among the choices for wagerers to hammer 'the over.'
Musial mentioned the close-game record, too, and explained, "With Minnesota winning an NFL-record 11 one-score games a season ago, it makes sense the betting market is expecting regression ahead of '23-24. However, an 8.5-win total for a playoff-caliber bunch in a parity-filled NFC North feels like an over-adjustment."
"While Adam Thielen left for Carolina and Dalvin Cook's days as a Viking appear limited, Minnesota's offense still has a real shot to finish top 10 in success rate for a second consecutive season. The Vikings' defense will likely finish better than 23rd in drop-back EPA with new defensive coordinator Brian Flores coming to town, which should be sufficient enough for the purple and gold to end the regular season with nine-plus wins," he concluded.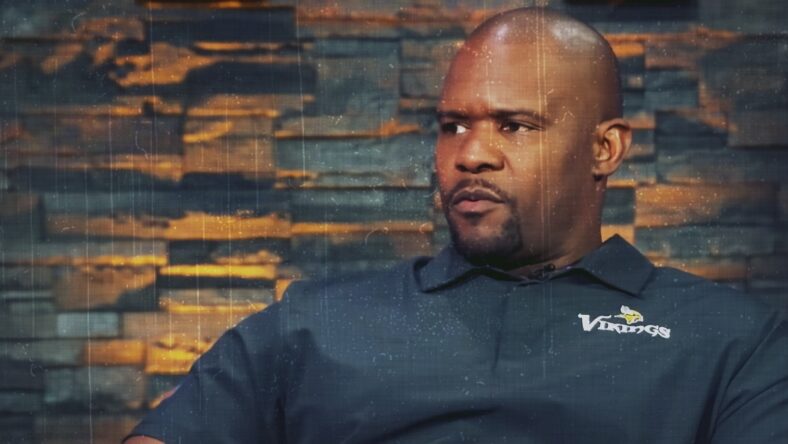 And Musial nailed the Vikings almighty 2023 hinge — Flores' ability to transform the defense from lousy to at-least-average. He was hired for a reason — a history of documented and Belichickian success — and if he can flip the league's 27th-ranked defense per DVOA to the middle of the pack [or better], Minnesota will be in the driver's seat.
If Flores fails and the defense resembles Ed Donatell's performance from 2022, then the Vikings are probably staring at an even-steven record like 8-9 or 9-8.
Musial seems to believe Flores can 'fix it.' Do you?
---
Dustin Baker is a political scientist who graduated from the University of Minnesota in 2007. Subscribe to his daily YouTube Channel, VikesNow. He hosts a podcast with Bryant McKinnie, which airs every Wednesday with Raun Sawh and Sal Spice. His Vikings obsession dates back to 1996. Listed guilty pleasures: Peanut Butter Ice Cream, 'The Sopranos,' and The Doors (the band).
All statistics provided by Pro Football Reference / Stathead; all contractual information provided by OverTheCap.com.