One Aspect of Vikings Offseason Irked Some
Nov 20, 2022; Minneapolis, Minnesota, USA; Minnesota Vikings general manager Kwesi Adofo-Mensah talks with head coach Kevin O'Connell prior to the game against the Dallas Cowboys at U.S. Bank Stadium. Mandatory Credit: Brace Hemmelgarn-USA TODAY Sports.
In their own words, the Minnesota Vikings wish to build on the success of a 13-4 season in 2022, committing to what general manager Kwesi Adofo-Mensah calls a 'competitive rebuild.'
The problem, though, is some don't understand it — even after Adofo-Mensah has defined the strategy multiple times on a microphone.
One Aspect of Vikings Offseason Irked Some
ESPN's Bill Barnwell ranked each NFL team's offseason this week, and the Vikings placed at No. 20 in the business, meaning he believes the club was 13th-worst. He was particularly flummoxed by the Vikings intentions.
In a portion of his analysis entitled What Went Wrong, Barnwell described his reservations, "The Vikings didn't make a bigger commitment to contending or rebuilding. Given a difficult cap situation, it's tough to feel as if they have a great handle on what sort of team they're going to be in 2023 and 2024, given that they just won 13 games while being outscored by their opposition."
Adofo-Mensah has defined the team as living in the now and in the future via roster building — several times.
"They moved on from Kendricks and Thielen but held on to Harrison Smith. They were willing to keep Smith and Cook on the roster into May when that cap space and cash could have been budgeted elsewhere in March," Barnwell added.
The ESPN commentary arrives as a popular wisdom convention from NFL pundits persists. A team must be totally all-in or in full rebuild mode to appease folks' understanding. It's rather odd. Never mind a franchise like the Pittsburgh Steelers that hasn't suffered a losing season in 20 years, with the two Super Bowl triumphs along the way, refusing to 'tear it down.' For some reason, the NFL's talking heads enjoy teams in one of two camps — they're contenders or committed to losing.
But Adofo-Mensah doesn't view the world in a binary manner, at least not in football–speak.
He said 14 months ago, "We're all aligned on what our vision is and how we see the needs of our team this year, next year and overall our whole time horizon. I think when people look at teams, they sometimes do it in a very binary way. And they ask, 'Are you either all-in or tearing down and rebuilding?' And I don't really look at the world that way."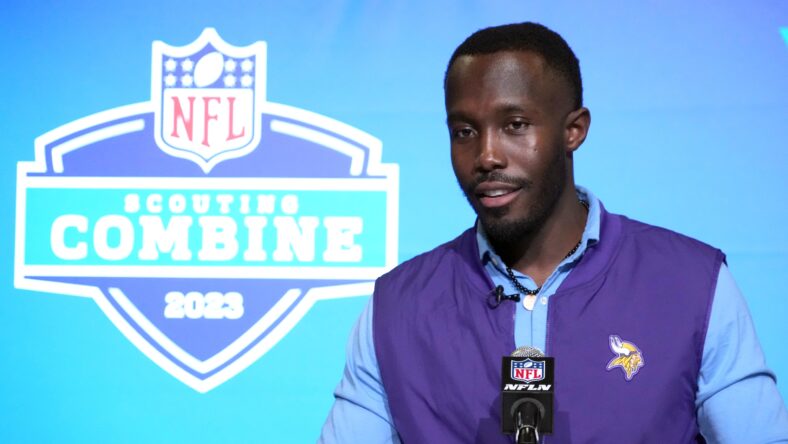 "The way we look at it is we're trying to navigate both worlds, we're trying to live in today and tomorrow, or the competitive rebuild, however, you want to phrase it or market it, and so I think that's kind of how we've approached this offseason and our time horizons going forward," he opined.
And if one can get past the erroneous either-or of contending for a Super Bowl versus burning the roster the ground categories, Adofo-Mensah is precisely effectuating his philosophy. He's transforming the roster on the fly, evidenced by the moves Barnwell mentioned with Thielen and Kendricks. Bloated contacts for aging veterans no longer have a place on Minnesota's ledger, instead allowing young men to receive playing time and auditions.
So long as Adofo-Mensah is employed by the Vikings, he will continue to fluster men and women who crave an all-out Super Bowl announcement or a full-blown rebuild. When the team contends for a Lombardi trophy, you'll know it. And he certainly won't tank as some fans desire.
Listen to his words, and the path is crystal clear. The man lives in the present and future, absent predefined absolutes of NFL nomenclature.
---
Dustin Baker is a political scientist who graduated from the University of Minnesota in 2007. Subscribe to his daily YouTube Channel, VikesNow. He hosts a podcast with Bryant McKinnie, which airs every Wednesday with Raun Sawh and Sal Spice. His Vikings obsession dates back to 1996. Listed guilty pleasures: Peanut Butter Ice Cream, 'The Sopranos,' Basset Hounds, and The Doors (the band).
All statistics provided by Pro Football Reference / Stathead; all contractual information provided by OverTheCap.com.