Lewis Cine Is Doing the Thing.
Aug 20, 2022; Minneapolis, Minnesota, USA; Minnesota Vikings safety Lewis Cine (6) warms up before the game against the San Francisco 49ers at U.S. Bank Stadium. Mandatory Credit: Jeffrey Becker-USA TODAY Sports.
Last week may have been a little quiet for second-year Minnesota Vikings safety Lewis Cine, but the last few days have flipped the script at training camp.
Lewis Cine Is Doing the Thing.
The Vikings selected Cine in Round 1 of the 2022 NFL Draft, and men from that portion of the draft should contribute somewhat immediately.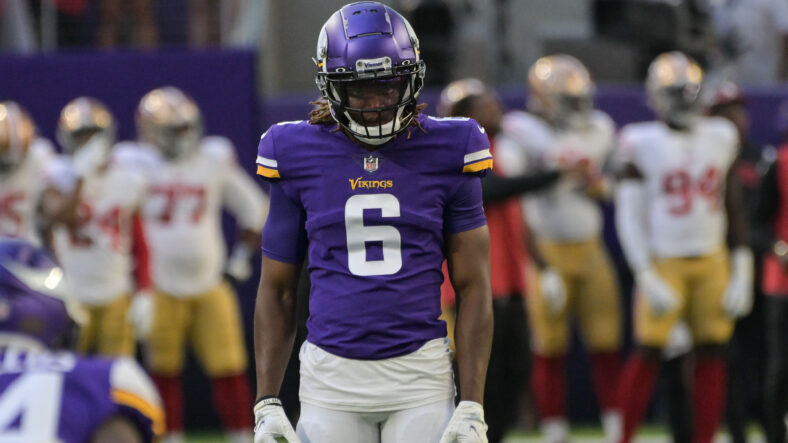 Cine was a different story, though, failing to take over the free safety gig last summer, as Camryn Bynum won the camp battle — and later played every Vikings defensive snap in 2022. Minnesota began to acclimate Cine to special teams and the defense, but he broke his leg in London versus the New Orleans Saints last October.
And that was that for Cine's rookie campaign, marred by injury, hampered by a quiet summer.
But Cine is back — and turning heads — healthy just 10 months after the gruesome leg injury. The Georgia alumnus is starting to claw his way up the depth chart at a spot where Minnesota is actually quite deep. Brian Flores has safeties Harrison Smith, Josh Metellus, plus Cine and Bynum, at his disposal, and it's anybody's guess who might win the FS job next to Smith.
Gradually, Cine is making his case with camp highlights like this:
And another:
Cine returns to a Vikings defense built on aggression, as defined by the newcomer defensive coordinator, Flores. And wouldn't you know it? Cine is the type of defender who should slide in Flores' defense like a baserunner stealing second base. He's fast, mean, and young — the Flores' modus operandi.
Cine played 36 total snaps as a rookie — 34 on special teams and 2 on defense. While it's unclear if he'll win the official starter's job, exceeding 36 snaps, especially on defense, is well within reach. Cine said this week about his 2023 outlook, "Just play fast, whatever happens, happens at the end of the day. I'll be comfortable knowing I gave it my all on the field."
He also stated about the Vikings secondary forming a bond, "We're all tight. We've been a tight unit. This year, we made it a priority to spend time with each other outside of here. So, getting to know each other on a personal level."
In 2022, the Vikings defense ranked 27th in DVOA, 30th in points allowed, 31st in passing yards allowed, and 31st in overall yards allowed. The team's front office is banking on players like Cine fully blossoming this season under Flores to nudge those awful metrics to respectability.
If the beginning of Cine's performance at camp is a reasonable indicator, that feat might be possible.
Cine will turn 24 in October.
---
Dustin Baker is a political scientist who graduated from the University of Minnesota in 2007. Subscribe to his daily YouTube Channel, VikesNow. He hosts a podcast with Bryant McKinnie, which airs every Wednesday with Raun Sawh and Sal Spice. His Vikings obsession dates back to 1996. Listed guilty pleasures: Peanut Butter Ice Cream, 'The Sopranos,' Basset Hounds, and The Doors (the band).
All statistics provided by Pro Football Reference / Stathead; all contractual information provided by OverTheCap.com.