4 Things We Learned from Vikings 53-Man Roster
Minnesota Vikings tight end Nick Muse (34) gets around Tennessee Titans safety Mike Brown (44) at U.S. Bank Stadium in Minneapolis, Minn., Saturday, Aug. 19, 2023. © Andrew Nelles / The Tennessean / USA TODAY NETWORK.
The Minnesota Vikings chopped about 40% of their active roster five days ago, preparing for the regular season that gets underway in one week.
4 Things We Learned from Vikings 53-Man Roster
Minnesota hosts the Tampa Bay Buccaneers at U.S. Bank Stadium in Week 1.
Plenty of surprises graced roster trimdowns — detailed here. And here are four items learned from the personnel finalization, ranked in ascending order of importance (No. 1 = most important).
4. There Will Be TEs
Yes, this was spoken like the Daniel Day-Lewis movie poster would sound.
Nick Muse forced the Vikings hand, causing the club to keep four tight ends when it generally carries three into the regular season. The young tight end was just too damn productive in the preseason that he assuredly would've been snatched on waivers by another franchise.
It's unclear how Minnesota will intermix four TEs into the weekly gameplan, but if the cost was keeping Muse attached to the roster for the long haul, so be it. He deserved the tip of the cap to the active roster.
Put bluntly — the Vikings have one of the deepest TE rooms in the sport.
3. Safety Heaven
A plethora of tight ends? Sure. How about safeties? The Vikings have those, too.
Minnesota kept six safeties, and it would've signaled overkill had they retained five. Ergo, new defensive coordinator Brian Flores has nifty doings up his sleeve, like asking Camryn Bynum or Jay Ward to play corner or just several competent safeties flying over the field in varying combinations.
Theo Jackson even made the club, a man not even on the roster bubble until late in the summer. He popped the bubble, made the active roster, and Minnesota will roll with six safeties in its refurbished secondary.
2. Total OL Continuity
These were the Vikings offensive linemen on the 53-man roster from Tuesday's announcement — LT Christian Darrisaw, LG Ezra Cleveland, C Garrett Bradbury, RG Ed Ingram, RT Brian O'Neill; C Austin Schlottmann, G Blake Brandel, and T Oli Udoh.
This was the 2022 OL batch — LT Christian Darrisaw, LG Ezra Cleveland, C Garrett Bradbury, RG Ed Ingram, RT Brian O'Neill; C Austin Schlottmann, G Blake Brandel, T Oli Udoh, and G Chris Reed.
Reed is the only difference from 2022 to 2023, and he's listed on the non-football-injury list this season.
It's exact same group. This is the Vikings OL solution. Write it down — continuity.
1. Unafraid of Youth Movement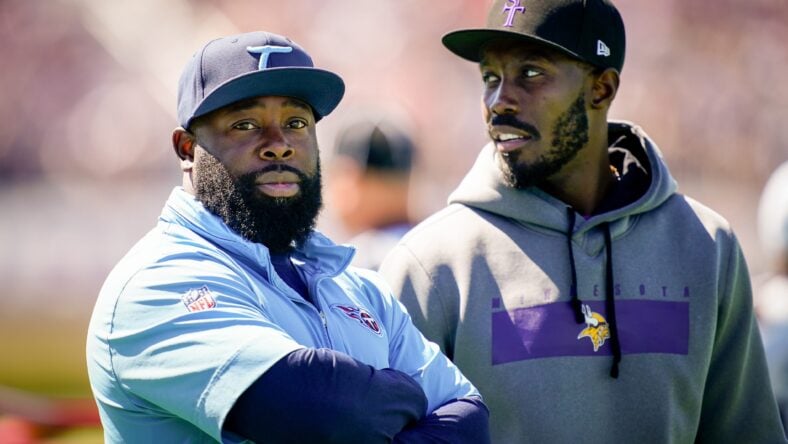 The Vikings promoted or inserted Marcus Davenport, Khyiris Tonga, Brian Asamoah, Byron Murphy, Akayleb Evans, and possibly Mekhi Blackmon to starting defensive jobs this offseason and onto the 53-man roster — all men younger than their 2022 predecessor for the job.
Minnesota said goodbye to Ed Donatell in January and hired Brian Flores in February, unafraid to hand Flores the keys with a mission statement: "Do the thing, please, with all these young guys."
The initial 53-man roster is just fruition of an offseason-long writing on the wall, but it's proof that the Vikings have zero qualms about getting young on defense. Really young.
---
Dustin Baker is a political scientist who graduated from the University of Minnesota in 2007. Subscribe to his daily YouTube Channel, VikesNow. He hosts a podcast with Bryant McKinnie, which airs every Wednesday with Raun Sawh and Sal Spice. His Vikings obsession dates back to 1996. Listed guilty pleasures: Peanut Butter Ice Cream, 'The Sopranos,' Basset Hounds, and The Doors (the band).
All statistics provided by Pro Football Reference / Stathead; all contractual information provided by OverTheCap.com.