Vikings Called a "Loser" from National Viewpoint
Nov 20, 2022; Minneapolis, Minnesota, USA; Minnesota Vikings fans react during the game against the Dallas Cowboys at U.S. Bank Stadium. Minnesota lost to Dallas by a score of 40-3. Mandatory Credit: Jeffrey Becker-USA TODAY Sports.
The Minnesota Vikings weren't supposed to lose versus Baker Mayfield's Tampa Bay Buccaneers on Sunday, but then again, the Cincinnati Bengals whole football operation wasn't supposed to skid entirely against the Cleveland Browns, either. Week 1 in the NFL can get funky.
Vikings Called a "Loser" from National Viewpoint
Minnesota's second-half performance sunk its chances of winning out of the gate in 2023, falling to 0-1 with a meaty matchup against the Philadelphia Eagles under the lights of primetime now three days away.
Tampa Bay was stumped by the Vikings defense in the first half, gaining just 2.4 yards per play in Quarters 1 and 2. After halftime, though, the Buccaneers spiked the total to 3.2 yards per play, which is still small in the NFL — but enough to solve the Vikings defense in a squeaker.
Meanwhile, after Week 1, CBS Sports labeled "winners and losers" from the first weekend of NFL action, and the Vikings, on the whole, were labeled a loser.
CBS Sports' Cody Benjamin wrote about Minnesota in Week 1, "A year after going 13-4 atop the NFC North, Kevin O'Connell's squad played down to the overlooked Buccaneers on their home turf, allowing Baker Mayfield to steal the late-game spotlight with a do-or-die mentality and a couple of well-designed strikes to Mike Evans that sealed the deal."
Mayfield didn't throw downfield often against the Vikings, instead keeping most plays underneath to crack the code versus Minnesota's new Brian Flores-led defense.
"Minnesota's roster just might be running into the reality of its 'competitive rebuild,'" Benjamin concluded.
General manager Kwesi Adofo-Mensah coined the competitive rebuild phrasing when he took over as the Vikings boss in early 2022. In 20 months on the job, he's attempted to thread the needle with his new roster, offloading several aging players while retaining affordable young stars + Kirk Cousins to keep the team relevant.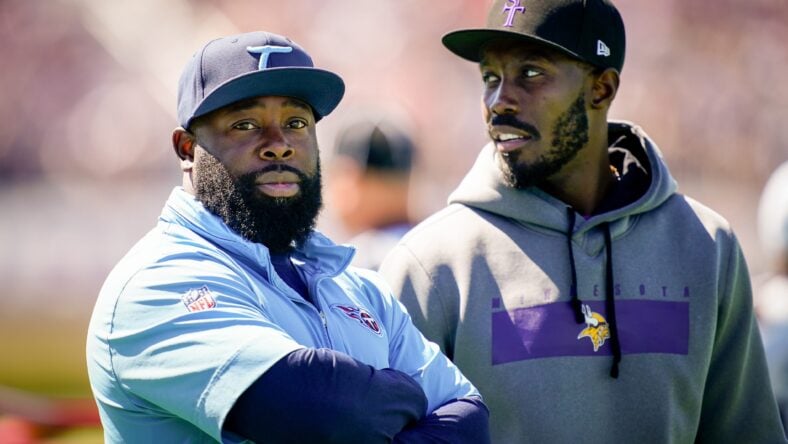 It's probably too early to determine if Benjamin is correct — the Vikings have 16 games to go in 2023 — if the competitive rebuild roster is faulty. In 2015, Minnesota played terribly against the San Francisco 49ers, who later finished 5-11 in that season, in Week 1 but turned the ship around to the tune of an 11-5 record and division title in Mike Zimmer's second season. O'Connell's team suffered a similar loss, although Zimmer's 2015 performance from Week 1 was significantly worse.
Other losers listed by Benjamin? Bengals head coach Zac Taylor, the New York Giants, the Pittsburgh Steelers, Chargers skipper Brandon Staley, and Titans QB Ryan Tannehill.
---
Dustin Baker is a political scientist who graduated from the University of Minnesota in 2007. Subscribe to his daily YouTube Channel, VikesNow. He hosts a podcast with Bryant McKinnie, which airs every Wednesday with Raun Sawh and Sal Spice. His Vikings obsession dates back to 1996. Listed guilty pleasures: Peanut Butter Ice Cream, 'The Sopranos,' Basset Hounds, and The Doors (the band).
All statistics provided by Pro Football Reference / Stathead; all contractual information provided by OverTheCap.com.