Justin Jefferson Extension Talks May Not Be Paused
Aug 20, 2022; Minneapolis, Minnesota, USA; Minnesota Vikings wide receiver Justin Jefferson (18) looks on prior to the game against the San Francisco 49ers at U.S. Bank Stadium. Mandatory Credit: Matt Krohn-USA TODAY Sports.
Just before the start of the 2023 regular season, Minnesota Vikings wide receiver Justin Jefferson told reporters about his contract situation, "Of course, I would want a contract to be done. But at the end of the day, it is all up to them and what the ownership want to do with that."
Justin Jefferson Extension Talks May Not Be Paused
And them is the Vikings ownership and front office.
No deal materialized before September 10th, when the Vikings season kicked off, and the club promptly lost at home to the Tampa Bay Buccaneers.
ESPN's Adam Schefter tweeted on the Saturday before the Vikings start to the season, "Vikings' All-Pro WR Justin Jefferson is not expected to sign a contract extension before Sunday's opener, per sources. Both sides made a strong effort to get a deal done, but the plan now is to revisit after the season."
From a fan's perspective, everything on Jefferson's extension was temporarily shelved, a topic for February or March.
But that may not be the case.
KSTP's Darren Wolfson believes an extension is still achievable during the season. He spoke about the possibility on The Mackey and Judd Show last week: "My understanding, from somebody directly involved from the Vikings side, is that the two sides were very close. Now, I get it. Close doesn't mean anything. Ultimately, Justin did not put pen to paper on Saturday. A deal did not get done. At different points, the Vikings thought the deal would get done."
Jefferson is expected to become the NFL's highest-paid non-quarterback in history when the deal is finalized, perhaps in the ballpark of $35 million per season.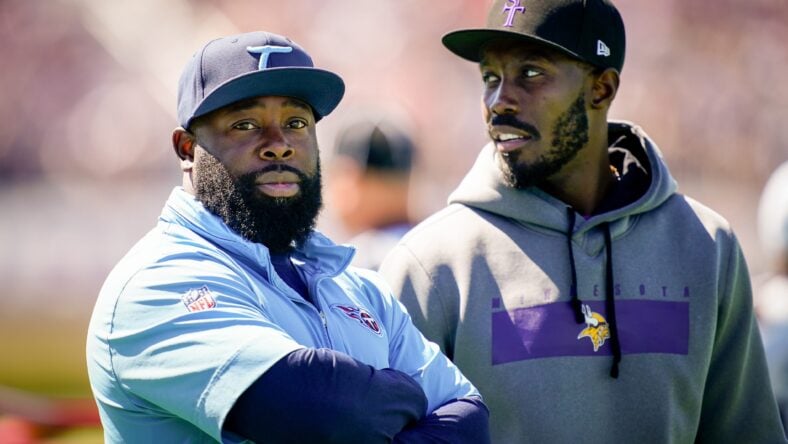 "I still see a deal getting done. Yes, the optics suggest this is now being put off until March, and yes, there hasn't been any new dialogue, is my understanding, but I'm not necessarily dismissing the idea of something potentially happening in-season. Both sides are still motivated to get a deal done," Wolfson added.
Jefferson became the fastest player ever to reach 5,000 receiving yards last week on Thursday Night Football at the Philadelphia Eagles, needing only 52 games for the feat.
If Jefferson grabs 150+ receiving yards this weekend at home against the Los Angeles Chargers, he'll become the first player in history to do so in back-to-back-to-back games to begin a season.
Meanwhile, it probably makes more sense that the Vikings brass would revisit the extension discussions in the offseason, but according to Wolfson, there are signs of life that a deal could arrive sooner.
No matter when it happens, fans will rejoice over attaching Jefferson to the Vikings roster for the next 4-6 years.
---
Dustin Baker is a political scientist who graduated from the University of Minnesota in 2007. Subscribe to his daily YouTube Channel, VikesNow. He hosts a podcast with Bryant McKinnie, which airs every Wednesday with Raun Sawh and Sal Spice. His Vikings obsession dates back to 1996. Listed guilty pleasures: Peanut Butter Ice Cream, 'The Sopranos,' Basset Hounds, and The Doors (the band).
All statistics provided by Pro Football Reference / Stathead; all contractual information provided by OverTheCap.com.