Kirk Cousins Arrives at Camp with Familiar Drip
Sep 30, 2022; Thundridge, United Kingdom; Minnesota Vikings quarterback Kirk Cousins at press conference during practice at Hanbury Manor. Mandatory Credit: Kirby Lee-USA TODAY Sports.
Kirk Cousins and the Minnesota Vikings are back for the 2023 season after the club's 2022 season ended prematurely, thanks to the New York Giants six months ago.
Rookies were due in Eagan for training camp on Sunday, and 12 veterans arrived early, too.
Kirk Cousins Arrives at Camp with Familiar Drip
In addition to 25 rookies (mostly undrafted free agents), these 12 veterans showed up Sunday:
Ross Blacklock (DT)
Kirk Cousins (QB)
William Kwenkeu (LB)
James Lynch (DT)
Nick Mullens (QB)
Brian O'Neill (RT)
Harrison Phillips (DT)
Blake Proehl (WR)
Jaquelin Roy (DT)
Sam Schlueter (OT)
T.J. Smith (DT)
Josh Sokol (C)
And for Cousins, who enters his sixth year as the Vikings QB1, well — he reported in familiar threads, fully actionizing his Dad persona and 'Kohl's Cash' drip popularized in postgame press conferences and Netflix's recent Quarterback docuseries.
Wearing the customary short-sleeved button-down shirt, shorts, and an ordinary bag, Cousins strutted in for duty.
Twitter user Ryan Romano commented, "He's got the 'about to check into a holiday inn express excited about the free breakfast' vibe."
Star Tribune's Ben Goessling noticed something, "I might have that shirt."
VikingsTerritory's own Janik Eckardt brought the heat:
Aaron Mesinger replied, "Kirk looks ready to fire up the grill for some hot dogs and hamburgers. Give him and apron and a Mich Golden Light and he is all set. Having said this, I cannot wait to see Kirk on year 2 of a system that he had great success in, all while trying to learn it last year."
Since joining the Vikings in 2018, Cousins ranks fourth leaguewide in touchdown passes and fifth in passing yards. But those numbers don't move the needle for all Vikings fans. Many tend to believe a Patrick Mahomes is waiting in the next draft — no matter the year — for Minnesota to grab.
But this month's Netflix docuseries appeared to move the needle of public opinion on Cousins, as naysayers and everyone else were able to see a rather wholesome dude under center for the Vikings. If Cousins had an approval-poll rating, one might find his perception at an all-time high at the moment, courtesy of Quarterback, the show.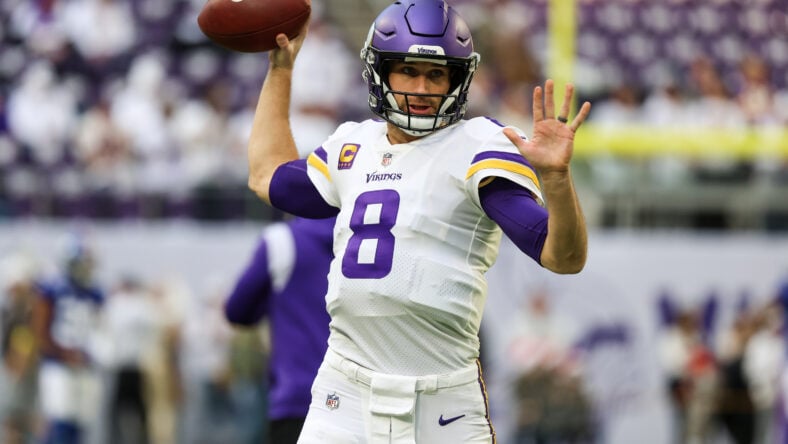 Cousins also has the perk in 2023 of playcalling continuity. He hasn't experienced the same offensive coordinator since 2016-2017 when a man named Sean McVay worked in Washington. In 2023, Cousins gets head coach Kevin O'Connell and offensive coordinator Wes Phillips in the saddle once again.
And make no mistake — the Dad aura isn't going anywhere, evidenced by Sunday's outfit.
---
Dustin Baker is a political scientist who graduated from the University of Minnesota in 2007. Subscribe to his daily YouTube Channel, VikesNow. He hosts a podcast with Bryant McKinnie, which airs every Wednesday with Raun Sawh and Sal Spice. His Vikings obsession dates back to 1996. Listed guilty pleasures: Peanut Butter Ice Cream, 'The Sopranos,' Basset Hounds, and The Doors (the band).
All statistics provided by Pro Football Reference / Stathead; all contractual information provided by OverTheCap.com.