Vikings Will Try to Avoid 1 Certain Mishap on Defense
Minnesota Vikings Defensive Coordinator Brian Flores addressed the media from the TCO Performance Center. Flores was hired in February 2023 to take over for Ed Donatel after Minnesota finished 30th in points allowed.
Minnesota Vikings organized team activities (OTAs) began last week and will continue later this week.
Newcomer coaches and players got to know each other and started prepping for the 2023 season, where the franchise hopes to win back-to-back NFC North titles for the first time since 2009.
Vikings Will Try to Avoid 1 Certain Mishap on Defense
And on defense, the club promises to be more aggressive, but they're conscious of letting one mishap arise from the philosophy — recklessness.
New defensive coordinator Brian Flores fielded questions for reporters at OTAs, explaining his aggressive style and apparent commitment to change, at least compared to the Vikings 2022 defense. That defense was not aggressive — at all — despite fans yearning for something different for most of the season's second half.
Flores told the Pioneer Press, "I think they understand my nature as far as wanting to be aggressive but not reckless."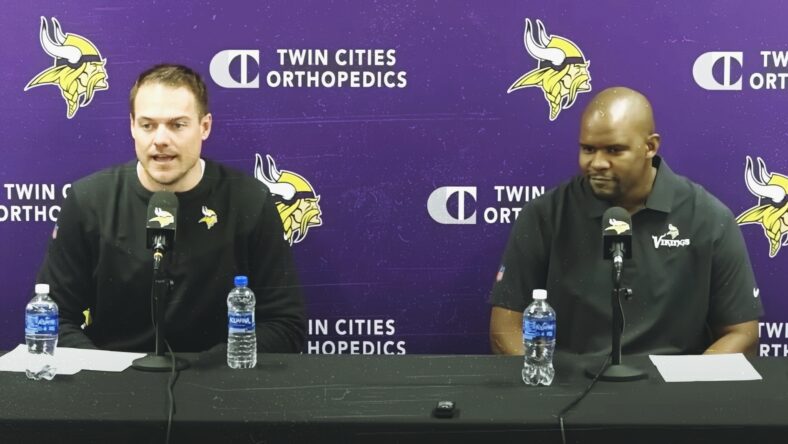 The last time Flores coached a defense, the 2021 season with the Miami Dolphins as head coach, the club finished 10th in defensive DVOA. In 2020, the group ranked 11th. The man has a resume.
"It's hard to do that in this setting because so much of the game is physical. We're kind of forecasting based on what we've seen. That's part of it too. We have to forecast. The final decisions of what we're going to be are going to be made down the road," Flores said about patience as his scheme matures.
Even if Minnesota's defense teeters on recklessness at times, Vikings faithful will likely brush it off as the cost of doing business. Too often in 2022, despite a 13-4 record, the defense relaxed when it should've flexed, refused press coverage on pass-catchers, and only helped the offense win games when turnovers were forced. The saving grace was 4th Quarter defense — most of the time. Somehow, the team 'got serious' and closed out opponents with the game on the line, unlike the Vikings 2020 and 2021 defenses.
"I think building an identity is a big part of playing defense. I try to impart that to our players. That happens over time," Flores said.
The Vikings will also endure a mass exodus of defensive talent at the start of Flores' reign. Eric Kendricks (LB), Patrick Peterson (CB), Duke Shelley (CB), Dalvin Tomlinson (DT), Za'Darius Smith (OLB), Cameron Dantzler (CB), and Chandon Sullivan (CB) all left the team in the last three months.
Minnesota is banking on Flores' aggressive nature — but not recklessness — to propel the young replacement players to heights not accomplished last year.
---
Dustin Baker is a political scientist who graduated from the University of Minnesota in 2007. Subscribe to his daily YouTube Channel, VikesNow. He hosts a podcast with Bryant McKinnie, which airs every Wednesday with Raun Sawh and Sal Spice. His Vikings obsession dates back to 1996. Listed guilty pleasures: Peanut Butter Ice Cream, 'The Sopranos,' Basset Hounds, and The Doors (the band).
All statistics provided by Pro Football Reference / Stathead; all contractual information provided by OverTheCap.com.