Almost Quietly, 3 UDFAs from 2023 Made Vikings Roster
Nov 5, 2022; Cincinnati, Ohio, USA; Cincinnati Bearcats linebacker Ivan Pace Jr. (0) reacts after sacking Navy Midshipmen quarterback Xavier Arline (not pictured) in the second half at Nippert Stadium. Mandatory Credit: Katie Stratman-USA TODAY Sports.
The Minnesota Vikings tentatively finalized a regular season roster Tuesday, trimming the depth chart to 53 players by the NFL's August 29th deadline.
The club then added running back Myles Gaskin on Wednesday morning and waived wide receiver Jalen Reagor.
Almost Quietly, 3 UDFAs from 2023 Made Vikings Roster
And while many surprising elements developed from the final roster — OLB Luiji Vilain was waived, CB Joejuan Williams was released, TE Nick Muse made the team, and six safeties are on the active roster — one unsung twist became apparent. Three undrafted free-agent rookies made the final cut.
At least for now, as rosters can still fluctuate throughout the regular season, ILB Ivan Pace Jr., OLB Andre Carter II, and CB NaJee Thompson slid onto the depth chart.
Pace Jr. was the headline-stealer, capping a momentous training camp and preseason to easily breeze onto the 53-man ledger. The Cincinnati alumnus could even start in Week 1 if some fringe social media theories are correct. Thirty-one general managers passed on Pace Jr. during the 2023 NFL Draft, evidently due to a bizarre fear that he was too short at 5'11."
But Pace Jr. quickly caught on inside the Vikings defense this summer, on tap to play a significant role in Brian Flores' new system. If he doesn't start in September, he's one injury to Jordan Hicks or Brian Asamoah away from meaningful playing time.
On the same day Pace Jr. joined the roster, so did EDGE rusher from Army, Andre Carter II. The defender was hobbled to start training camp, so his breakout was delayed, unlike Pace Jr.'s. Carter II also didn't take training camp or the preseason by storm like his linebacking counterpart, but his performance was enough to dethrone the aforementioned Vilain, who was an undrafted free agent last year.
Then, there was the special teams preseason god known as NaJee Thompson. Proving that special teams matter — a theory that should be ironclad and confirmed by intense and casual fans alike — Thompson got the nod for September, even after somebody screwed up and reported he had been waived.
Indeed, Vikings fans thought Thompson was heading for the practices squad for about 20 minutes on Tuesday, but the reporting from NFL Network and other outlets was later corrected. Thompson isn't going anywhere, a development that the Wolf of Wall Street GIF would be proud of.
Thompson played some wide receiver in college, so he'll be close to a special-teams-only asset. Still, the man is worth it. His preseason tape verifies it.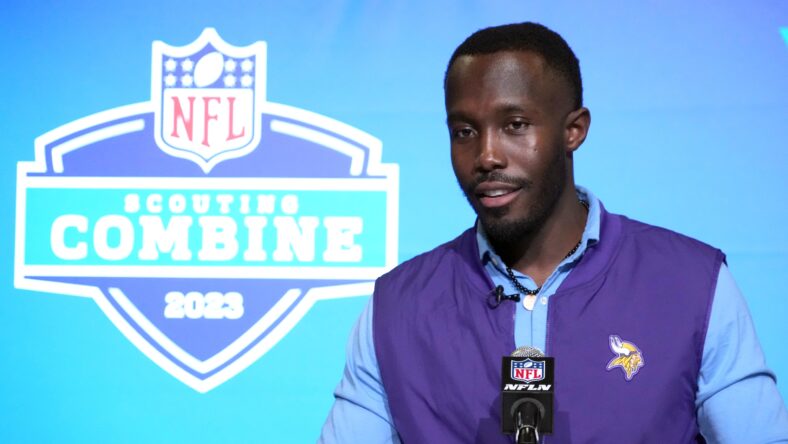 So, while some Vikings enthusiasts may lament general manager Kwesi Adofo-Mensah's draft picks of Lewis Cine and Andrew Booth 16 months ago, it's probably fair and righteous to throw him some kudos for plucking UDFA gems from dirt. They matter, too.
The Vikings host the Tampa Bay Buccaneers in 11 days at U.S. Bank Stadium to kick off the 2023 regular season.
---
Dustin Baker is a political scientist who graduated from the University of Minnesota in 2007. Subscribe to his daily YouTube Channel, VikesNow. He hosts a podcast with Bryant McKinnie, which airs every Wednesday with Raun Sawh and Sal Spice. His Vikings obsession dates back to 1996. Listed guilty pleasures: Peanut Butter Ice Cream, 'The Sopranos,' Basset Hounds, and The Doors (the band).
All statistics provided by Pro Football Reference / Stathead; all contractual information provided by OverTheCap.com.