8 Winners from the Vikings First Depth Chart
Dec 17, 2022; Minneapolis, Minnesota, USA; Minnesota Vikings wide receiver K.J. Osborn (17) reacts to his catch against the Indianapolis Colts during the third quarter at U.S. Bank Stadium. Mandatory Credit: Matt Krohn-USA TODAY Sports.
The Minnesota Vikings released their first unofficial depth chart of the 2023 season ahead of their preseason opener against the Seattle Seahawks on Thursday.
That depth chart included a few big surprises, and here are 8 winners from the initial depth chart of this year.
RB Kene Nwangwu
Kene Nwangwu has not been a major feature in the Vikings offense to this point in his career. Through his first two seasons, the running back has accrued just 28 touches. However, heading into this first preseason game, he is listed as RB2 for the Vikings, ahead of Ty Chandler. Could this indicate that he is set to earn more touches this upcoming season? Time will tell, but this is a great sign for Nwangwu in Year Three.
WR Jalen Nailor
Jalen Nailor is one of the more popular choices among potential Vikings "breakout" candidates this season. It seems that his actions on the field have backed up everyone else's talk as he was named among the top backup group at WR alongside Jordan Addison. Nailor has great speed at his disposal and could mix things up as a deep threat for Minnesota this year.
WR K.J. Osborn
Another winner at the wide receiver position has to be K.J. Osborn. He and the rookie, Addison, have been battling it out for the WR2 spot next to Justin Jefferson, but it seems that Osborn is winning to this point. We'll see if this is simply due to Addison being brand new to the offense, but so far so good for Osborn.
OT Vederian Lowe
One interesting tidbit on the first Vikings depth chart was the fact that Blake Brandel seems to be making the switch from offensive tackle to guard. He was listed as the backup right guard on the first depth chart. This opens up a chance for second-year tackle Vederian Lowe, who currently is listed as the backup left tackle. We'll see if Brandel goes back to tackle when Chris Reed returns, or the team adds another guard like Dalton Risner, but for now, Lowe has a big opportunity in front of him.
NT Khyiris Tonga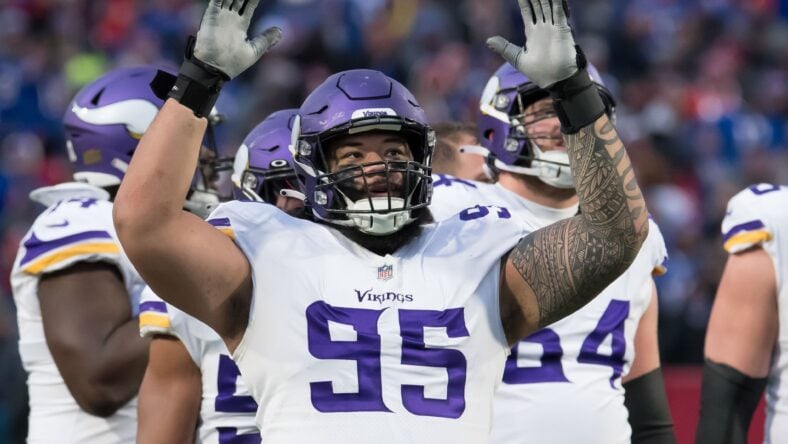 The Vikings brought in Khyiris Tonga after the Bears cut him at the end of training camp. By the end of the year, he had earned a big role in the Vikings defense, starting the final two games of the regular season. It appears that Minnesota continues to put their trust in the big fella as Tonga was named the starting nose tackle.
CB Akayleb Evans
The Vikings cornerback battle is a wide-open one, with essentially CB2 and on up for grabs behind Byron Murphy. While Andrew Booth, Mekhi Blackmon, Joejuan Williams, and even Tay Gowan could be competitors for the spot, it appears that Akayleb Evans is winning the battle for CB2 at this point. The second-year cornerback started a pair of games during his rookie season. As long as he can stay healthy, Evans should have a productive season for the Vikings secondary.
S Cam Bynum
The Vikings selected Lewis Cine in the first round of the 2022 Draft, and at the time, it seemed like he would be the heir-apparent at the safety position after Xavier Woods departed following the 2021 season. Instead, Cine suffered an injury that prematurely ended his rookie season and secured Cam Bynum a long-term spot in the starting lineup for 2022.
With Cine returning for the 2023 season, many wondered how the battle at safety would shake out. To this point, Bynum doesn't appear to be giving an inch, being named as the starter.
K Greg Joseph
Matt Daniels said that the Vikings had a kicking competition on their hands between Greg Joseph and rookie Jack Podlesny. Last year when there was a battle at punter, it was rookie Ryan Wright that usurped incumbent Jordan Berry. This outcome caused some to wonder if the same would happen at kicker in 2023.
To this point, no such thing is happening. While we still have a long way to go in camp, Joseph continues to hold the starting kicker spot.
Josh Frey is a Class of 2020 graduate of The College of Idaho and managing editor of PurplePTSD.com. When he's not writing about the NFL, Josh enjoys running, gaming, or rooting for the Milwaukee Brewers and Bucks. Check out his Twitter account: @Freyed_Chicken.