The Vikings Have Conducted 8 Roster Moves This Month Alone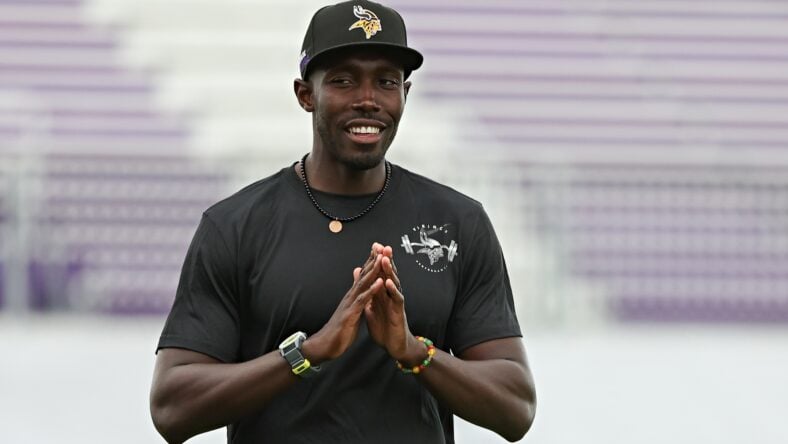 Jul 28, 2022; Minneapolis, MN, USA; Minnesota Vikings general manager Kwesi Adofo-Mensah looks on during training camp at TCO Performance Center. Mandatory Credit: Matt Krohn-USA TODAY Sports.
It's easy to discern the Minnesota Vikings first preseason game is afoot, as the franchise is conducting a roster move per day, on average, to start August.
The Vikings take on the Seattle Seahawks Thursday night at Lumen Field.
The Vikings Have Conducted 8 Roster Moves This Month Alone
Since August 1st, general manager Kwesi Adofo-Mensah has pulled off eight roster moves, most minor transactions. But, in summary, these are those.
1. OT Bobby Evans Waived
This veteran lineman is a Super Bowl Champion (2021 Los Angeles Rams) and latched onto the Vikings temporarily in back-to-back seasons, 2022 and 2023.
He was on deck to vie for a roster spot this September, but Minnesota had other plans by signing the below-listed Christian DiLauro. Evans spent most of the 2022 campaign with the Rams before joining the Vikings, producing a dreadful 29.8 Pro Football Focus grade in 12 games.
2. OT Christian DiLauro Signed
DiLauro has a remote chance of snagging a Vikings 53-man roster on August 29th and will use the next three preseason games to state his case. To date, this is his NFL destination resume — a journeyman, to be sure:
Cleveland Browns (2018)
San Francisco 49ers (2018–2019)
Houston Texans (2019)
Pittsburgh Steelers (2019–2020)
Tennessee Titans (2021–2022)
Washington Commanders (2022)
Denver Broncos (2022)
Minnesota Vikings (2023)
3. OT Jarrid Williams Signed
An undrafted commodity last year unearthed by the Philadelphia Eagles, Williams will compete for a roster spot like DiLauro. But he's more likely a practice-squad type.
4. RB Abram Smith Signed
Smith was an XFL standout, leading that league in rushing last season and also gaining All-XFL Team recognition. He's one of the top talents from that upstart organization.
The 5'11" 220-pounder notched a tremendously good season as a senior at Baylor in 2022, tallying 1,601 rushing yards and 12 touchdowns in 14 games. But like many running backs from the last few years, vitality in the NFL draft seems to be diminishing as general managers have recently implied through their actions that RBs are a 'dime a dozen.' Smith wasn't drafted during last year's cycle and has henced bounced around a bit, now landing in Minnesota.
His prognosis likely involves the practice squad if he's not cut outright at the end of the month.
5. FB Zach Ojile Waived
This Minnesota native lived on the roster for a couple of months, but the Vikings are one of the few NFL teams to employ a fullback. And that's C.J. Ham. During the early summer, it was actually a little weird that they rostered two fullbacks.
6. WR N'Keal Harry Signed
Perhaps the biggest news of the month to date, Minnesota inked Harry to a one-year deal, and the man has shown glimpses of promise at Vikings training camp.
He's a former 1st-Rounder, so the NFL body politic knows him. If he makes the Vikings roster, it will be at the WR5 spot. He's battling Jalen Reagor, Brandon Powell, and Trishton Jackson, among others, for the job.
7. WR Cephus Johnson Waived
This college quarterback turned Vikings early-summer WR didn't last long on the roster, but he's 6'5," and 'hybrid' intrigue will always follow in his future NFL dealings. Johnson played quarterback at Southeastern Louisiana University and is now a free agent.
8. WR Jacob Copeland Signed
The Tennessee Titans found Copeland in the spring after the Maryland alumnus was undrafted. He remained on the Titans roster for about three months but was waived on August 2nd. Copeland will now try on the Vikings for size.
The 5-foot 11-inch playmaker played four seasons at the University of Florida before transferring to Maryland in 2022. All told, he recorded 112 receptions for 1,742 yards and 11 touchdowns in 44 games at the two schools. Copeland also ran a 4.42 second 40-time at the 2023 NFL Combine. He's got wheels.
Monitor Copeland for the practice squad.
---
Dustin Baker is a political scientist who graduated from the University of Minnesota in 2007. Subscribe to his daily YouTube Channel, VikesNow. He hosts a podcast with Bryant McKinnie, which airs every Wednesday with Raun Sawh and Sal Spice. His Vikings obsession dates back to 1996. Listed guilty pleasures: Peanut Butter Ice Cream, 'The Sopranos,' Basset Hounds, and The Doors (the band).
All statistics provided by Pro Football Reference / Stathead; all contractual information provided by OverTheCap.com.