Weird New Grievance Leveled at Kirk Cousins
Seven Minnesota Vikings participated in the weekend's revamped Pro Bowl, including Dalvin Cook (RB), Kirk Cousins (QB), Justin Jefferson (WR), T.J. Hockenson (TE), Danielle Hunter (OLB), Za'Darius Smith (OLB), and Andrew DePaola (LS).
One man of the seven was criticized for his performance, and you've got one guess at his identity.
Weird New Greivance Leveled at Kirk Cousins
The NFL tweaked the Pro Bowl this year, promoting safety and lightheartedness, so the game was effectively a flag football exhibition. Predictably — and by a Green Bay Packers-themed voice, no less — Cousins was chided for the flag football outing. Greg Williams from Game On Wisconsin tweeted during the event, "Kirk Cousins not completing a pass within the one-yard line of a flag football game is what you need to know about the Minnesota Vikings QB."
A couple of funny and ironic elements exist here. Cousins actually played marvelously during the flag football spectacle.
And some more:
Moreover, the "4th and 1 flag football" situation mentioned by Williams was the only drive where Cousins' team didn't score. So, he did, in fact, have an impressive flag football outing.
Of course, the bizarre criticism of Cousins is nothing new. He's erroneously been labeled a "checkdown charlie" passer despite leading the NFL in 40+ yard touchdown passes since 2015, when Cousins became a full-time starter. Folks have skewered Cousins for not "rising to the occasion" in crunchtime — he tied an NFL single-season record for game-winning drives in 2022.
Two weeks ago, Pro Football Talk's Mike Florio joined The Paul Allen Show to examine the Vikings disappointing playoff loss to the New York Giants and said, "Joe Burrow is the anti-Kirk Cousins. Joe Burrow is the guy who, like Kirk, will have a great season. But when the lights get bright, you've got one game, and your whole season is riding on it — do you crumble, or do you rise? Joe Burrow rises, Kirk crumbles."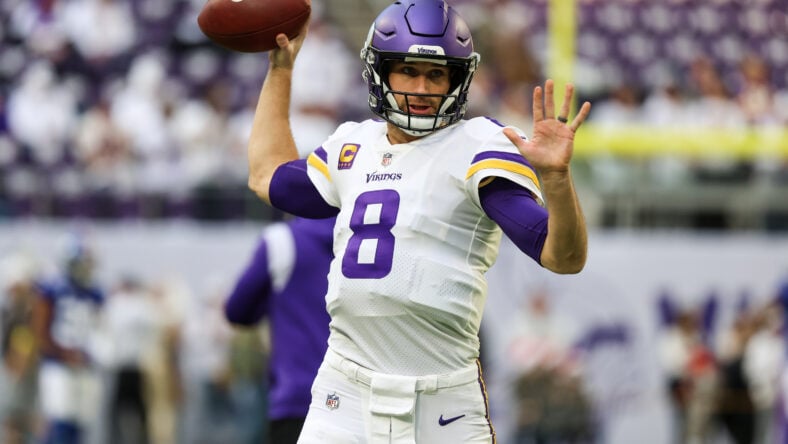 Florio defiantly compared Burrow and Cousins and concluded, "Kirk doesn't have it. You can take your rose-colored glasses and shove them up your butt."
When Minnesota conducted the largest comeback in NFL history on December 17th over the Indianapolis Colts, NFL.com's Gregg Rosenthal tweeted, "It is very Kirk Cousins to not be playing that well during a 33-point comeback."
Cousins threw for 417 yards and 4 TDs in the 3rd and 4th Quarters of the comeback.
Regarding that same game, Sam Monson proclaimed on the Pro Football Focus Week 15 podcast, "People are complaining about Kirk Cousins' [PFF grade] in this game. Cousins didn't do that much in this game."
Add "flag football" to the sins of Cousins' weird complaint bingo board.
---
Dustin Baker is a political scientist who graduated from the University of Minnesota in 2007. Subscribe to his daily YouTube Channel, VikesNow. He hosts a podcast with Bryant McKinnie, which airs every Wednesday with Raun Sawh and Sal Spice. His Vikings obsession dates back to 1996. Listed guilty pleasures: Peanut Butter Ice Cream, 'The Sopranos,' and The Doors (the band).
All statistics provided by Pro Football Reference / Stathead; all contractual information provided by OverTheCap.com.