The Whopping Price for Vikings if They Want QB of Future in Draft
Minnesota Vikings quarterback Kirk Cousins is under contract through 2023, has a no-trade clause, and probably gives the club its best chance to win the NFC North again next season.
But that doesn't mean general manager Kwesi Adofo-Mensah can't start planning for the future at QB1 as early as now.
The Whopping Price for Vikings if They Want QB of Future in Draft
The Vikings own the No. 23 pick in April's draft, a spot that does not scream quarterback of the future. If Minnesota wants to draft a quarterback in two months to begin his maturation behind Cousins — it is unclear if that strategy is on their radar — it will likely have to trade up the draft board to make it worthwhile.
But that won't be cheap — not cheap at all.
The trade pricetag will be gargantuan to wiggle up the draft board, eyeing a prospect like Bryce Young, C.J. Stroud, or Will Levis. Luke Braun from Locked on Vikings tweeted this weekend:
If the goal is Young, Stroud, or Levis, the cost is likely at least three 1st-Rounders — the Vikings 23rd pick in 2023, plus 1st-Rounders from 2024 and 2025 (and more). And that's just to climb 15 spots to No. 8, potentially eyeing Levis. Young and Stroud should be long gone by then.
Otherwise, Minnesota could duck out on the "big three" of Young, Stroud, and Levis, pivoting to Anthony Richarson from Florida. He may cost substantially less than three 1st-Rounders. SI.com's Albert Breer advanced the Richardson idea recently, too.
"I think Kirk Cousins will be the Vikings' quarterback in 2023, and I think, certainly, they'd consider doing another one-year extension with him this offseason (they'd have $12.5 million in dead money to deal with after next year if they walked away). But I also believe that Cousins's age (he'll be 35 in Week 1) and contract situation make the Vikings a quiet contender to take a quarterback in April," Breer wrote in his popular MMQB article.
"So if, say, Florida's Anthony Richardson were to fall into their laps at 24, it's easy for me to see the Vikings seeing a raw prospect who could develop for a year behind Cousins and wind up being a monster for them a few years down the line (physically, he's off the charts)," he concluded.
Ergo, the theory is already out there — moving on from Cousins in the near future and marrying a young passer like Richardson. If the Vikings want to onboard Richardson, that is fine, but they shouldn't trade oodles of draft capital for a hopeful-maybe project QB.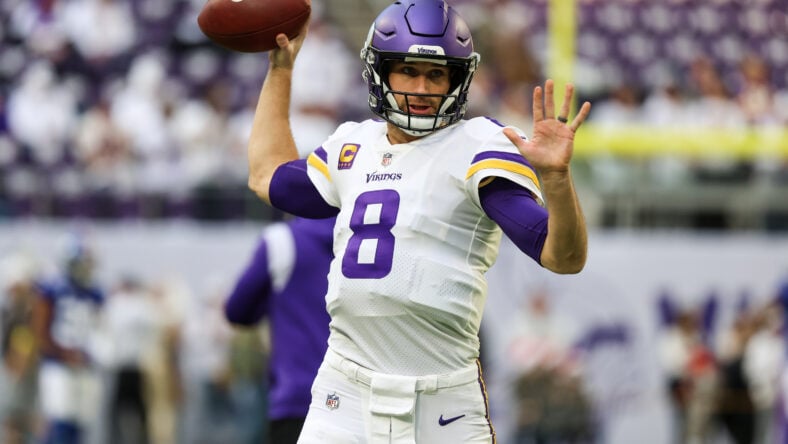 What's more, if the Vikings decide soon that Cousins is the past, not the future, they should trade into the Top 10 of the 2023, 2024, or 2025 draft for a blue-chip prospect. Do you really want the franchise to draft a Top 10 quarterback and then watch the guy sit on the bench for a year or two? The modern NFL doesn't really allow for that anymore. When a man is selected early in the draft, he should start at some point in his rookie season.
With the Luke Braun tweet above, plus the ever-growing sentiment that Minnesota could draft Richardson, both rookie-QB ideas are sound. But they shouldn't trade the farm for Richardson. Suppose he's there at No. 23 — great. Give it a shot. On Young, Stroud, or Levis, those passers might merit large trade packages, but let's formulate a plan for the guy to start sooner rather than later.
---
Dustin Baker is a political scientist who graduated from the University of Minnesota in 2007. Subscribe to his daily YouTube Channel, VikesNow. He hosts a podcast with Bryant McKinnie, which airs every Wednesday with Raun Sawh and Sal Spice. His Vikings obsession dates back to 1996. Listed guilty pleasures: Peanut Butter Ice Cream, 'The Sopranos,' and The Doors (the band).
All statistics provided by Pro Football Reference / Stathead; all contractual information provided by OverTheCap.com.