The Vikings Use a Lot of Draft Capital on QBs — Even if You Refuse to Believe It
A popular myth surrounding the Minnesota Vikings unsuccessful quest for a Super Bowl goes something like this: "The Vikings never draft and develop their own guy at quarterback."
The first part of that sentence is false, and the latter is accurate.
The Vikings Use a Lot of Draft Capital on QBs — Even if You Refuse to Believe It
The Vikings inability to find a homegrown quarterback — like the Kansas City Chiefs or Philadelphia Eagles, who appeared in Sunday's Super Bowl — is a testament to poor drafting and rough injury luck, not a lack of trying.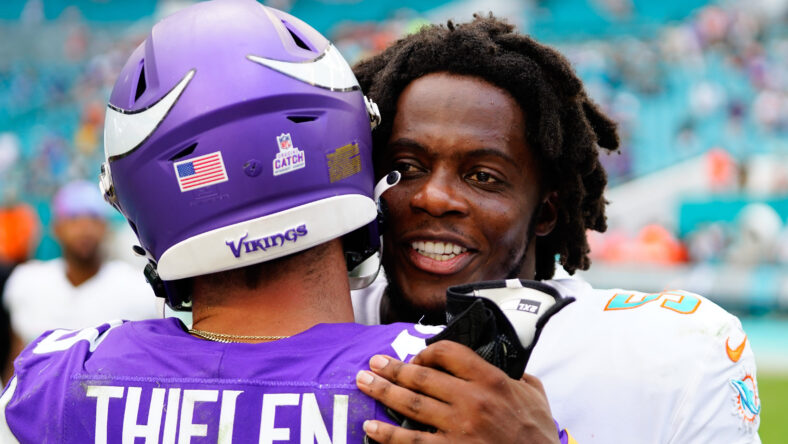 Since 2011, only three NFL teams have drafted more quarterbacks in Round 1 through 3 in the NFL Draft than the Vikings — the Cleveland Browns, New York Jets, and New England Patriots. Put simply, the Vikings have tried the early-round-QB strategy and, well, failed.
That's why the franchise latched onto Kirk Cousins in 2018 via free agency because it struck out on Christian Ponder in 2011, Teddy Bridgewater in 2014, and then, to a degree, the Sam Bradford trade in 2016. Bradford was not factored into the Browns-Jets-Patriots statistic above, but if he were, the Vikings would only trail the Browns since 2011, who have selected five quarterbacks in Rounds 1 through 3.
Moreover, some media outlets attempt to paint the Vikings as a franchise absolutely hellbent on refusing to take a chance on an early-round quarterback. And unsurprisingly, the assertion is false.
SKOR North's Phil Mackey tweeted Monday, "Here's a list of QBs the Vikings have drafted in the 1st or 2nd round since 1980: Daunte Culpepper, Tarvaris Jackson, Christian Ponder, Teddy Bridgewater."
"**SINCE 1980** They almost never take shots at young QBs high in the draft," Mackey added.
The tweet is designed to inflame outrage that Minnesota never uses the draft to select quarterbacks. Minus expansion teams during the since-1980 parameter defined by Mackey, the league average is 4.46 QBs drafted in Rounds 1 and 2. On the players he listed — Culpepper, Jackson, Ponder, and Bridgewater — the Vikings just mostly missed on these picks while other teams did not. Culpepper was quite fantastic until his knee shattered. Jackson and Ponder emphatically didn't pan out. And Bridgewater's knee suffered a Culpepperian fate.
So, indeed, the team has used four draft picks in Rounds 1 and 2 since 1980 on quarterbacks, but that is only 0.46 below the league average. Minnesota has struck out so often via drafting rookie quarterbacks that it prefers the "open market" approach in welcoming passers like Brett Favre, Randall Cunningham, Kirk Cousins, and others.
The New Orleans Saints are the only team in the NFL since 1980 to use zero draft picks in Rounds 1 and 2 on quarterbacks. Why? Well, they found Drew Brees in 2006 and attached to that horse for 15 Hall of Fame years. For some teams, that strategy works to the tune of a Super Bowl — see: Los Angeles Rams in 2021 or Saints in 2009 — and for others, like the Vikings, it has not.
But the Vikings aren't blatantly ignoring the quarterback spot in drafts, especially in the last 12. Fans are merely disappointed that Christian Ponder, Teddy Bridgewater, and Kellen Mond haven't done the trick.
The Patriots, who employed Tom Brady from 2000 to 2019, drafted four quarterbacks in early rounds from 2011 to 2022 — Jacoby Brissett, Ryan Mallett, Jimmy Garoppolo, and Mac Jones. If the Vikings draft a passer early this April, they will join the Patriots as bedfellows behind the Browns for frequency.
Next time you read, "the Vikings don't draft quarterbacks as much as other teams," know the statement is false. It's concocted to make you mad for thrills and spread misinformation.
---
Dustin Baker is a political scientist who graduated from the University of Minnesota in 2007. Subscribe to his daily YouTube Channel, VikesNow. He hosts a podcast with Bryant McKinnie, which airs every Wednesday with Raun Sawh and Sal Spice. His Vikings obsession dates back to 1996. Listed guilty pleasures: Peanut Butter Ice Cream, 'The Sopranos,' and The Doors (the band).
All statistics provided by Pro Football Reference / Stathead; all contractual information provided by OverTheCap.com.