Only 2 Spots Are Off the Table for Vikings in Round 1 of Draft
The Minnesota Vikings will kick off the 2023 NFL Draft slated to pick 23rd if they don't trade out of the spot. All told, general manager Kwesi Adofo-Mensah should start the event with five draft picks, sans the usual seven total, because he traded like a stock broker upon taking the Vikings big job 14 months ago.
And when he and head coach Kevin O'Connell analyze the Vikings 2023 roster needs, only two positions won't pique interest with pick No. 23. All other positions and players are on the table.
Only 2 Spots Are Off the Table for Vikings in Round 1 of Draft
The Vikings hope to build on or sustain an unforeseen 2022 campaign resulting in 13 wins and 4 losses next year. The club is an early "regression" candidate for 2023, and the upstart Detroit Lions are favored to win the NFC North as of March.
Nevertheless, these are the two positions that Minnesota absolutely will not invest 1st-Round draft capital in April.
Tight End
The Vikings traded down two rounds in the 2023 NFL Draft and one round in 2024 to land T.J. Hockenson via trade with the aforementioned Lions in November. It was a small price to pay for a Top 5 NFL tight end, and soon, Hockenson will be affixed to the Vikings depth chart for about five years once his extension culminates this offseason.
Minnesota is "so set" at tight end that no Vikings fan anywhere cares Irv Smith is about to leave via free agency. It's an afterthought, and because Minnesota has Hockenson for the long haul, fans merely wave goodbye at Smith.
Hockenson was an offensive season-saver last year when opposing defensive coordinators realized they could obsess over Justin Jefferson and tame the playmaker with double coverage. Adam Thielen wasn't nearly as productive as his 2018-2019 days, so Hockenson took the heat off quarterback Kirk Cousins accordingly.
Notre Dame TE Michael Mayer will likely fly off the draft board in Round 1, and the Vikings will have no interest.
Offensive Tackle
For several years during the Mike Zimmer era, the Vikings offensive line was hemiplegic, sometimes employing one decent offensive tackle while seeking "the other guy" nonstop.
Well, as a parting gift to the organization, former bossman Rick Spielman found Christian Darrisaw in the 2021 NFL Draft, and he'll lock down the left side of the trenches for the next decade. On the other side, Brian O'Neill is fantastic — and boom — Minnesota has no clear and present need at OT.
Can you believe it?
Offensive tackle is an incredibly premium position in the draft — and football, on the whole — and somehow, Minnesota is set at both spots. Whoodathunkit.
The Rest Is Fair Game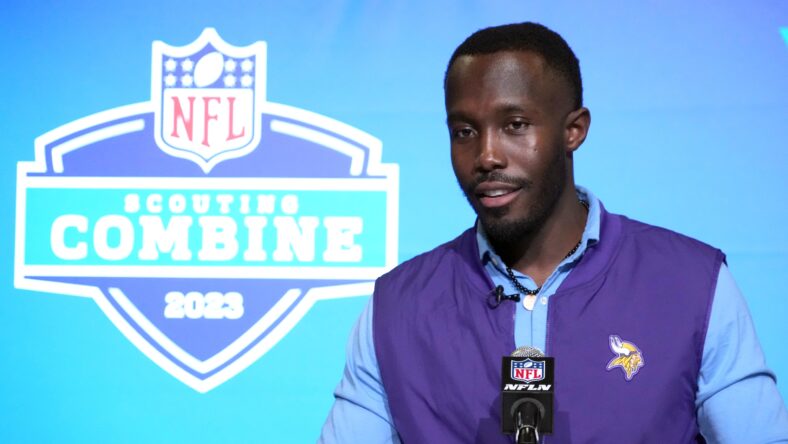 Don't need a tight end? Check. They're good at tackle? Check.
What's next? Everything else in Round 1 for Minnesota is possible:
QB — The Vikings could reasonably select a quarterback in Round 1 to prepare for life after Kirk Cousins.
RB — Don't explode with frustration, but there's a universe where Bijan Robinson falls to the Vikings at No. 23, and Adofo-Mensah can't resist.
WR — This is actually a likely possibility, especially if Adam Thielen departs in the next two weeks.
Interior Offensive Line — Should Garrett Bradbury leave in free agency, the Vikings will need a center. And there's a teensy chance that Adofo-Mensah upgrades at OG if he isn't enamored with Ezra Cleveland or Ed Ingram.
EDGE Rusher — The Vikings haven't drafted an EDGE rusher in Rounds 1 or 2 since 2005. It's time.
Interior Defensive Line — This can be the time when Minnesota shoots for the stars in the middle of the defensive line if it loses Dalvin Tomlinson and/or Jonathan Bullard.
Linebacker — The futures of Eric Kendricks and Jordan Hicks are uncertain.
Cornerback — Like WR above, selecting a CB in Round 1 is a popular idea because the only startable corners under contract are Andrew Booth, Cameron Dantzler, and Akayleb Evans.
Safety — This would be odd, as Adofo-Mensah just drafted Lewis Cine. But with Brian Flores in charge of the defense, a hybrid and versatile safety fitting the "best player available" philosophy could intrigue the Vikings.
---
Dustin Baker is a political scientist who graduated from the University of Minnesota in 2007. Subscribe to his daily YouTube Channel, VikesNow. He hosts a podcast with Bryant McKinnie, which airs every Wednesday with Raun Sawh and Sal Spice. His Vikings obsession dates back to 1996. Listed guilty pleasures: Peanut Butter Ice Cream, 'The Sopranos,' and The Doors (the band).
All statistics provided by Pro Football Reference / Stathead; all contractual information provided by OverTheCap.com.