This Week's Vikings Game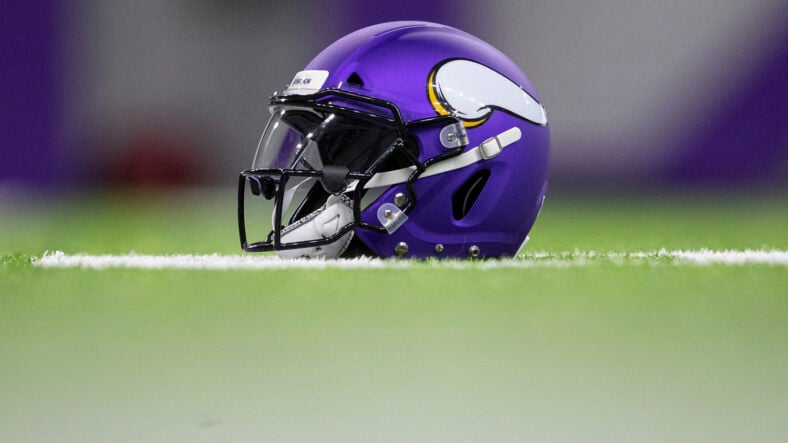 Jun 11, 2019; Eagan, MN, USA; A Minnesota Vikings helmet sits on the field at TCO Performance Center. Mandatory Credit: Harrison Barden-USA TODAY Sports
Minnesota Vikings Game, News, Analysis, Schedule: Week 3
The Minnesota Vikings head home this week licking their wounds after a 24-7 shellacking on Monday Night at the hands of the Philadelphia Eagles. Like the rest of the NFC North division, the Vikings stand at 1-1 heading into Week 3.
This week's Vikings game features another divisional opponent, the Detroit Lions. Historically, this matchup and this week have been favorable for the Vikings. Since 1970's AFL/NFL merger, the Vikings are 31-18 in Week 3 games. Additionally, they are 79-40-2 against the Detroit Lion in 121 meetings. Most recently, the Vikings lost to the Lions on December 5th, 2021, by a score of 29-27.
Minnesota Vikings News and Analysis
NFL Standings
AFC EAST
Miami Dolphins (2-0)
Buffalo Bills (2-0)
New York Jets (1-1)
New England Patriots (1-1)
AFC NORTH
Pittsburgh Steelers (1-1)
Baltimore Ravens (1-1)
Cleveland Browns (1-1)
Cincinnati Bengals (0-2)
AFC SOUTH
Jacksonville Jaguars (1-1)
Houston Texans (0-1-1)
Indianapolis Colts (0-1-1)
Tennessee Titans (0-2)
AFC WEST
Kansas City Chiefs (2-0)
Los Angeles Chargers (1-1)
Denver Broncos (1-1)
Las Vegas Raiders (0-2)
NFC EAST
New York Giants (2-0)
Philadelphia Eagles (2-0)
Washington Commanders (1-1)
Dallas Cowboys (1-1)
NFC NORTH
Minnesota Vikings (1-1)
Green Bay Packers (1-1)
Detroit Lions (1-1)
Chicago Bears (1-1)
NFC SOUTH
Tampa Bay Buccaneers (2-0)
New Orleans Saints (1-1)
Carolina Panthers (0-2)
Atlanta Falcons (0-2)
NFC WEST
San Francisco 49ers (1-1)
Los Angeles Rams (1-1)
Arizona Cardinals (1-1)
Seattle Seahawks (1-1)
Week 3 NFL Schedule
Listed below are all 16 games that will take place around the league during Week 3 of the NFL regular season.
Thursday, September 22nd
(1-1) Cleveland Browns @ Pittsburgh Steelers (1-1), 7:15 PM CST, Amazon Prime
Sunday, September 25th
(1-1) New Orleans Saints @ Carolina Panthers (0-2), 12 PM CST, FOX
(0-1-1) Houston Texans @ Chicago Bears (1-1), 12 PM CST, CBS
(2-0) Kansas City Chiefs @ Indianapolis Colts (0-1-1), 12 PM CST, CBS
(2-0) Buffalo Bills @ Miami Dolphins (2-0), 12 PM CST, CBS
(1-1) Detroit Lions @ Minnesota Vikings (1-1), 12 PM CST, FOX
(1-1) Baltimore Ravens @ New England Patriots (1-1), 12 PM CST, FOX
(0-2) Cincinnati Bengals @ New York Jets (1-1), 12 PM CST, CBS
(0-2) Las Vegas Raiders @ Tennessee Titans (0-2), 12 PM CST, FOX
(2-0) Philadelphia Eagles @ Washington Commanders (1-1), 12 PM CST, FOX
(1-1) Jacksonville Jaguars @ Los Angeles Chargers (1-1), 3:05 PM CST, CBS
(1-1) Los Angeles Rams @ Arizona Cardinals (1-1), 3:25 PM CST, FOX
(0-2) Atlanta Falcons @ Seattle Seahawks (1-1), 3:25 PM CST, FOX
(1-1) Green Bay Packers @ Tampa Bay Buccaneers (2-0), 3:25 PM CST, FOX
(1-1) San Francisco 49ers @ Denver Broncos (1-1), 7:20 PM CST, NBC
Monday, September 26th
(1-1) Dallas Cowboys @ New York Giants (2-0), 7:15 PM CST, ESPN, ABC
---
---
Josh Frey is a Class of 2020 graduate of The College of Idaho with a bachelor's degree in Creative Writing as well as minors in History, Human Biology, and Journalism. When he's not writing about the NFL, Josh can often be found training for a marathon, playing video games, or rooting for the Milwaukee Brewers and Bucks. For more of his takes, NFL and otherwise, check out his Twitter account: @Freyed_Chicken