Josh Frey's Vikings 53-Man Roster Projection
Jul 28, 2022; Minneapolis, MN, USA; Minnesota Vikings wide receiver Justin Jefferson. Mandatory Credit: Matt Krohn-USA TODAY Sports.
Please note that this article was originally published on our sister-site, PurplePTSD.com!
The Minnesota Vikings head into 2022 with few true position battles for starting spots. This is extremely unusual for a team with a brand-new GM and head coach, but it goes to show how this new regime feels about Minnesota's roster. With Minnesota in win-now mode going into September, here is a final 53-man roster projection ahead of the new year, including predictions for each position's depth chart, as indicated by how the lists are formatted.
Note: (*) indicates projected starter
Quarterbacks (3)
Who's In: Kirk Cousins*, Sean Mannion, Kellen Mond
Who's Out: Nobody
It's not unusual to see NFL teams carry only two quarterbacks on the 53-man roster. It's worth noting that the 2021 Los Angeles Rams did so. That said, I still don't see a world where the Vikings cut Sean Mannion, who has been with Kirk Cousins in Minnesota since 2019. Think of him as an additional QB coach at this point.
Running Backs (5)
Who's In: Dalvin Cook*, Alexander Mattison, CJ Ham, Kene Nwangwu, Ty Chandler
Who's Out: Jake Bargas, Bryan Koback
This is a very deep running back room in Minnesota, and it's difficult to see them trimming the group down further than this. CJ Ham will always have a role on this Vikings squad, Kene Nwangwu is a special teams star, and Ty Chandler has shown flashes as a receiving back throughout training camp. It will be interesting to see how this group shapes out and who actually gets snaps on game days.
Wide Receivers (6)
Who's In: Justin Jefferson*, Adam Thielen*, KJ Osborn*, Ihmir Smith-Marsette, Bisi Johnson, Jalen Nailor
Who's Out: Dan Chisena, Thomas Hennigan, Trishton Jackson, Myron Mitchell, Blake Proehl, Albert Wilson
The usual suspects are at the top of the depth chart, but some may be surprised by the cut of special teamer Dan Chisena. Bisi Johnson missed the entirety of the 2021 season with a torn ACL suffered in training camp, but he is a favorite in the locker room. Cousins has listed him as a breakout candidate for the 2022 squad, and so far into training camp, he's done everything right. Rookie Jalen Nailor makes the roster too for his potential as a punt returner and a potential role as a burner out of the slot.
Tight Ends (3)
Who's In: Irv Smith Jr.*, Johnny Mundt, Zach Davidson
Who's Out: Shaun Beyer, Ben Ellefson, Nick Muse
Not too many surprises here. Irv Smith is out for the remainder of training camp and preseason with a thumb injury, so that only provides more opportunity for Davidson and Mundt to separate themselves from the rest of the pack. I'm still hoping they add another pass-catcher at the position between now and September 11th, though.
Offensive Linemen (9)
Who's In: Christian Darrisaw (LT)*, Ezra Cleveland (LG)*, Chris Reed (C)*, Jesse Davis (RG)*, Brian O'Neill (RT)*, Oli Udoh (T), Ed Ingram (G), Garrett Bradbury (C), Blake Brandel (T)
Who's Out: Wyatt Davis, Kyle Hinton, Vederian Lowe, Timon Parris, Austin Schlottmann, Josh Sokol
All I needed to hear was that Kevin O'Connell isn't sold on Garrett Bradbury being the Week 1 starter to toss Chris Reed into that center spot. I tried to stay positive about Bradbury earlier in the summer, but training camp has been flat-out ugly for the 2019 first-round pick. Other than that, I am keeping Blake Brandel on the roster over Vederian Lowe who should head straight to the practice squad if he is cut.
Interior Defensive Linemen (6)
Who's In: Dalvin Tomlinson*, Harrison Phillips*, Jaylen Twyman*, Armon Watts, James Lynch, Esezi Otomewo
Who's Out: Jonathan Bullard, T.Y. McGill, T.J. Smith, Tyarise Stevenson, Jullian Taylor
Dalvin Tomlinson and Harrison Phillips are everything you want as hardworking veterans for an overall very young group. Because of that, I am ecstatic to see what Jaylen Twyman does in 2022. I thought he was a steal when the Vikings got him in the sixth round of the 2021 draft, and if anyone deserves to be a feel-good story in the NFL, it's this young man. Add in promising depth pieces like James Lynch and Armon Watts, and this should be a very fun group to watch in the Ed Donatell defense.
EDGE Rushers (5)
Who's In: Danielle Hunter*, Za'Darius Smith*, Patrick Jones, Janarius Robinson, DJ Wonnum
Who's Out: Zach McCloud, Andre Mintze, Luiji Vilain
Speaking of fun groups, there's potential that the Vikings EDGE rushers are the most talented unit in the NFL this year. Danielle Hunter and Za'Darius Smith are obviously the headliners, but Patrick Jones and Janarius Robinson have terrific upside as young players. Don't forget DJ Wonnum led the Vikings in sacks during 2021, too.
Off-Ball Linebackers (4)
Who's In: Jordan Hicks*, Eric Kendricks*, Brian Asamoah, Troy Dye
Who's Out: Ryan Connelly, William Kwenkeu, Blake Lynch, Chazz Surratt
2021 third-round pick Chazz Surratt may carry too much value in his draft position to be cut, but I simply don't see much of a role for him on this roster given the depth at linebacker. Sure, he could crack some snaps on the special teams, but on defense, the trio of Jordan Hicks, Eric Kendricks, and Brian Asamoah should eat up snaps. Surratt likely lands on the practice squad and ready to step up if anyone misses time with injury.
Cornerbacks (5)
Who's In: Patrick Peterson*, Cameron Dantzler*, Andrew Booth Jr., Akayleb Evans, Chandon Sullivan
Who's Out: Kris Boyd, Nate Hairston, Harrison Hand, Parry Nickerson, Tye Smith
The Los Angeles Rams were notorious for carrying very few cornerbacks on their roster while Kevin O'Connell was on the coaching staff. This group of five isn't quite as small as the four that the Rams opened the season with in 2021, but it looks like the trio of Kris Boyd, Nate Hairston, and Harrison Hand are just going to miss out on being part of this group.
Safeties (4)
Who's In: Cam Bynum*, Harrison Smith*, Lewis Cine, Josh Metellus
Who's Out: Mike Brown, Myles Dorn
Not too many surprises in this room, either. Cam Bynum and Harrison Smith look to be the starters at safety this year while Lewis Cine joins the defense for some highly anticipated three-safety sets. Josh Metellus stays on the roster as his experience is perfect for being the backup to fill in while starters take breather snaps as well as for injury insurance.
Special Teams (3)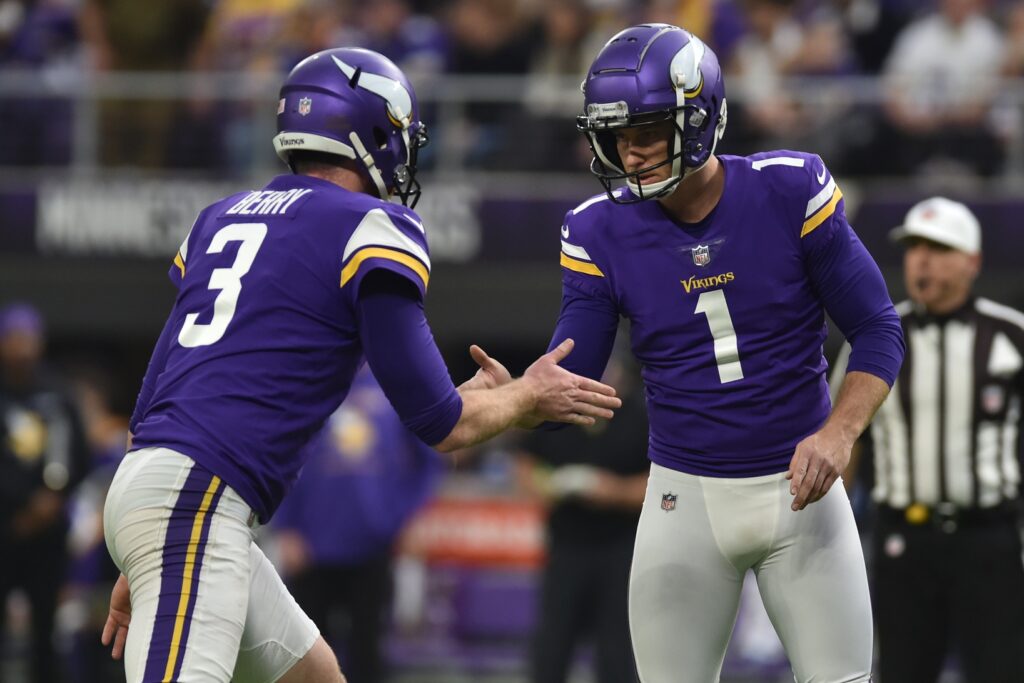 Who's In: Jordan Berry (P), Greg Joseph (K), Andrew DePaola (LS)
Who's Out: Ryan Wright
If this isn't how the special teams fill out the roster, something incredibly strange has happened. Coordinator Matt Daniels has raved about his kicker Greg Joseph, Jordan Berry is the incumbent at punter after a successful 2021 season, and Andrew DePaola has been a starting long-snapper since 2014.