The Context of Justin Jefferson's Breakout 
Justin Jefferson is
 by default
 now the team's WR2 and even contributed as a 
bonafide
WR1 last 
weekend. Seventh-year wide receiver Adam 
Thielen
will remain as the Vikings trusted 
pass-catching option while Jefferson will sprinkle in the pizazz. In this respect, think 
Thielen
 and
Diggs, although Jefferson has more speed than the Buffalo Bills wide receiver.
Indeed, 
Jefferson's production is largely an "only one game" situation, but he will soon make the 
case that the Titans showing was not an outlier. Jefferson has been a playmaker at every level 
of football and has a National Championship with LSU to bolster his case for legitimacy.
The coaching staff muzzled the 21-year-old for a couple of weeks to kick off the 2020 season,
presumably so he could be
come
 acclimated to the speed, pace, and
 on-the-field
complexity of 
the NFL. As it turns out, two weeks was all that was needed, and one can argue that Jefferson 
was perhaps ready from the start. Against the Packers and Colts, quarterback Kirk Cousins 
displayed tunnel vision for 
Thielen
. The result was lusterless, and the Vikings were trounced in 
both matchups.
The team was significantly more coherent in Week 3 – probably because Jefferson was trusted 
to make splashy plays. He emphatically earned Cousins' trust, and it seems that the Minnesota
Vikings 
are
 once again owners of a fabulous WR1-WR2 punch.
More Yards than Randy Moss, for now
In a less grandiose manner, Jefferson's output versus Tennessee last weekend had a 
Mossian
feel about it. Jefferson is not like Randy Moss in that he towers above defensive back
s
and 
jumps out of his shoes to haul in quarterback missiles. In fact, the NFL is largely deprived of 
those types of pass-catchers in 2020. The game has evolved into a slew of wide receivers that 
are 
handsy
, athletic, fast, and medium-height.
Moss was the inverse from a height standpoint. He was tall, lanky, and dynamic. In the first 
three games of his career, Moss netted 221 receiving yards. So far in Jefferson's three contests,
he has tallied 245 yards. This should generate buzz for Jefferson's rookie-year prognosis –
especially because the Vikings were content for a bit with trotting 
Bisi
 Johnson out at WR2.
Alas, that was merely a short-term pause button for Jefferson to assimilate to the NFL.
It should be noted that Jefferson would need to maintain a herculean pace to keep
 up
 with Moss
for rookie-year stat wringing. Moss notched 1,313 receiving yards in 1998, which was the
third-
most of all-time behind Bill 
Groman
 (1960) and Anquan Bolin (2003). Jefferson's pace is
currently 1,307 yards if accrued in a manner consistent with the first three weeks of this season.
Pace-Setter for Rookie WRs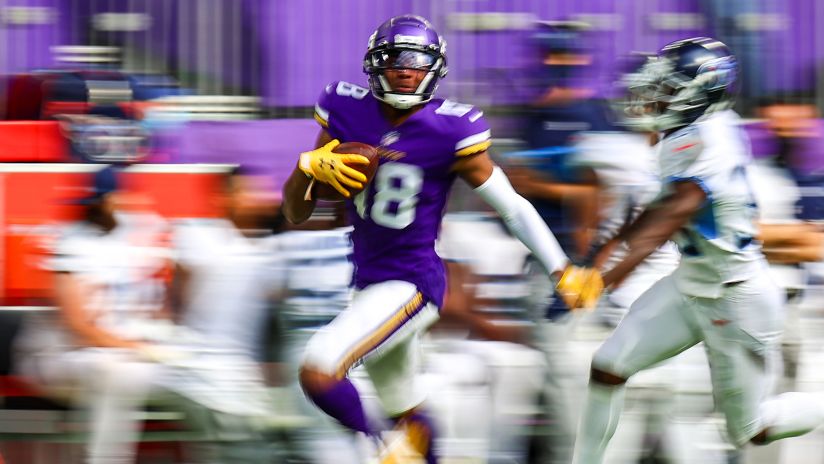 Henry Ruggs III, Jerry Jeudy, CeeDee Lamb, and Jalen Reagor – those are the four men selected before Justin Jefferson in the 2020 NFL Draft. Each man was 21 years old when drafted and each was theorized, at some point, to be superior to the others.

From 
Ruggs
 III to Jefferson, all of the men have endowed their teams with early production 
and
some more than others. 
Ruggs
 III is the "last place" finisher of the first WR picks through three
wee
ks with 59 receiving yards. But, in fairness, 
he has been hampered by injury.
After Jefferson's dapper day last weekend, the LSU alumnus leads all rookie 
wide receivers
in 
receiving yards. The aforementioned 245 yards leads the Cowboys 
CeeDee
Lamb by 15 yards 
and the Broncos 
Jeudy
by 72 yards. Of course, Jefferson's keynote ranking in this metric is a 
result of his colossal game versus the Titans, so that should be, at the very least, called out.
However, should Jefferson prepend a few more games of this ilk, whispers of Offensive Rookie 
of the Year will be murmured by experts? It's a lot more feasible this season that a wide receiver
would have a puncher's chance
 at the award
as the rookie quarterbacks of the 2020 draft class 
are
 not
 performing otherworldly.
The Vikings selected center Garrett Bradbury with their first-round selection of the 2019 NFL
Draft. Bradbury was 24 years-old. At that age, Bradbury was the oldest first-round pick in 
franchise history. Was this detrimental to the organization? Absolutely not. The man is 
progressing nicely as an NFL center, 
as accounted by
 most evaluations.
Nevertheless, the commencement of an NFL career at age 24 disqualifies three full seasons of 
playing time when compared to prospects that make the collegiate jump at age 21. The most
exciting attribute to Justin Jefferson's 
longterm
 outl
ook – particularly when compared to 
Stefon
Diggs – is
his youth. Jefferson is 21 years old, and Diggs is 27. If Jefferson can remotely 
replicate Diggs' production with the Vikings, Minnesota has effectively hit the reset button on the 
wide-receiver
 clock. Jefferson won't be Diggs' age f
or another six NFL seasons. That's
rather 
remarkable if you operate under the pretense that Jefferson is capable of posting numbers that 
are Diggs-like.
And, he's off to a superb start. No player in NFL history has had more receiving yards at age 21
through the first three weeks of a season than Jefferson. What's more, Diggs has one reception
of 70+ yards during his
73
career games; Jefferson got his first such catch in a mere three 
games.
Does Jefferson's three-game sample verifiably mandate eventual superstardom? No. But
consider his introduction as one that is far greater than most pundits scripted.