Takeaways from Every NFL Week 1 Game
Andy Kenutis/Minnesota Vikings
Chiefs 34, Texans 20
Chiefs: Even on its Bad Days, the Kansas City Offense is Great 
As witnessed on Sunday, basically every team is shaking off the rust. The Chiefs weren't an exception to that. Although, Andy Reid could be trying new things especially with his newest toy, running back Clyde Edwards-Helaire. Kansas City's 34 rushes was more than any game from last season's Super Bowl year. Unfortunately for the rest of the league, if a slow day for the Chiefs offense is 34 points, then a good day won't be fun for any defense. 
Texans: Missing DeAndre Hopkins
A lot can be said about the Houston Texans trading away star wide receiver DeAndre Hopkins to the Arizona Cardinals this past offseason. However, the investment of trading away a second round pick and paying $18 million guaranteed for Brandin Cooks and Randall Cobb looks even worse based upon Thursday's performance. Cooks' two catches were on back-to-back plays in the first quarter, meanwhile Cobb's were both in the fourth quarter when the game was already out of hand. Overall, Deshaun Watson was 12-for-21 for 141 yards when targeting Texan receivers not named Will Fuller. 
Patriots 21, Dolphins 11
Patriots: Josh McDaniels and Cam Newton Look Fun
Cam Newton's major impact was on the ground in his Patriot debut. New England had 217 total rushing yards in the win with Newton responsible for 75 of them. McDaniels' game plan was filled with read-option and play action to fit Newton and it was full to watch. 
On Newton's first touchdown, it couldn't have been easier. Lined up in 11 personnel, all three wide receivers to the left side, and tight end Ryan Izzo the lone man split to the far side. Running back James White motions behind the receivers, pulling the Dolphins' one high safety Bobby McCain weakening the box for Newton. On the snap, Izzo puts down an excellent seal block, Newton then follows 335-pound right tackle Jermaine Eluemunor, who easily wins his one-on-one block with safety Eric Rowe.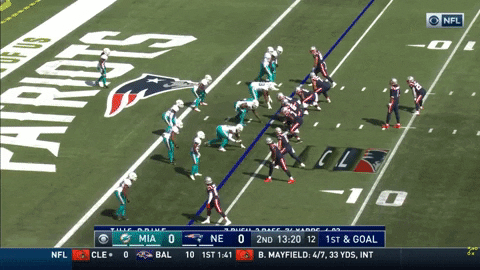 Dolphins: The Offensive Line Looks Not Awful 
According to PFF, the Dolphins graded out last season as the worst offensive line. In the loss on Sunday, the line only allowed two hits — a sack and a hit — and five pressures. As well in the running game, when the team lined up in 11 personnel, Myles Gaskin and Matt Breida averaged 4.4 yards per carry. 
Seahawks 38, Falcons 25
Seahawks: Adapting to Modern NFL
The biggest talking point will be letting Russell Wilson throw the ball and being aggressive doing it. Wilson went for 322 yards, four touchdowns and only four incompletions. Pete Carroll also showed something different going for it on a fourth-and-5 resulting in a 38-yard touchdown to DK Metcalf.
However, the acquisition of safety Jamal Adams seems to have opened up the Seattle defense. Adams was all over the field against Atlanta racking up 13 tackles, two for a loss, a sack and two pass breakups. Marquise Blair, a former second round pick, played 70 percent of the snaps, meaning Seattle played a lot of three safeties with Blair, Adams and Quandre Diggs. Falcons quarterback Matt Ryan told reporters afterwards he'd never seen Seattle use a safety like they used Adams on Sunday.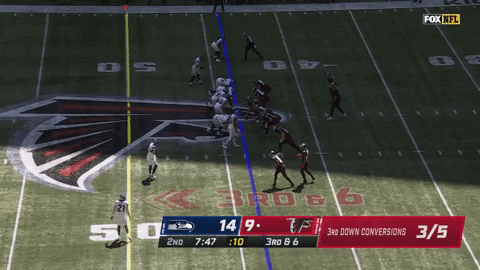 Falcons: A Lot of Yards for Not A Lot of Points
Atlanta outgained Seattle by over 100 yards. The Falcons had their way throwing the football ball, Matt Ryan threw for 450 yards and his lone interception coming on a hail mary toward the end of the game. Atlanta never punted in the second half, but only scored twice. The Falcons went for it twice on fourth down in Seattle's territory, neither attempt executed very well, and the Falcons looked similar to last season's team that just looked mediocre. 
Bills 27, Jets 17
Bills: Josh Allen Goes for 300-plus Yards
Leading into the 2020 season, Josh Allen had never passed for 300 yards until the win over the Jets. He also had a career-high 46 attempts. The Bills were a favorite as a dark horse pick for the Super Bowl. The thing that held others back was because of Allen, but if the quarterback is trusted to throw that much in a game Buffalo led the entire time, the Bills feel good with his progression. 
Jets: How long does Adam Gase Have? 
The Jets fell behind 21-0 quickly on Sunday. New York's offense once again just looked lackluster and quarterback Sam Darnold's interception was an ugly across his body toss. In total, New York threw for 215 yards with 69 yards coming off a great play from Jamison Crowder on a quick out route. Gase's offense can't keep looking like it does and justify him keeping his job. 
Bears 27, Lions 23
Bears: Mitch Trubisky Stepped Up When Needed 
For much of the first three quarters, Trubisky struggled. Nevertheless, he helped lead three fourth quarter touchdown drives including the game-winner to Anthony Miller. The throw was excellent to the outside shoulder of Miller.

Lions: The Lions Lion'd 
A D'Andre Swift catch away from saving a victory, Detroit simply did what most have not: giving away a 17-point fourth quarter lead. According to Warren Sharp, the Lions became just the fourth team to do such a thing. Not a great start for general manager Bob Quinn and Matt Patricia, who were already on the hot seat. 
The Lions became just the 4th team since 2006 to blow a 17+ point lead entering the 4th quarter.

Teams had been 779-3 (99.6%) in that span.

— Warren Sharp (@SharpFootball) September 14, 2020
Packers 43, Vikings 34
Packers: This Aaron Rodgers Makes Green Bay Super Bowl Contenders
Aaron Rodgers played like his former MVP form on Sunday. Whether it was rolling out to hit Davante Adams in the corner or his in-stride deep balls to Allen Lazard and Marquez Valdes-Scantling, Rodgers was on fire. Despite the Packers being 13-3 and making the NFC Championship, Rodgers certainly didn't have one of his better seasons last year. If Rodgers plays like this the rest of the way, watch out.

Vikings: New Pieces, Roles Will Need Times
The Vikings new cornerbacks were the target for Rodgers. After Sunday, Holton Hill currently ranks as PFF worst rated cornerback. It wasn't just the secondary, only two Vikings had four or more receptions; Adam Thielen and Alexander Mattison. It will take time for Justin Jefferson, Olabisi Johnson and Irv Smith to adapt to bigger roles. 
Washington 27, Eagles 17
Washington: Defense Stood Tall 
Washington looked lifeless and fell behind 17-0 early on. However, the defense sparked the comeback. Fabian Moreau's interception late in the second quarter got Washington into the scoring position and Washington put up points before the half. The Football Team forced two more turnovers in the second half and forced the Eagles to look stagnant on offense. 
Eagles: Injuries Already Playing a Factor
Philadelphia lost offensive linemen Andre Dillard and Brandon Brooks to injury before the season started. Right tackle Lane Johnson also missed Sunday's game. All of that results in Carson Wentz being hit 15 times and sacked eight times. Miles Sanders was also missed as the Eagles really needed their playmaker out of the backfield. 
Raiders 34, Panthers 30
Raiders: Josh Jacobs Looks to Take the Next Step
Coming out of college, Josh Jacobs was a very talented running back and could help in the passing game. Although, last year the most catches Jacobs reeled in last year was three. Against the Panthers, Jacobs got a career-high four receptions and six targets plus a 46-yard reception. Not to mention three touchdowns on the ground. 
Panthers: Bridgewater Pushing the Ball Down the Field
According to NFL's Next Gen Stats, Teddy Bridgewater finished last in qualified quarterbacks in average intended air yards (6.2). On Sunday, Bridgewater finished at 8.3 IAY against the Raiders. The big play to Robby Anderson for a 75-yard touchdown and targets to DJ Moore and Curtis Samuel were further than we normally see from Bridgewater. 
Jaguars 27, Colts 20
Jaguars: The Offense Could Be Fun
Everyone loves a little bit of Gardner Minshew in their life. Minshew only threw one completion on Sunday because pass catchers came through. DJ Chark didn't have a great statline but the breakout star from 2019 opened up things for talented rookie Laviska Shenault and the reemergence of Keelan Cole. 
Colts: Don't Hit the Panic Button Yet
Did the Colts lose to potentially the worst team in the NFL? Yes. Is there cause of concern? Probably. Is the season over? Not even close. It just wasn't the Colts day. Indianapolis never punted against the Jaguars. Two interceptions, two turnover on downs and a missed field goal all plagued the Colts, but it's hard to be upset about 451 yards of offense. 
Ravens 38, Browns 6
Ravens: Haven't Missed a Stride
The Ravens looked great on offense and defense. More importantly, parts of the offense looked to take the next step. In the win over the Browns, neither Mark Ingram, JK Dobbins, or even Lamar Jackson took over on the ground. Jackson's throwing was the majority of the offense, and his connection with Marquise Brown was on display as well. On a deep corner route, Jackson hit Brown for a 47-yard gain. If Jackson is able to consistently hit those types of throws to the outside, that's when the Baltimore offense seems nearly unstoppable. 
Browns: New Coach, Old Mayfield
The hire of Kevin Stefanski was geared to helping get Baker Mayfield back to basics. The run-orientated offense with Nick Chubb and Kareem Hunt will make it easier. Upgrades on the offensive line will help Mayfield stop rolling out constantly to his right. None of this happened in the first game, and Mayfield is making it tougher on himself. 
In the play below, Mayfield throws into a tight window to Odell Beckham Jr. before it falls incomplete. If you watch, Mayfield has the time for Chubb to turn around on his route for an easy completion. However, Mayfield once again tries to force a throw that isn't there.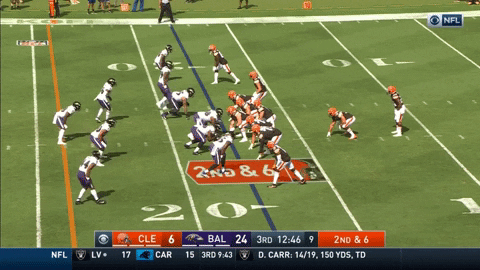 Chargers 16, Bengals 13
Chargers: The Justin Herbert Era Might Come Sooner Than Expected 
Tyrod Taylor didn't look good against Cincinnati. Taylor threw the ball 30 times, and Keenan Allen and Austin Ekeler caught just five of those. Ekeler showcased last year the weapon he is out of the backfield, but only got one target on Sunday. For the Chargers' offense to look decent Allen and Ekeler need to be used more, and if Taylor's performance doesn't improve, it'll be Justin Herbert time. 
Bengals: Joe Burrow isn't Perfect After All 
Burrow, like any other starting rookie quarterback, had his struggles in his first start. His biggest blunder, the shovel pass intercepted by Melvin Ingram, was far from pretty. However, Burrow showcased his play making ability on his 23-yard touchdown. He set up his team to tie the game on the final drive with excellent decision making and accuracy, but those kickers, man. 
Saints 34, Buccaneers 23
Saints: The Offense Looked Disappointing
The Saints won and that's all that matters. However, the offense didn't look good. New Orleans punted six times and lacked chunk plays. Alvin Kamara got nothing going in the running game and his biggest play yardage wise was a trick play from a Taysom Hill pass. Neither Michael Thomas and Emmanuel Sanders did much through the air. The Saints will probably figure it out, but it's something to watch moving forward. 
Buccaneers: Tom Brady and Chris Godwin Connection 
There were clear growing pains in Tampa Bay's offense on Sunday. One was not the connection between Tom Brady and Chris Godwin. It was clear that even in tight windows, Brady trusted Godwin. The two connected six times for 79 yards and multiple gains of 15 yards or more. 
Cardinals 24, 49ers 20
Cardinals: Kyler Murray and DeAndre Hopkins Can Carry the Team
Plenty of people wondered how long it'd take for Kyler Murray and DeAndre Hopkins to develop their chemistry. The answer? Not long. The pair connected 14 times for 151 yards against one of the best defenses in the league. Murray also added 91 yards and a touchdown on the ground.
49ers: Jimmy Garoppolo Can Hold This Team Back 
San Francisco has all sorts of health issues at the wide receiver position. Kyle Shanahan's offense helps cover that. The bigger issue was that Jimmy Garoppolo looked awful in the loss. He threw for two touchdowns and 259 yards. 76 yards came on a short pass that Raheem Mostert took the distance. Garoppolo also missed the go-ahead touchdown to a wide open Kendrick Bourne. It just looked apparent that Garoppollo will lose the 49ers more games than he'll push them to win. 
Rams 20, Cowboys 17
Rams: Malcolm Brown Looked Like the Lead Back 
In the first game in the post Todd Gurley era, the best looking Rams running back wasn't Cam Akers or Darrell Henderson, it was Malcolm Brown. Brown converted his 21 touches into 110 yards and two touchdowns. Meanwhile, Akers and Henderson averaged 2.6 yards on their combined 17 carries. 
Cowboys: The Offensive Line Isn't What It Used To Be
Aaron Donald had his way with a group that is usually considered one of the best. Donald generated 10 pressures according to PFF. On the other side, without an injured La'el Collins and retired Travis Frederick, the Cowboys front wasn't as stout as usual. Even Zach Martin had a bad day. If this continues, the Dallas offense that entered the season with so much hype and potential might crash down. 
Steelers 26, Giants 16 
Steelers: The Offense Had Life Again 
The return of Ben Roethlisberger injected life back into the Steelers' offense that it was missing last season. JuJu Smith-Schuster looked more like his 2018 breakout year and Roethlisberger started showing the chemistry he had with Diontae Johnson in the second half. Eight different Steelers caught passes when last year it felt lucky if Steeler quarterbacks completed eight passes. 
Giants: Daniel Jones Played like Daniel Jones 
Daniel Jones led a 18-play drive into the red zone. He was making plays, spreading the ball around, looking really good. Then he rolled to his left, threw off his back foot and lofted an interception into the arms of Cameron Heyward. For every perfect throw like the 41-yard pass to Darius Slayton, Jones throws an interception. It seems like every time Jones makes you believe he's taken another step forward, he changes your mind right back. 
Titans 16, Broncos 14
Titans: Tannehill Throws A Lot in Titans Win
Tennessee rode Derrick Henry to the AFC Championship last season. When the Titans asked Ryan Tannehill to drop back and throw, he was one of the most efficient passers in the league. In Monday's win it was a bit different. Henry had a solid performance, but Tannehill attempted 43 passes in the win and only averaged 5.8 yards per attempt. Nevertheless, the Titans showed trust in the quarterback. The team won and saw a good day from Corey Davis who caught seven balls for 101 yards. 
Broncos: Denver Has the Pieces for a Fun Offense
Denver only scored 14 points in the loss. There were a ton of little things that could be patched up. However, there were glimpses of the potential in a high-powered offense. Despite not having top receiver Cortland Sutton, the Broncos had life. First round pick Jerry Jeudy was getting open, but two drops — very unusual in his game — plagued his night. Noah Fant looked like the athletic, receiving tight end he was drafted to be. Drew Lock barely overshot a long touchdown that could've put the game away. Denver looks close to something special and time will help it get there.