How to Fix the Vikings' Offensive Line
Image courtesy of Vikings.com
Last year the Vikings really put the "offensive" in "offensive line," surrendering the most pressures of any team in the NFL and somehow being even worse run blocking.
It's been a long time since a Vikings' offensive lineman was selected for a pro bowl (Matt Kalil in 2012), and it's been even longer since a Vikings' offensive lineman was selected as an all-pro (Steve Hutchinson in 2009).
The Vikings' offensive line gave up pressure on 33.9% of passing plays, the third-worst mark in the NFL and well above the NFL average of 27.8%.  The team pass blocking grade ranked 27th in the NFL; the team run blocking grade ranked 25th.
If this team is serious about contending for a playoff run, that has to change.
So here's how to fix it.
---
Step One: Nail the Offensive Line Coach Hire
Far more than any draft pick or free agency move, the Vikings need to hire the right coach to teach the proper technique to the players.
It is no coincidence that the 2018 Vikings' dropoff in offensive line performance came after the sudden passing of Tony Sparano, the Vikings' former offensive line coach.
Great offensive line coaches turn free agents and late-round draft picks into pro bowlers.  Case-in-point: the Patriots under offensive line coach Dante Scarnecchia fielded Pro Football Focus' fourth-best offensive line this year.  The starters on that line include a third-rounder, a fourth-rounder, a fifth-rounder, a seventh-rounder and an undrafted free agent.  Other elite offensive line coaches, like Mike Munchak, Bill Callahan and James Campen, can point to similar results.
The Vikings are rumored to be finalizing the hire of Rick Dennison as offensive line coach.  How does he stack up?
According to Justis Mosqueda's offensive line coach rankings, Dennison is tenth-best in the NFL:
Mosqueda's rankings are a bit simplistic, as they only account for how often offensive lines give up sacks or tackles for losses compared to the NFL average, but the rankings comport with the coaches' general reputations as well.
If we look at Football Outsider's Adjusted Line Yards, which credits the offensive line for rushing success rate particularly at the first level and partially at the second level, the results look even better: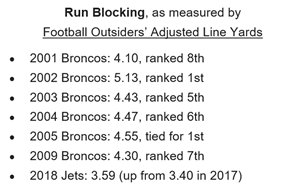 Granted, except for last year with the Jets, it's been over a decade since Dennison has coached the offensive line.  So at this point, Dennison's track record is a little stale.  The upshot is that, like Mike Munchak, Rick Dennison is the rare offensive line coach who was good enough at his job to get promoted.
Could the Vikings do better than Dennison?  There's a good case to be made, as there are plenty of top-tier offensive line coaches available.  Bill Callahan is reportedly leaving Washington for Cincinnati, and Dave DeGuglielmo (the man responsible for the Colts' offensive line turnaround) is still available.
The best case for Dennison, however, is that in addition to his consistent success in pass protection and run blocking, he's an ideal scheme fit.  The last time Gary Kubiak was calling plays in Denver, no one ran more outside zone run plays: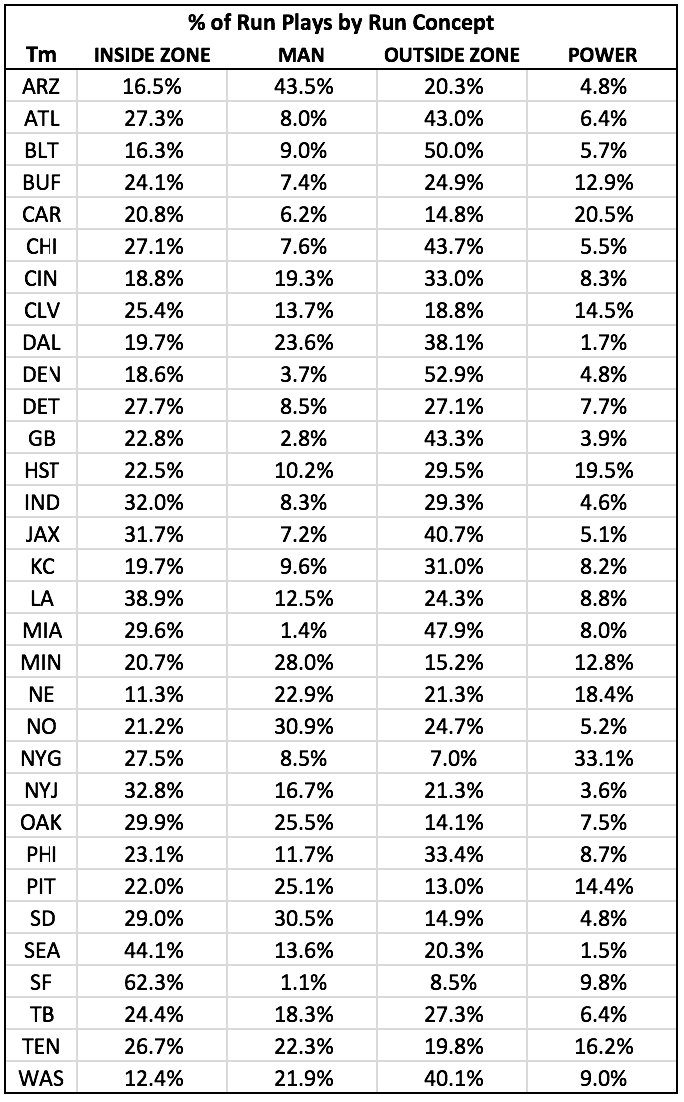 Rick Dennison was the offensive line coach who helped Gary Kubiak produce such consistent success in Denver's outside zone scheme in the 2000's.
That scheme fit, combined with his top-ten track record in pass protection and run blocking, makes him a hire worth getting excited about.
---
Step Two: Trim the Fat
In order to improve the Vikings' offensive line, some of the offensive linemen will need to be replaced, either internally, through the draft or through free agency.  Which players should stay?
Brian O'Neill will certainly be returning after a surprisingly good rookie season.  O'Neill was drafted as an extremely raw former tight end, but due to the poor play of Rashod Hill and his precocious development, O'Neill finished the season playing 798 snaps at right tackle.  O'Neill did not surrender a single sack all year — the only starting tackle other than Tyron Smith and Terron Armstead to do so.
That said, O'Neill still has plenty of room to grow, as he gave up pressure on 6.3% of passing plays, ranking 24th out of 58 starting tackles in pass blocking efficiency, and ranking 47th out of 61 tackles in overall grade thanks to a poor run blocking grade.  O'Neill still struggles with his hands placement and pad level, lacks the functional strength and technique to handle power consistently and in the run game doesn't win his blocks so much as stalemate.  All that is to say that while the sky may be the limit for him going forward, he will absolutely need to take that next step next year for the offensive line to improve.
Pat Elflein is coming off a very poor year where he ranked dead last in Pro Football Focus' grades for starting centers (third-to-last in pass blocking grade, last in run blocking).  To me it seems clear he was rushed back from rehab after missing the entire offseason and preseason due to surgeries on both his shoulder and ankle.  After missing so much time (that otherwise would have been spent in the weight room and refining his technique), he was then thrown in the fire, so it's no surprise he played poorly.
But Elflein is still worth keeping around.  Elflein's rookie season featured both highlights and lowlights, and that inconsistency dragged his overall PFF ranking down to 21st out of 30.  Elflein was at his best on screens, showing his athleticism and taking excellent angles in space, but struggled opening his chest to defenders or lunging forward and losing his balance in pass protection.  Those are coachable flaws, and with a healthy, productive offseason (and with an outside zone scheme that plays to his strengths), Elflein should be poised to play much better in 2019.
Riley Reiff is a team captain and arguably the best player on the line, although that is not saying much.  Reiff had the best pass blocking grade and run blocking grade on the team by a decent margin, and actually graded above average in both areas, although he also gave up the most pressures on the team as well, ranking 51st out of 58 tackles in pass blocking efficiency (though that might be due to facing guys like Mack, Hughes, Graham, etc.).
Mike Remmers was a mediocre right tackle who struggled with speed rushers on the outside, so the Vikings moved him inside to guard where speed would not be a concern.  Unfortunately Remmers was unable to adjust his technique and ended up with the worst year of his career by far, giving up the third-most pressures of any guard.  Remmers is a starting-caliber right tackle, but unless the Vikings want to move him back there, there is little reason for them to keep him on a starting salary on the inside.
Tom Compton played better than expected once Nick Easton suffered a season-ending neck injury, but Compton still is not quite a starting-caliber guard, and the team should look to upgrade in an NFC North that is stacked with defensive tackle talent.
Which players should stay?
O'Neill is perhaps the only shoe-in, given his potential and his cheap contract.  Elflein should be back, though the Vikings may want to keep Brett Jones or Cornelius Edison around in case Elflein cannot return to form.
One of Riley Reiff or Mike Remmers should stick around at tackle.  Reiff is the better tackle, but given that his cap hit is practically double that of Remmers', the team should also consider switching O'Neill to the left side, kicking Remmers back out to the right side, and cutting Reiff after June 1 to save $10M in cap space for each of the next three years.  But it's probably more likely the team cuts or restructures Remmers and keeps Reiff on the left side and O'Neill on the right side for continuity.
Nick Easton is a bit of a wild card.  He's a fantastic athlete (perfect for the Kubiak outside zone scheme), and he had some highlight-reel blocks in 2017, but he was also very inconsistent and is coming off a neck injury.  If the Vikings can't upgrade at both guard spots this offseason, though, Easton is probably the best option at left guard.  Tom Compton has a good argument to stick around as well after his surprisingly decent 2018 year, but ideally the team will try to upgrade free agency or the draft.
---
Step Three: Bring In the Big Bois
So the Vikings need a guard, probably even two, if they want a legitimate shot at surviving the trenches in the playoffs.  Who is out there who will be attainable in the draft or free agency?
Sign a Free Agent?
Affording a top-tier guard in free agency will be pretty tricky, as the Vikings only have a little under $8 million in estimated cap space.  That is before signing the 2019 draft class, and it's also before re-signing Barr, Richardson, Harris, Murray, Siemien, Sherels, Compton, Easton or any of the other Vikings' free agents.
Still, some space can be created.  Cutting Sendejo and Reiff and restructuring Everson Griffen alone could create up to $22.5 million in 2019 cap space.
On the other hand, bringing back either Barr or Richardson, plus Harris, Tom Johnson, Matt Wile, Dan Bailey and the other free agents will cost up to $20 million, depending on how much the Vikings are able to backload any deal for Barr or Richardson.
Realistically, unless the Vikings are comfortable letting both Barr and Richardson walk, they won't be able to spend more than $10 million on a free agent guard (and even that might be a stretch).
Who is out there that that fits the bill and fits the scheme?
Rodger Saffold, Rams' left guard.  Saffold has been a top-ten guard by PFF grading for each of the last two years under the tutelage of Aaron Kromer.  Excellent scheme fit coming from the McVay outside zone scheme, which is the nephew of the Kubiak scheme.  Excellent play strength, hands, great in space, great technique.  Only downside is he will be 31 next season, and his consistently excellent play in a weak guard market may drive a bidding war that the Vikings won't be able to win.
Ramon Foster.  Steelers' left guard.  At 33 years old, is past his prime, but is still a mauler with good athleticism.  Scheme versatile.  Had a top-ten pass blocking grade in 2018, but a poor run blocking dragged his overall grade to 23rd.  Ranked 53rd overall by grade in 2017, but 14th in 2016.
Mike Person.  49ers right guard, was a backup prior to 2018.  Will be 31 next year.  Despite bouncing around, has graded very well in pass protection for each of the last three years, and has only given up one sack in 1,438 career NFL pass blocking snaps.  Ranked 16th among starting guard PFF grades in 2018.  Good lateral speed, could be a good outside zone fit.  Could be a great value.
Ben Garland.  Falcons' backup guard.  Will be 31 next year.  Had the #2 run blocking grade in 2018, and the #1 run blocking grade in 2017, but his pass blocking grades are below replacement level.  If lunging and other technique issues can be coached up, could be a diamond in the rough.
Andy Levitre.  Falcons' starting right guard.  PFF has always graded him very well (12th overall in 2017, 4th in 2016), but he will be 33 next season and is coming off his second-straight season-ending triceps injury.
Matt Paradis.  Broncos' starting center, 29 years old.  Strong connection to Gary Kubiak, as Kubiak helped draft him and coached him en route to the 2015 Broncos' Super Bowl victory.  PFF loves him–was the #2 center in their grading in both 2016 and 2018.  However, Paradis is probably best as a center and not guard, and since the Vikings seem intent on keeping Elflein at center, may not be a great fit.
Of the options out there, Saffold is the only sure thing, but it's unlikely the Vikings win that bidding war.  Still there are some intriguing options out there that could get the attention of Stefanski, Kubiak and the Vikings' pro scouts.
---
Trade?
Perhaps the best route towards filling the Vikings' hole at left guard would be in a trade.
One similarity between the two teams in this year's Super Bowl?  They both traded picks to build their Super Bowl roster.
The Patriots traded a 7th-round pick for Jason McCourty, a 6th-round pick for Cordarelle Patterson, a 5th-round pick for Josh Gordon and a 3rd-round pick for Trent Brown and a 5th-round pick.  They won each of those trades.
The Rams traded a 2nd-round pick and a 4th-round pick for Marcus Peters and a 6th-round pick, and they traded a 5th-round pick for Aqib Talib.  They won both of those trades as well.
For whatever reason, NFL teams seems to overvalue draft picks in comparison to veteran players.  The Vikings should explore and see if any guards would be available for some draft capital, particularly if a new offensive line coach has come in and wants new players, or if a team is switching from a zone scheme to more gap/man running.
Maybe the Browns would be willing to trade Joel Bitonio given his cap hit and the changing of the guard at head coach and offensive line coach?  Maybe the Buccs would be willing to trade Ali Marpet given the same changes in Tampa?  Maybe the Raiders are willing to offload Kelechi Osemele for more draft picks after a down year?  It's certainly worth exploring.
---
The Draft
There are a number of starting-caliber offensive linemen in the draft this year, particularly along the interior.  Jonah Williams (increasingly being seen as a guard), Cody Ford (could play RT or inside), Dalton Risner, Garrett Bradbury and Michael Deiter all project to be top 50 players (and the Vikings do have two top 50 picks).
Not to mention plenty of other players like Elgton Jenkins, Connor McGovern, Michael Jordan or Beau Benzschawel will likely go on day two and could also provide an immediate upgrade as rookies.
The Vikings will have to be careful that they do not misplay the draft board this year like they did last year, when they failed to anticipate the run on interior offensive linemen in the top of the second round.  There are still plenty of other teams with holes on their offensive line looking to pick up a day one starter, so the Vikings will have to balance their need for offensive linemen with the other holes on the roster, and will need to be able to anticipate the overall demand for linemen come draft day.
---
Can We Build it?  Yes We Can!
With poor performances from last year and little cap money to spend this year, fixing the Vikings' offensive line is a tall order.
But with a big upgrade at offensive line coach, some healthy progression from O'Neill and Elflein, and the addition of a guard or two via free agency, trade or the draft, the Vikings can fill that order and then some.
Or maybe they will draft a cornerback in the first round.  You never know.