Vikings' Battle For The North Begins In Lambeau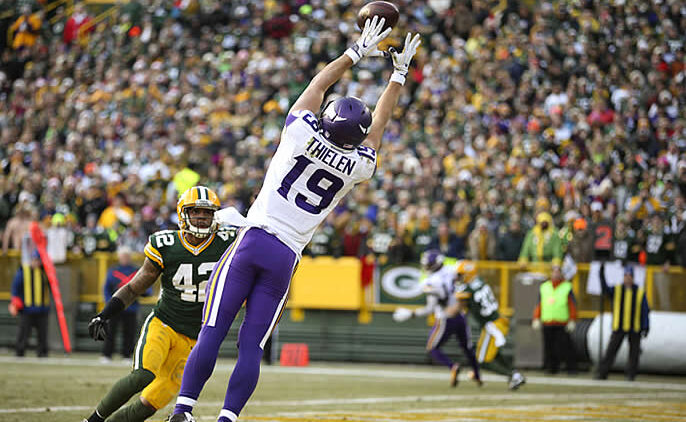 Editor's Note: This article comes from 'The V61' (vikings61.com), a friend and partner of Vikings Territory! Check out them out daily for news, analysis, and history of the Vikings!  Follow the V61 on TWITTER here!
The Sunday matchup between the Minnesota Vikings and Green Bay Packers will decide a clear-cut leader in the NFC North after two games of the 2019 season. Unless, of course, the two teams tie like they did last year.
By land or by air, one of these teams is going to win this one.
Will it be Mike Zimmer's Vikings, with their newly fortified rushing attack (unveiled to great success last week against Atlanta), or the tried-and-sometimes true heroics of Aaron Rodgers and his offensive supporting staff?
Or will there be another variable?
Stopping A Run
The Chicago Bears brought a solid running game from 2018 (1938 yards) into their week one matchup against Green Bay and came out of the contest rushing for only 46 yards against a steely Packers' front.
The mistake they may have made was not running enough.
With only 15 rush attempts, it seems someone forgot to examine the Packers' defensive statistics of last season, where teams ran against them 446 times in 16 games, one of the NFL's highest numbers.
Vikings offensive coordinator Kevin Stefanski–and head coach Mike Zimmer–won't make that mistake in a close game today.  
Running serves three purposes for Minnesota in Lambeau Field.  It helps the mighty Rodgers off the field, it controls the clock, and it keeps the fans quiet.
That's if it's working.
Rush Hour
Both the Vikings and the Packers proved that they could rush the passer in week one.  Green Bay's defense took down Bears' QB Mitch Trubisky five times behind an above-average Chicago offensive line, and Minnesota got to Matt Ryan four times behind a below-average Atlanta one.
Sure, the Vikings will pass more in this game than they did in week one (10 attempts), but not necessarily.  If the Packers' decide to turn the ball over early and often like the Falcons did last Sunday, fans are going to see handoff city.
But that's not likely.
Expect Vikings' receivers Adam Thielen and Stefon Diggs to return to their Lambeau form and try to duplicate their incredible tandem 21 catch, 259 yard, 3 touchdown performance in week two of 2018.
If the Packers shut down the Minnesota run algorithm and force QB Kirk Cousins into third-and-longs, it will be advantage Green Bay, as the Vikings' will see the teeth of the home team's new and improved defensive front.
In 2018, the Vikings were 26th in the league (35.8%) in third-down conversions.
On the other offensive anterior, Green Bay, once again without much of a running game to compliment Rogers' golden arm, will throw the ball like they did in 2018, where they ranked third in the league in passing attempts with 640.
For the record, Green Bay was 32nd in rushing attempts last year, and of course, 6-9-1 on the season.
With 5' 8" 208 lb. running back Aaron Jones playing little but a gadget rush game, the Packers will be up to their usual tricks in week two, and that means Aaron Rodgers' clinging and slinging at the point.
With only one year as an offensive coordinator calling plays (Tennessee, 2018), Packers' head coach Matt LaFleur is known to be keen on distributing the ball throughout the offense to his team's playmakers, just like his mentor, Los Angeles Rams' head man, Sean McVay.
Sounds good, right?  The problem being is one of the chief tactics of LaFleur's playbook is through play-action passing.  Because the Green Bay Packers have absolutely no running game, how exactly is that going to work?
Singular Vision
Right defensive and Danielle Hunter, still the Vikings wunderkind at age 24, will chase Rodgers through another expected double team front, but his teammate, veteran Everson Griffith may be facing a Packer lineman not named David Bakhtiari, Green Bay's All-Pro left tackle. 
For the Vikings, that's where the heart of his victory lies, as it usually does. 
Getting to number 12.
One intangible that may aid Minnesota today is the fact Rogers and LeFleur have reportedly tangled already about the quarterback's license to call plays at the line over the one called to the huddle.
Rodgers told NFL.com:
"I mean, obviously, Tommy (Brady) can do it, no doubt.  Peyton (Manning) could do it. Drew (Brees) can do it. (Patrick) Mahomes will be able to do it.  Ben (Roethlisberger) has called the two-minute for years. There are a few of us who've just done it–it's kind of second nature.  
A chink in the armour?  Perhaps.
If Mike Zimmer's defensive line and calculated pass rush games can get Rodgers to shaking his head after a few failed plays, this game will be in the bag for Minnesota.
Easier said than done–but certainly done before.