It's Time For Adam Thielen To Fly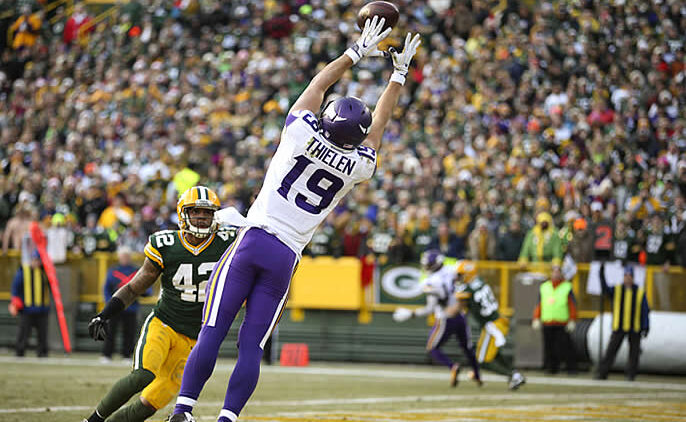 With only 3 catches for 27 yards against the Chargers in his return, the fanfare around Vikings' wide receiver Adam Thielen is now ebbing. But as Thielen gets his "football legs" back under him, don't expect things to stay quiet for long.
As quickly as a gust of Northern wind, the hoopla over Adam Thielen returning to the Vikings' lineup is now gone. The two months of inquisitions from the press and media seems to have never existed.
But that's just the way things are. There are more dramatic things to worry/report about now, including the game status of running back Dalvin Cook and his backup Alex Mattison.
No doubt that's exactly how Theilen likes it. A creature of football nurture that took years to bloom, the 29-year-old wideout knows it's time to concentrate on his play and not questions regarding his hamstring.
———  *Editor's Note: This article comes from 'The V61' (vikings61.com) a new website devoted to news, analysis, and history of the Minnesota Vikings! Bookmark The V61 (friend and partner of Vikings Territory and Purple PTSD) and follow them on Twitter and Facebook here!     ———–
With no setbacks in the victory over the Chargers, Thielen knows he has passed his first big physical hurdle. He was on the field for a cautious 51% of the offense's snaps in his return. Considering that Thielen played over 80% of the Vikings' offensive snaps from Week 1 through 7, he still has some work to do–the type of work he's built his NFL career on.
Thielen made his first catch in last Sunday's game in the Vikings' third offensive play, a seven-yard bullet from quarterback Kirk Cousins that must have felt pretty good to a guy whose been on a trainers table for two months.
Though he was quiet for the rest of the game, his partner, Stefon Diggs, was the beneficiary of Thielens' presence, getting loose for a game-clinching 3rd-and-14 play for 46 yards that set up RB Mike Boone's touchdown from eight yards out to make the game 32-10.
Situational Report
Now it's time to discuss how the absence of Dalvin Cook may affect the passing game and where Thielen stands within it.
Because it's uncertain whether or not backup running back Alexander Mattison will be playing on Monday Night, there is a very real chance that the Vikings will be featuring a rushing tandem of Mike Boone and Ameer Abdullah against the Packers.
That will mean that the Packers may try and put pressure on Kirk Cousins and the passing game rather than concentrating on Cook, who embarrassed them in Week 2 with 154 yards on 20 carries from the backfield.
The Vikings' QB played his worst game of the season against the Pack three months ago, going 14 for 32 for 230 yards, one score, and two interceptions, including a demoralizing 4th quarter toss into the endzone from the 8-yard line that was intercepted. He finished the game with a 52.9 QB rating.
"You just can't do that, can't do that," Cousins said of game-clinching pick for Green Bay. "You just can't do that. It's uncharacteristic of me."
Also uncharacteristic of his team were five fumbles, (two lost), four total turnovers, and eight penalties accounting for 100 yards in the loss.
When added to the fact that Green Bay used a torrid first quarter–with a red zone fumble by Cousins–to jump to a 21-0 lead, its amazing that Minnesota played them to only a five-point loss at the end.
Starting With Adam
Thee should be no delusions about it. Vikings' OC Kevin Stefanski must realize that Mike Boone is not Dalvin Cook and Ameer Abdullah is not Alex Mattison. Though they will attempt to run the ball throughout the game, the Vikings' starting receivers will need to be one of the primary factors in this contest. That means it's come time for number 19 to step up and back into the lights of US Bank Stadium.
Going into this game with Adam Thielen makes all the difference in the world for Minnesota. In his last three games against the Packers (including Week 2), Thielen has 25 catches for 331 yards receiving and two touchdowns. If anybody knows the angles on getting a good start on Monday Night Football, it's the guy from Detroit Lakes, Minnesota.
The fact that few questions have been asked of Adam Thielen's hamstring this week is a good sign. That's in the past. Now it's come time for other questions to come–questions about his gameplay and how it made the difference in a Minnesota Vikings' victory.