Purple Rumor Mill: Jefferson's Timetable, The Risner Show, Buyers or Sellers
Sep 30, 2022; Thundridge, United Kingdom; Minnesota Vikings wide receiver Justin Jefferson at press conference at Hanbury Manor. From 2020 to 2022, Jefferson accrued the most receiving yards in NFL history by a player in his first three seasons. Mandatory Credit: Kirby Lee-USA TODAY Sports.
VikingsTerritory's Purple Rumor Mill is a two-day chronicle each week. All the week's rumors are lassoed and plopped in two spots — articles on Saturday and Sunday — for review. Today is the October 22nd edition.
Purple Rumor Mill: Jefferson's Timetable, The Risner Show, Buyers or Sellers
Remember — rumors are rumors. What you read on weekends in these pieces is what the world is talking about pertaining to the Vikings, not necessarily items that will come to fruition.
Here's the second batch of the week. Yesterday's can be read here.
Rumor: Justin Jefferson's recovering nicely, and he should return on November 12th versus the New Orleans Saints.
It sure sounds like it.
Not one iota of adverse news has dribbled out after Jefferson's hamstring injury, and in fact, head coach Kevin O'Connell has provided the opposite — good news.
"He's doing really well. I know he feels maybe a lot better than he initially thought he would, just from an overall feeling standpoint," O'Connell told The Rich Eisen Show on Friday.
O'Connell also confirmed last week that Jefferson's injury was not season-ending.
"But, it doesn't surprise me, he's one of the most gifted, special athletes I've ever been around," he added.
Jefferson's absence likely won't exceed three more games, and now the Vikings have to do their damnedest to keep the season relevant while he's out.
Rumor: Dalton Risner will start on Monday Night Football against the San Francisco 49ers.
O'Connell told reporters Saturday that left guard Eza Cleveland is out on Monday Night Football with a foot injury. And that means Dalton Risner is on the way, starting at LG, his first such assignment in Minnesota.
The Vikings added Risner a month ago after fans vociferously requested his services for multiple weeks. Folks thought he'd take Ed Ingram's job, but now Risner will receive LG snaps, which is his organic position anyway.
He'll get a trial-by-fire test against a daunting San Francisco 49ers defensive front.
Rumor: The Vikings could be buyers or sellers at the trade deadline; it's a coinflip.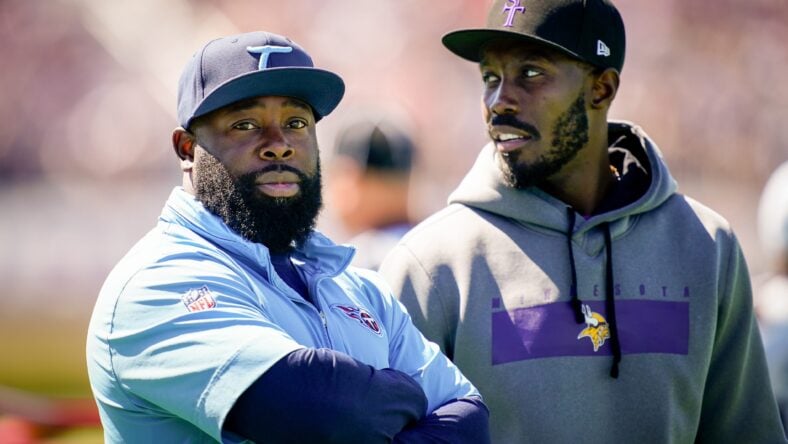 NFL media and fans believe the Vikings should trade players like Kirk Cousins, Danielle Hunter, and K.J. Osborn. But it's significantly more likely that the purple team stands pat with its roster, perhaps adds a player or two, and maintains hope that 2023 can be saved.
Cousins already stated he has zero interest in waiving his no-trade clause, Minnesota reportedly isn't interested in trading Hunter, and any trade involving Osborn, for example, wouldn't terribly rock the boat.
Of course, if the Vikings lost the next two games, hitting a 2-6 record, circumstances could change, but generally speaking, a "fire sale" is unlikely.
---
Dustin Baker is a political scientist who graduated from the University of Minnesota in 2007. Subscribe to his daily YouTube Channel, VikesNow. He hosts a podcast with Bryant McKinnie, which airs every Wednesday with Raun Sawh and Sal Spice. His Vikings obsession dates back to 1996. Listed guilty pleasures: Peanut Butter Ice Cream, 'The Sopranos,' Basset Hounds, and The Doors (the band).
All statistics provided by Pro Football Reference / Stathead; all contractual information provided by OverTheCap.com.