Purple Rumor Mill: Late-Summer Trade, Interest in Trey Lance, Lawrence Guy
Dec 24, 2022; Minneapolis, Minnesota, USA; Minnesota Vikings general manager Kwesi Adofo-Mensah looks on before the game against the New York Giants at U.S. Bank Stadium. Mandatory Credit: Matt Krohn-USA TODAY Sports.
VikingsTerritory's Purple Rumor Mill is a two-day chronicle each week. All the week's rumors are lassoed and plopped in two spots — articles on Saturday and Sunday — for review. Today is the August 27th edition.
Purple Rumor Mill: Late-Summer Trade, Interest in Trey Lance, Lawrence Guy
Remember — rumors are rumors. What you read on weekends in these pieces is what the world is talking about pertaining to the Vikings, not necessarily items that will come to fruition.
Here's the second batch of the week. Yesterday's can be read here.
Rumor: Because the Vikings were active last year in the trade market at this time on the calendar, another deal is likely on the way.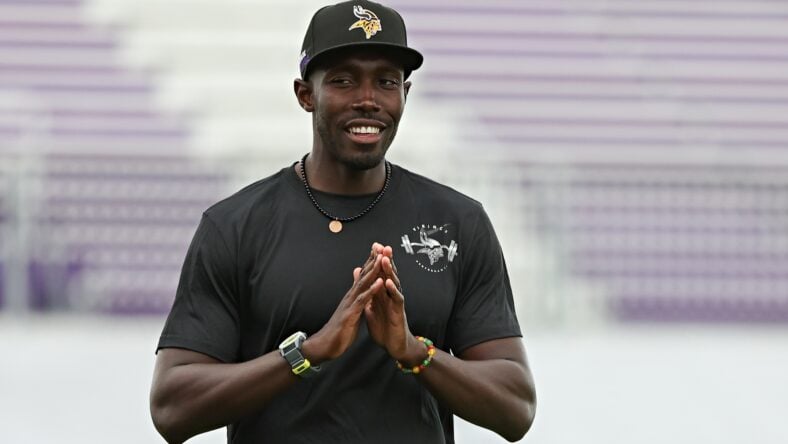 Last August, the Vikings swung deals for Nick Mullens, Jalen Reagor, and Ross Blacklock while also trading offensive lineman Jesse Davis to the Pittsburgh Steelers.
It's probably a safe bet that Kwesi Adofo-Mensah will pull the trigger on at least one deal.
Minnesota could perhaps use an extra cornerback, so watch for names like Kristian Fulton (Tennessee Titans), C.J. Henderson (Carolina Panthers), or Amik Robertson (Las Vegas Raiders).
Tim Settle (Buffalo Bills), Grover Stewart (Indianapolis Colts), and Milton Williams could make sense if the Vikings want to add an extra defensive tackle after James Lynch's season-ending injury.
Rumor: Minnesota was not involved in the Trey Lance trade market this week, and the young passer landed in Dallas.
The Vikings might've nibbled at Trey Lance's availability before the draft, but reports conflict with that theory. When Lance was really on the trade market this week, the Vikings were not interested, sources tell VikingsTerritory.
The man apparently needed a fresh start — he couldn't win a QB2 job in San Francisco — and will get precisely that in Dallas as a backup to Dak Prescott.
Because Lance is from Minnesota, though, we expect the Lance trade rumor mill to heat up again next offseason if Minnesota is quarterback shopping.
Rumor: The Vikings could trade for New England Patriots DT Lawrence Guy.
This connection came from CBS Sports.
CBS Sports' Cody Benjamin identified several quasi-big-name players who could be traded before roster cuts next week, and for Guy, his theoretical landing spots included the Vikings, Detroit Lions, and New Orleans Saints.
Benjamin explained on Guy's for-sale status, "Defense is the name of the game in New England, so dealing a mainstay in the trenches would be illogical if it weren't for the promising arrival of second-rounder Keion White, a preseason darling."
Guy has ties to Vikings defensive coordinator Brian Flores from the New England days.
Benjamin added, "At 33 and reportedly seeking a new deal since the start of camp, Guy could provide Bill Belichick another opportunity to split with a player too early rather than too late."
Anything is possible, but we do not expect Minnesota to trade for Guy.
---
Dustin Baker is a political scientist who graduated from the University of Minnesota in 2007. Subscribe to his daily YouTube Channel, VikesNow. He hosts a podcast with Bryant McKinnie, which airs every Wednesday with Raun Sawh and Sal Spice. His Viking obsession dates back to 1996. Listed guilty pleasures: Peanut Butter Ice Cream, 'The Sopranos,' and The Doors (the band).
All statistics provided by Pro Football Reference / Stathead; all contractual information provided by OverTheCap.com.