5 Reasons to Be Worried about the 2023 Vikings
Jan 15, 2022; Orchard Park, New York, USA; A Buffalo Bills fan. © Rich Barnes-USA TODAY Sports.
Last weekend, we chronicled five reasons to be excited about the 2023 Minnesota Vikings. Those can be read here.
Now we're on to the counterpoint, as regular season Vikings football kicks off in 106 days,
5 Reasons to Be Worried about the 2023 Vikings
Ranked in ascending order, these are five reasons to be worried or skeptical about the 2023 squad (No. 1 = should cause the most worry).
5. The Schedule Is Rough
The placement of Minnesota's schedule in 2023 is somewhat favorable and even seems like it could've been constructed by a Vikings fan in terms of order. But the opponents remain deadly, as the Vikings play four teams considered by most NFL power rankings as Top 5 squads — the Philadelphia Eagles, Kansas City Chiefs, San Francisco 49ers, and Cincinnati Bengals.
At this time last year, folks looked down at the Vikings schedule and thought, "Not bad." This year is a different ball of wax, including nine road games instead of eight.
4. The Supposed Cousins Ceiling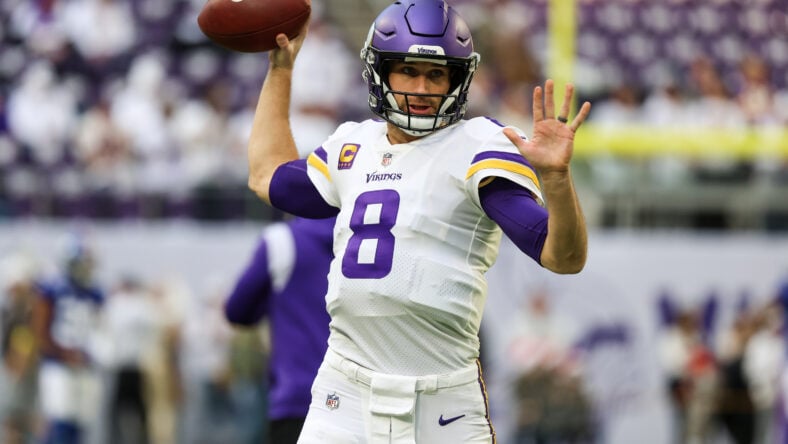 Minnesota has employed Kirk Cousins for five years, and that's quite the sample size. In the timeframe, the franchise has not exceeded the postseason's Divisional Round and has only reached it once.
There's a reasonable chance in January that you conclude the Vikings season and think, "Welp, they lost before the NFC Championship again." And the quarterback will be blamed.
The dream scenario is for Cousins to replicate Matthew Stafford's 2021 season, but Minnesota's roster just isn't that talented.
Like any Cousins discussions, though, what better-than-Cousins quarterback was available to Minnesota this offseason? That's why he wasn't traded.
3. 13-4 Difficult to Replicate
The Vikings showcased an infamous -3 upside-down point differential in 2022, as most of their wins occurred in tight fashion. Even if Kevin O'Connell's team had bashed some teams over the head, duplicating a 13-4 season isn't easy.
No matter what happens in 2023, some will point to the 13-4 record and claim the Vikings regressed if the record is 12 wins or less. Minnesota could be a better football team at, for example, 11-6 than the 2022 Vikings, but topping 13 wins won't be easy.
2. Locker Room Leaders Left
Eric Kendricks, Adam Thielen, and Patrick Peterson (and maybe Dalvin Cook later this summer), among others, departed the organization this offseason. Most of those moves were expected, so no one freaked out too vehemently.
Still, the Vikings hope to make O'Connell's second act prosperous, and they'll do so without various longtime leaders in the locker room. We shall see how much their voices mattered.
1. A Flores-Only Fix to the Defense
Listen, it's fantastic that Brian Flores took over for Ed Donatell. Not a single Vikings enthusiast is downtrodden about it.
But all the aspirations involving a defensive transformation reside with Flores. Per personnel, the Vikings didn't outwardly improve on defense — they just appear poised to promote a bunch of young guys. That could work swimmingly, or everyone might realize by Week 10 or so, "Well, Flores didn't have much to work with."
In 2020 and 2021, some Vikings faithful believed the team's defense would be in good shape merely because Mike Zimmer was in charge, and he claimed, "I've never had a bad defense."
After all the "We're fine — Zimmer can turn water into wine" hopes, both defenses were terrible. Until proven otherwise, it seems many think Minnesota will rectify the defensive woes because a single coach can handle it. Players' talent level and experience matter, too.
---
Dustin Baker is a political scientist who graduated from the University of Minnesota in 2007. Subscribe to his daily YouTube Channel, VikesNow. He hosts a podcast with Bryant McKinnie, which airs every Wednesday with Raun Sawh and Sal Spice. His Vikings obsession dates back to 1996. Listed guilty pleasures: Peanut Butter Ice Cream, 'The Sopranos,' Basset Hounds, and The Doors (the band).
All statistics provided by Pro Football Reference / Stathead; all contractual information provided by OverTheCap.com.