The Vikings Can Show Their Cards This Week
Feb 28, 2023; Indianapolis, IN, USA; Minnesota Vikings general manager Kwesi Adofo‐Mensah during the NFL combine at the Indiana Convention Center. Mandatory Credit: Kirby Lee-USA TODAY Sports.
The Minnesota Vikings came into Sunday's contest against the Green Bay Packers looking to get back to .500 on the season. There has been talk about how they would handle this week's trade deadline, and we'll soon know the focus for the rest of the season.
The Vikings Can Show Their Cards This Week
When the Vikings came into Lambeau Field on Sunday, they brought a much better team and had an opportunity to spank the Packers. Jordan Love has not looked good this season, and Brian Flores could allow his defense to put that reality on display. When the dust settled, with a 14-point win to their credit, Minnesota did everything they wanted except escape the game healthy.
Quarterback Kirk Cousins left the game in the 4th quarter after suffering an Achilles injury. Now expected to be season-ending, the Vikings have more questions presented to them. Jaren Hall took over for Cousins to finish the game, and he was the only quarterback on the roster. Nick Mullens remains on injured reserve, and the rookie from BYU was immediately thrust into action.
The NFL trade deadline looms on Tuesday, and how the Vikings work through it will ultimately indicate their direction for the season. Rolling with Hall the rest of the way seems straightforward, but they could also opt to find a higher-caliber veteran replacement. Beyond the quarterback position, what they do with transactions either way will hint at a level of belief.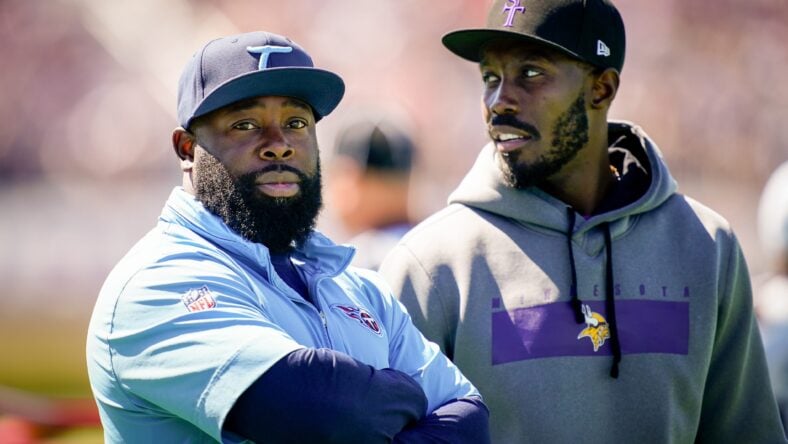 Going into Sunday's game against the Packers, it seemed as though a win would put them in position to be buyers and add. The Detroit Lions went into the week as a 5-2 team, but the Vikings haven't faced them at all this season and could certainly still chase them down. Bringing in some help for the pass rush or somewhere else on the roster makes a good deal of sense.
Recently, there has been chatter that an edge rusher may be a nice get for Minnesota. Chase Young's Washington Commanders lost on Sunday, as did Josh Uche's New England Patriots. If either could be had, Kwesi Adofo-Mensah may be tempted to go out and grab them. With Danielle Hunter looking unstoppable on his own, a legitimate threat on the other side could take him to another level.
Then again, Hunter could also bring Minnesota quite the haul. Playing at an All-Pro level while leading the league in sacks, the Vikings could be tempted to cash in on a player who has been seeking more money on a yearly basis for some time. What Minnesota decides to do with their roster, supplementing or trading away, will tip the hand towards what is believed of the future in 2023.
It's true that Cousins isn't coming back this season, but Nick Mullens will likely be removed from injured reserve at some point. Beyond that, Justin Jefferson is expected back when he is first able, and pairing him with the breakout version of Jordan Addison seems like a very fun combination. Minnesota has a significant void at the most important position now, but they also have a team trending towards a complete group in a division willing to let them make some noise.
The NFL trade deadline often isn't a frenzy, and it's entirely possible that Minnesota stands pat while doing nothing, but moves on either side could swing the pendulum towards what is desired the rest of the way.
---
Ted Schwerzler is a blogger from the Twin Cities that is focused on all things Minnesota Twins and Minnesota Vikings. He's active on Twitter and writes weekly for Twins Daily. As a former college athlete and avid sports fan, covering our pro teams with a passion has always seemed like such a natural outlet.