Brian Flores Opens the Door for 2 Promising Players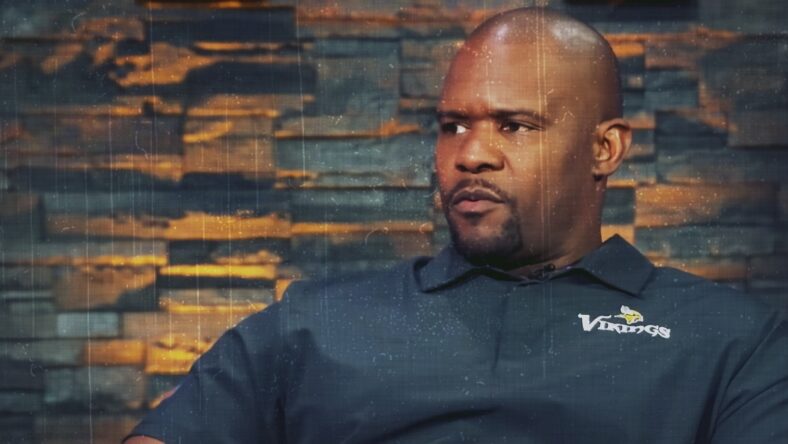 Minnesota Vikings defensive coordinator Brian Flores chatting with Tatum Everett on February 15th, 2023. The Vikings hired Flores from the Pittsburgh Steelers, where he was a linebackers coach for one season.
The organized team activities in May and June are always the start of the season for teams and players. New schemes are installed, coaches and players get to know each other better, and the athletes can start making a lasting impression that will undoubtedly help them in the future.
Brian Flores Opens the Door for 2 Promising Players
The changes on the offensive side of the ball should be minor because the unit played well in 2022. A couple of flaws should still lead to some shifts. The rushing game was a liability, and the passing attack should be more consistent. There were some games in which the offense took a nap for a couple of quarters just to wake up late in the game. Unnecessary close games were the result.
Much more changes will happen on the defense, a unit that allowed the second most points in the league and the third most points. The Vikings replaced defensive coordinator Ed Donatell by hiring Brian Flores, a former head coach. He will be in charge of a new-looking defense. The main changes are because his style differs greatly from Donatell's, and many new players entered the building. Byron Murphy and Marcus Davenport are the two most prominent ones.
While they have already locked up their starting gigs, others are involved in position battles or are fighting for a roster spot. A duo of undrafted players will be excited about their coach's mindset.
I've told our guys this, I don't care where they came from or by what means they got to this team. First round, trade, free agent, undrafted. You come here, you put in the work, you find a way to learn and even more than that, apply what you've learned and contribute and you'll have an opportunity.

Vikings defensive coordinator Brian Flores
The word undrafted must be music to the ears of Ivan Pace and Andre Carter, two players who signed with the team as undrafted rookies despite the overwhelming expectation that they would get drafted.
Pace is an inside linebacker with absurd college production. He mainly fell in the draft because of his size. He is only 5'10 1/2″ and 231 pounds. The height is in the one-percentile of players at his position. That is not as much of a problem as it used to be when LBs were 250-pound giants, but it still is a problem. They are nowadays almost built like safeties. In the 230-pound range, he clears that threshold.
He is an outstanding pass rusher from the linebacker spot and collects counting stats better than anyone. In the last season at Cincinnati, Pace produced 136 total tackles, 20.5 tackles for loss, 9 sacks, and 2 forced fumbles. The young linebacker made first-team All-AAC and was a unanimous All-American after his fantastic season.
The starting linebacker duo should be Jordan Hicks and Brian Asamoah, but behind them, the team has some shaky depth, and Pace might claim a roster spot as an inside linebacker, pass rush specialist, and special teams demon. He embodies a defender that fits Flores' aggressive idea of playing defense.
A similar route to the Vikings took Carter, an edge-rusher from Army. Carter was expected to go in the middle rounds of the draft. Some even thought he would be a second-rounder. He fired up 15.5 sacks in 2021, and that number regressed in 2022 to only 3.5 — one reason was offenses focusing on him and explicitly planning to keep him away from the QB.
Regardless, he is a phenomenal athlete who couldn't fully focus on playing football, so his body wasn't as well prepared for the sport as other college athletes. He now has the opportunity to change that as a professional player. Head coach Kevin O'Connell already raved about the defender in a press conference a few weeks ago.
Vikings fans are already looking forward to watching the two defenders in the preseason. Undrafted guys are always a longshot to make the 53-man roster, but the two stars of the college football ranks are different. They are not the usual undrafted players and have a real chance.
---
Janik Eckardt is a football fan who likes numbers and stats. The Vikings became his favorite team despite their quarterback at the time, Christian Ponder. He is a walking soccer encyclopedia, loves watching sitcoms, and Classic rock is his music genre of choice. Follow him on Twitter if you like the Vikings: @JanikEckardt